Simple Egg Substitutions… For Baking
posted by Andrea | 11/28/2017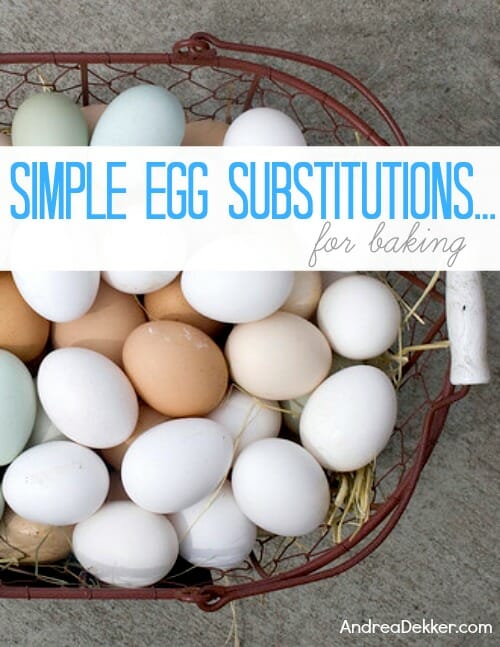 Our family LOVES eggs!
I regularly make quiche or other breakfast foods for dinner, the kids and I eat eggs almost every single morning for breakfast, and I do LOTS of baking. So yes, we go through a bunch of eggs. In fact, it's not uncommon for us to go through 4 dozen eggs per week (or more).
I usually have a large stockpile of eggs since they last a long time in the fridge; however, last week I almost ran out of eggs on the day I wanted to do a bunch of baking — and you know there was NO WAY I was going to take 4 kids to the store JUST for eggs! 
Instead, I used a simple egg substitute that worked wonderfully and saved me a ridiculous amount of time, energy and stress with all 4 kids at the store!
While I don't plan to stop buying eggs any time soon, and I will certainly still bake with eggs, I figured this post might be helpful for those of you who run out of eggs during your holiday baking (or if you're baking for someone with an egg allergy!)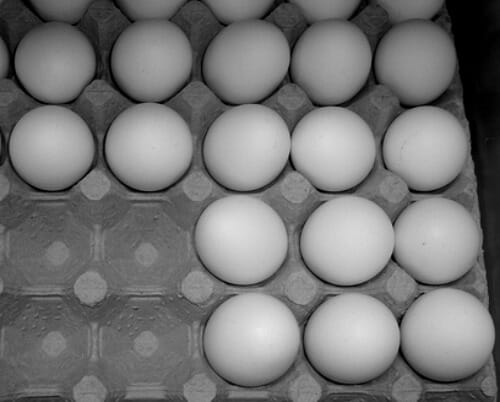 Simple Substitutions for Baking Without Egg
1 ½ T. water
1 ½ T. oil (I used vegetable oil)
1 t. baking powder
Mix all 3 ingredients in a small bowl and substitute for ONE egg.
. 
Here are a few other egg substitutions:
NOTE: Each recipe below is a separate recipe and replaces ONE egg
1/4 c. mashed banana, pumpkin puree, OR applesauce
3 T. plain yogurt + 1/2 t. oil
1 t. yeast dissolved in 1/4 cup warm water
1 t. baking powder + 1 T. water + 1 T. vinegar
It's always amazing to me that these ingredients can replace an egg — but I've eaten many baked goods made with these egg substitutes and I honestly can't tell a difference!
Have you ever tried any of these egg substitutions?