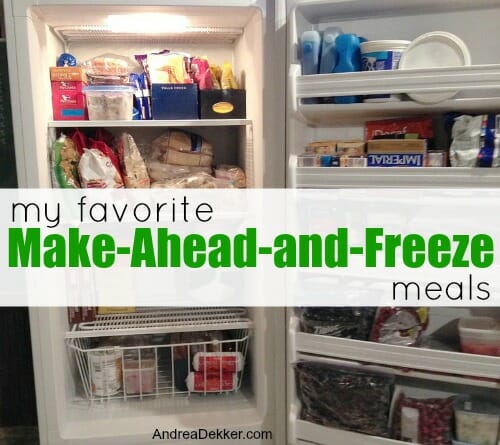 With the impending arrival of a new baby any day now, I've been asked over and over again what I'm stocking away in my freezer and what types of meals I'm making ahead to alleviate the need for as much cooking later on.
To be perfectly honest, I didn't do a ton of freezer cooking for this baby. Part of the reason is because I have such a huge list of super simple "go-to meals" that our family loves and that I can whip up in a matter of minutes because I always have the ingredients in the house.
Another reason is because Dave is home all summer and he enjoys grilling; so I just loaded up the freezer with burger patties, brat burgers, regular brats, hot dogs, marinated chicken breasts, pork chops, etc. Add in a lettuce salad, some fresh fruit, and corn on the cob and we have a complete meal without much work from me at all.
We also tend to eat out more in the summer time — either at local restaurants, family and friends' homes, community cook-out events, church potlucks, etc. etc. so in general, I find that I need to prepare fewer meals in the summer.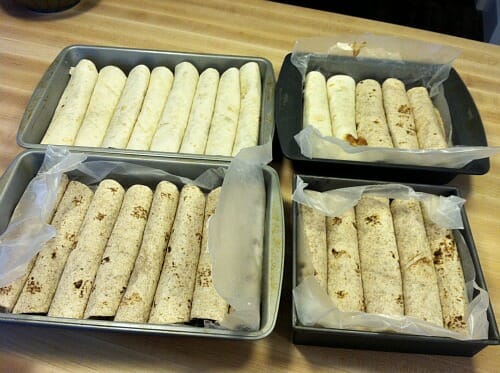 That said, I did still put a few meals in the freezer, and I do have several make-ahead meals that I like to keep on hand for ourselves or for bringing meals to others. So I thought it might be a fun post idea to list off some of my favorite make-ahead meals (many of which are already posted here on my blog!)
PASTA:
This is probably pretty obvious — it's one of the easiest meals to make ahead and freeze. And in my opinion, it tastes great as leftovers. In fact, I almost prefer lasagna leftovers versus the fresh-from-the-oven stuff!
Here are some of my favorite make-ahead-and-freeze pasta recipes:
CASSEROLES:
I love freezing casseroles because it's everything you need for a meal in one pan — meat, starch, veggies, etc. I know they aren't the fanciest or most glamorous meal, but my family LOVES casseroles!
Here are some of my favorite make-ahead-and-freeze casserole recipes:
SOUP:
I don't do a lot of soup in the summer time (I don't have any soup in the freezer right now) but during the cooler months, it's definitely one of my favorite make-ahead-freezer-meals.
I feel like it's just a no-brainer to make a double batch of soup since it takes the same amount of time/effort to cut up meat and veggies for a double batch. Plus, it's such a quick weeknight meal to reheat.
Here are some of my favorite make-ahead-and-freeze soup recipes:
NOTE: While I do love potato soups and creamier soups, they never seem to work well for me in the freezer — which is why I didn't include them in this list.
MEATS:
As I mentioned above, we have plenty of meat in our freezer right now. Much of it is raw meat for grilling (brats, burgers, pork chops, chicken breasts, etc) but we also have plenty of the following for quick and and easy meals:
Grilled chicken breasts, chopped into strips for salads, quesadillas, etc.
Cooked and chopped chicken and/or turkey for casseroles and soups
Pulled pork for sandwiches
Cooked ground beef for pasta dishes and casseroles
Cooked ground sausage for pasta dishes, omelettes, quiche, etc.
Deli meat for sandwiches
FROZEN FOODS:
As I've mentioned many times before, we are not totally against all processed foods — so we always keep a few packaged frozen food items in our freezer for quick meals:
Frozen pizza
Frozen chicken nuggets
Frozen meatballs (sometimes homemade, sometimes store-bought)
Frozen smoked sausages for a quick meal or for stews and casseroles
Frozen hash browns and french fries for quick side dishes
Frozen waffles for the kid's breakfasts
Frozen loaves of bread dough for Stromboli, fresh bread, rolls, etc.
.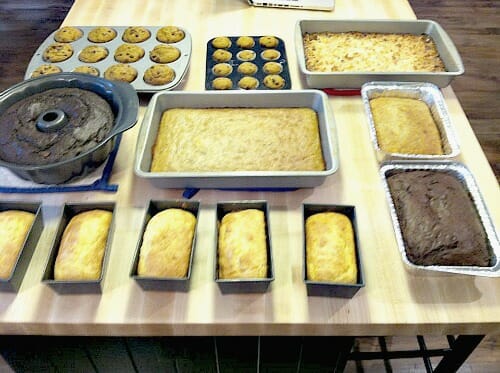 Of course, I also try to keep a good number of baked goods in the freezer, as well as lots of frozen fruit for smoothies and frozen chopped peppers and onions for omelettes, soups, casseroles, etc.
There are definitely times when our freezer is more stocked than others, but for the most part, I try to keep a good rotation going where I'm adding new things to the freezer on a regular basis so we don't totally run out.
If you're interested, here's a post where I talk more about how I make my freezer cooking rotation work (without a ton of extra effort on my part). Oh, and if you don't think you have enough freezer space to keep a nicely stocked supply of extra meals, here are some of my best space-saving freezer-cooking tips.
And of course, here's a link to all my simple, family-friendly recipes.
What are your favorite make-ahead-and-freeze meals?