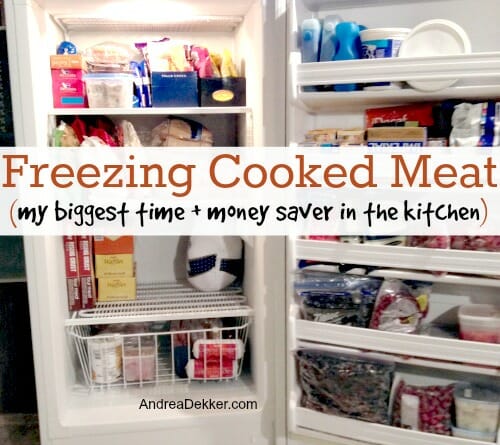 Although I do a little freezer-cooking almost every single week ALL year long, the fall and winter months definitely seem to offer more opportunities to pile our freezer full of soups, casseroles, pasta dishes, holiday treats, chopped veggies and fruits, and lots and lots of cooked meats.
If you stopped by to take a quick look in our deep freezer, I can almost guarantee you'll find several zip-top baggies and plastic storage containers filled with 1-2 cups of cooked ground beef, ground turkey, ground sausage, shredded chicken, shredded turkey, grilled chicken strips, etc.
You'll also almost always find bags of store-bought chicken nuggets, bags of pre-cooked meatballs, packages of pre-cooked smoked sausages, deli meats, and thick slices of ham.
Of course, I also have a good amount of uncooked chicken breasts, pork chops, brats, roasts, bacon, uncooked ground beef, uncooked sausage, etc.
However, keeping an ongoing supply of already cooked and pre-portioned meat is a huge, HUGE time and money saver for me.
Not only does it allow me to stock up on meat when it goes on sale, it also allows me to prepare weeknight meals in record time as I don't need to cook, boil, drain, chop, and measure out my meat. I simply grab one or two bags or containers of meat for my recipe and I'm ready to go.
Sometimes, if I'm making a soup or stew or my favorite semi-homemade pasta sauce, I dump the completely frozen meat into the pot and it quickly defrosts as the veggies boil or the ingredients simmer. Other times, like if I'm making something like these creamy chicken packets, or these delicious baked sandwiches, I'll defrost the meat the night before or in the morning so it's easier to stir or slice.
Also, by using pre-cooked, pre-portioned meets for my meals, I eliminate so many dirty dishes that someone will eventually need to wash later that night.
Instead, I can cook up a whole bunch of meat in one afternoon, reuse pans and strainers and cutting boards and measuring cups, and only wash things once — saving even more time and energy!
.
I realize this idea isn't rocket science… but I know SOOOOO many people who don't take advantage of this super simple kitchen tip.
And no, you do NOT need a huge deep freezer to be able to store an array of cooked meats. A simple over-the-refrigerator freezer will work just fine — especially if you freeze your cooked meats in zip-top bags and lay them flat to freeze. They'll take up very little space, and can be stacked like paper files in a shoe box.
Just make sure you clearly label the contents of each bag (I use masking tape and a permanent marker) as it will be almost impossible for you to tell the difference between cooked and frozen ground beef, ground turkey, and ground sausage. 🙂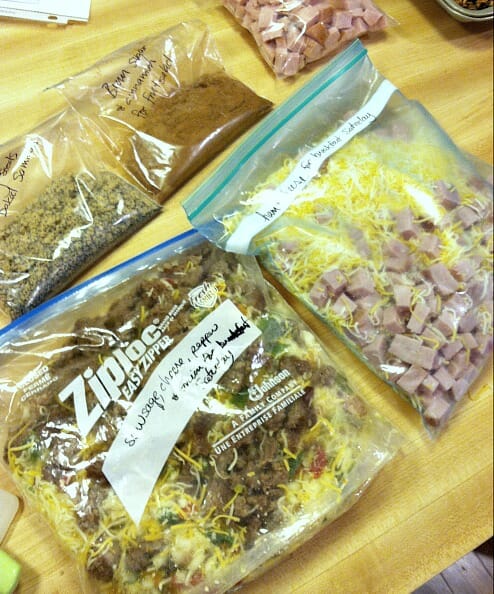 Since I'm not one for massive freezer-cooking days, I usually just cook and freeze meat as it goes on sale at the store.
So one week, there might be a huge sale on ground beef and chicken breasts. So I'll pick a day and time (usually when the kids are sleeping at night) to brown up several pounds of beef and boil a whole bunch of chicken breasts. I'll shred the chicken and divide it up into 1 or 2-cup packages. I'll drain the fat off the beef and put it into 3/4 pound containers (because that's roughly 1 pound uncooked meat and that's what most recipes call for).
Since Thanksgiving is coming up, Turkeys will be crazy on sale at my grocery store. I can usually get a huge turkey for less than $10 with the purchase of additional specified groceries — so I'll often buy 2 (yes 2). I'll roast one now, eat it for a regular dinner with mashed potatoes and veggies and then chop up the rest of the meat for the freezer. Then I'll roast the other one in February or March (seriously, it tastes SO delicious to eat a roasted turkey in the middle of winter) and do the same thing. This gives me several cups of cooked meat and delicious turkey broth that I use all year long!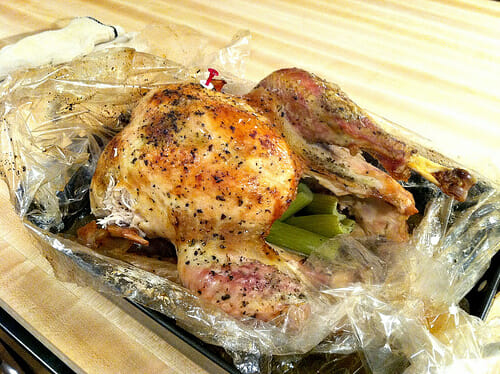 In the summer, we might grill up a bunch of chicken breasts, slice them up and freeze them for salads or stir-frys later in the year. Sometimes, I'll even cook up a bunch of breakfast sausage links or patties for super quick breakfasts (Nora LOVES sausage).
And the store-bought chicken nuggets, meatballs, smoked sausages, deli meats, etc — those also come in handy when our plans change at the last minute, or when I run stuck with other options. Add a few meatballs to your pasta sauce or bake up a handful of chicken nuggets to make crispy chicken salad, and dinner is saved!
It might not be as healthy or as economical as making everything from scratch — but I guarantee it's healthier and less expensive than going out to eat.
.
You all know I'm big on "planning ahead" and doing something NOW so I don't need to do it later — and I think freezing meat is a perfect example of both of those characteristics.
Every week, I'm amazed at just how much time I save on meal prep and clean up thanks to my freezer stash of pre-cooked meats. I'm at the point where I'm so used to having these pre-cooked meats on-hand that it would be extremely difficult for me to carry out my meal plan every week if I had to cook up meat every day as well as preparing the entire meal.
If you feel like you're struggling to get dinner on the table every night or like you have "meal planning burnout", schedule a couple times in the next 2 weeks to pre-cook and pre-portion a bunch of meat for the freezer. I think you'll be AMAZED how much time you'll save later on (and how much stress, energy, and money you'll save too!)
What are your biggest time + money saving kitchen tips?