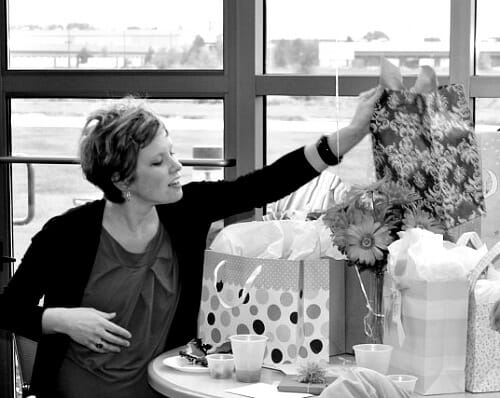 I know, I know… I've written at least one post on clutter-free gifts every single year since I started my blog. Most years, I've written several posts on the topic; and now, I even have a link to all my clutter-free gifts posts in my sidebar.
I'm sorry — I just can't help it!
I've seen time and time and time again how the holiday season turns into a huge, messy, stressful time of year — often partially because of gifts. How much to spend, who to buy for, what to buy, where to store everything we got, how to keep so-and-so from buying our kids a bazillions gifts we don't need, etc. etc.
AHHHHHHHHH!
Have we all forgotten that gifts are NOT the main purpose of Christmas anyway?
Don't get me wrong, I love giving and receiving gifts as much as anyone — in fact "Gifts" is tied with "Acts of Service" for my top love language. I enjoy the entire gift-giving process — everything from coming up with the "perfect" gift for each person, thinking up creative clutter-free gift ideas, finding a great bargain, and wrapping it up really nice.
However I think it's definitely possible to have "too much of a good thing" when it comes to gifts — and giving clutter-free gifts seems to alleviate much of the stress and consumerism that seems to be forever associated with the holiday season.
If you're getting ready to do a little (or a lot) of holiday shopping, may I suggest pausing a moment before heading out to the nearest mega-mall, and instead, thinking of clutter-free gifts you could swap out for a couple of your traditional gifts.
And yes, I said "A COUPLE" of your traditional gifts.
I do not expect you to swap out all your holiday gifts for clutter-free options. Nor do I think there is anything wrong with giving a more traditional gift like clothing, electronics, toys, books, etc. Those are all great gifts that most recipients would enjoy.
The main reason I push for clutter-free gifts each holiday season is because I know from personal experience that they are almost always appreciated as much (or more) than any other gift — especially if you put some thought into the gift and present it in a fun or clever way (I shared many ideas in the links below).
Also, as a parent of two small children living in a fairly-organized home, I greatly appreciate any effort given towards clutter-free gifts as that gift is one less thing I need to store, one less thing I need to put away 10 times a day, one less thing we have for them to fight over, and one less thing to have a tantrum over if it gets lost or broken.
If you're struggling with the issue of clutter-free gifts, let me assure you they are not as difficult or as scary as you might think. In fact, I've written almost 10,000 words about clutter-free gifts on my blog (I know, who knew I had so much to say about it!) and I'm linking to several of my favorite posts below.
You can do this… and your family and friends will appreciate you for it!
Here are some ideas to get you thinking:
Clutter-free experience gift ideas.
Clutter-free acts of service gift ideas.
More acts of service gift ideas.
Creative and clutter-free ways to give cash.
Creative and clutter-free ways to give gift cards.
More clutter-free food gift ideas.
Tips for giving clutter-free food gifts (yes, food is my favorite clutter-free gift!)
Clutter-free gift ideas for children.
More clutter-free gift ideas for kids.
Ideas for charitable donations (for the person on your list who literally has everything)
Clutter-free wedding and bridal shower gift ideas (just in case you have any over the holiday season)
If you still feel like you just can't make the switch to a clutter-free gift, maybe instead try purchasing one larger gift (or going in with a group to buy one larger gift) versus giving several smaller gifts.
I know this was especially nice for my wedding and baby shower gifts as the big-ticket items are usually what we need/want the most but are least-likely to get.
What are your favorite clutter-free gifts to give and/or to receive?