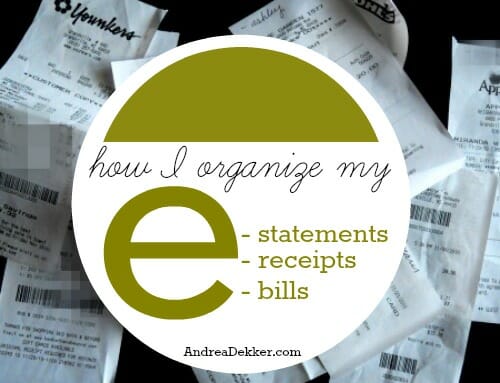 Several years ago, I shared how I organize my holiday receipts. Back then, I didn't do ANY online shopping, so all my receipts were paper copies.
I've also shared many photos and posts about how I organized our utility bills and other subscription-based bills in our hand-dandy filing cabinet.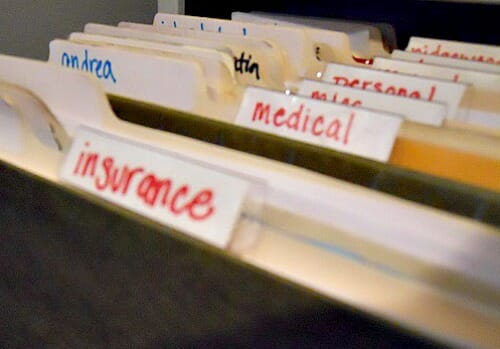 Now, 4+ years later… I can't even remember the last time I got a paper bill or receipt (besides the grocery store). We have downsized our filing cabinet to about 1/4th it's original size and keep very little paper anywhere in our house.
.
However, we still buy things, we still get utility bills, and we still have a good amount of electronic "paper" to keep track of.
I love that my electronic receipts, bills, and statements don't clutter up my kitchen counters, my desk or my filing cabinets; but at the same time, I know that I need a good organizing system otherwise this "out of sight" paper will soon be "out of mind".
As expected, I have an extremely simple (yet very effective) system in place — and it's been working well for me for at least 2 years. So since I've recently gotten several questions about how I keep track of all my e-receipts, bills, and statements, I figured it was time to share!
.
Create TWO Specific Folders in your Email:
When I set up my system for e-papers, the way that seemed most efficient for me was to have two specific folders within my Gmail email address (my main email).
1. **To Record
2. **Follow Up
I put the "*" in front of the labels so these folders stay right at the top of my list — making them very easy to access.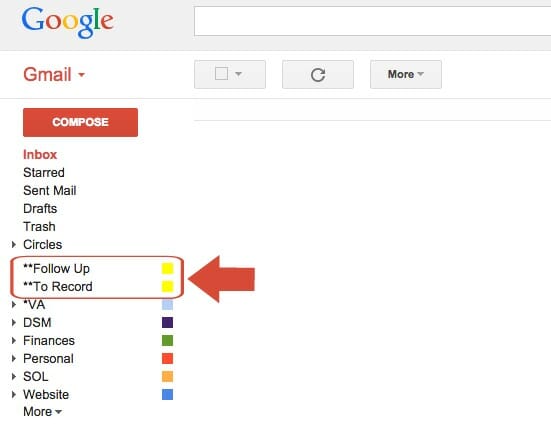 File all monetary bills, invoices, receipts, etc. in the 'To Record' folder.
Every time I make an online purchase from any store, the receipt is automatically emailed to me within minutes, and I immediately file it away in the "To Record" folder.
Similarly, any time I get a bill or any time I send an invoice or receive a payment notification, those are also filed in the To Record folder.
Then, when it's time to input my business income/expenses and when it's time to update our personal finance tracking workbook (I usually do both of these 2-3 times per month), I can just pull all the information from my "To Record" folder and don't have to worry about forgetting a purchase.
Once I've recorded the bills or payments, I then file the emails under the appropriate files: Credit Card, Utility Bills, Business Taxes, PayPal, Bank Statements, Investments, etc. which means I can quickly and easily look back at any of this financial information in a matter of seconds without ANY paper clutter in my house!
.
File all order confirmation, shipping notices, and status updates in the 'Follow Up' folder.
Just as I always get a receipt for my online purchase, I also get order confirmations, shipping notices, and various other "tracking" emails related to my purchases.
Since I don't want to record the same purchase multiple times, I put all of these emails in my "Follow Up" folder because I want to make sure I follow up with the various purchases.
This folder has been extremely useful for me as I'm only one click away from tracking the shipping on any of my purchases, I have the customer service email or phone number if there is a problem, and if I need to return anything, all that information is in the Follow Up folder as well.
Once my items arrive, and once I'm sure I won't return them, I delete (or file) the emails regarding that purchase so my Follow Up folder always stays relatively empty.
.
How I Handle Information for Online Gifts
Since I order many gifts online (all year long, but especially around the holidays) I make a point to keep the shipping "receipt" with each item (the paper receipt that comes in the box).
After we did our massive closet purge this summer, I decided that we could use the completely empty top shelf of our bedroom closet to store gifts. Right now, it has a bunch of gifts for Nora's birthday as well as a few Christmas items, and even 2 things for Simon's birthday.
Some of the items are second-hand and don't have receipts — but anything that can be returned is stored in a bag with the shipping receipt so I can easily return it later if need be.
.
And What about my Paper Receipts?
Well, as I mentioned above, I honestly don't get many paper receipts anymore. However, when I do get a paper receipt, I keep it with the item in a bag until I give that item as a gift or use the item. Then, I figure I won't be returning it anymore so I toss the receipt.
I also make sure to enter these amounts in my finance tracking workbook along with my e-receipts.
.
That's it!
I told you it was a simple system — it probably took me less than 5 minutes to set up a couple years ago — but I use it daily to keep all my e-receipts, bills, and statements neat and organized.
Oh, and in case you're wondering, here's how we organize many of our different sources of paper clutter:
Our medical and insurance paperwork
Our passwords (specifically handy since we store lots of information online)
Do you have any other tips for organizing e-papers?