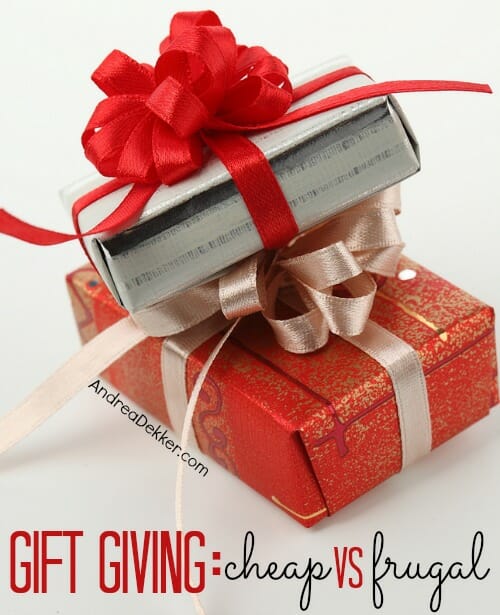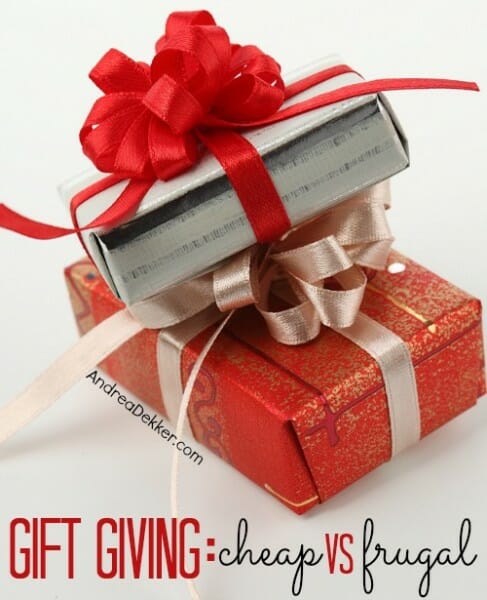 A couple months ago, I got an email from a friend and blog reader "venting" about her mother-in-law who was just downright CHEAP when it came to gift giving — especially for the grandkids' birthday and Christmas gifts.
She gave me a few examples of some of the silly stunts her MIL had pulled over the years, and it was quite apparent that the gifts were in fact "cheap", not just "frugal" (and for the record, I know this reader personally and she's not out to get her MIL — they actually get along very well).
The point of this post is not to offend or upset anyone; I've just had many experiences receiving both frugal and cheap gifts over the years and thought it might be a fun topic for a blog post — especially considering the holiday season is approaching and I'm already getting lots of questions about frugal gift ideas.
To start off, I thought I'd share a few examples of what I think differentiates cheap versus frugal gifts.
CHEAP:

Something the person doesn't want or need but you happen to have lying around your house and don't want — so you wrap it up and give it to the person anyway.

FRUGAL:

Something the person actually wants and needs and you happen to have lying around your house, or you happen to find a fabulous clearance deal on that exact item.

CHEAP:

Something you didn't put any thought into but simply dumped in a crumpled gift bag (or plastic grocery bag) 10 minutes before you head out the door. (Yup, I've gotten some of these)

FRUGAL:

Something you put extra thought into — including the wrapping. It could be as simple as wrapping it in your children's artwork, a calendar page with the special date circled, or their favorite comic section of the newspaper. Nothing expensive, but still nicely presented with obvious thought and attention to detail to make the other person feel important.

CHEAP:

A used item that is clearly "past it's prime" and has very little useful value left (yes, I've personally received more than one of these gifts!)

FRUGAL:

A used item in excellent condition and something the other person actually wants and can still use for a long time . (I have absolutely NO issue with giving or receiving used gifts as long as they are still useful)

CHEAP:

Toiletries, cleaning supplies, or other items purchased frugally or free after rebate but have no use to the other person (like dandruff shampoo for someone who doesn't have dandruff or hardwood floor cleaner for a home with all carpet).

FRUGAL:

Toiletries, cleaning supplies, or other more practical items (possibly free or discounted) that the person can most definitely use and will actually need. We did this for my sister's wedding shower last summer and it was a huge hit — no they weren't all free either!

CHEAP:

Gift cards you received and don't want but aren't sure if the other person will either (I've gotten gift cards for stores that aren't even within 100 miles of my house and don't have online shopping!)

FRUGAL:

Gift cards for anything you are fairly confident the other person will want, use, and enjoy. NOTE: I'm a huge advocate for giving gift cards as long as I know the other person will most definitely be able to use them — even something as simple as grocery or gas gift cards.
So those are just a few of my thoughts and opinions when it comes to cheap versus frugal gifts — and to reiterate, the point of this post is NOT to intentionally offend anyone else; it's simply for discussion.
I could totally be off my rocker, but after talking about this topic with several friends and family members, they were all in agreement with the examples I gave above.
As you probably know by now, I'm a big fan of saving money whenever I can, using coupons, finding great deals, etc. etc. — and that philosophy transfers over to my gift giving as well… but only to a point.
If it's a choice between saving a few extra dollars or getting the person EXACTLY what they want, I will most definitely spend a little more. No questions asked. (I'm saying this related to parents, brothers, sisters, etc. not for Nora — she doesn't have a big opinion yet and gets plenty of gifts!)
I suppose I should mention that "Gifts" are one of my top "Love Languages", so to me it's even more important that any gifts I give have a lot of thought put into them (not necessarily money though). I like the gift wrap or tissue paper to look nice, I almost always use twine or ribbon of some sort, and I usually make a cute (but very simple) gift tag out of construction paper — which ends up saving me a ton on buying cards.
I usually spend nothing on the gift wrap as I save all my old bags, tissue paper, ribbons, tags, etc. However, my gifts always look nice and there is often a theme that I've thought of in advance. I don't wait until the last minute to buy gifts and honestly, I'm ALWAYS thinking of gift ideas for people on our holiday gift list.
I realize that's just me and not everyone is super into gift-giving… but I still think there is a distinct difference between giving frugal gifts and cheap gifts.
Don't you?
I feel that if someone has shared their Christmas or birthday wish list with me (usually because I've asked for it), or they've registered for specific wedding/baby items, it's the least I can do to simply give them a gift they actually want. Even if I use coupons, gift cards, or wait for the item to go on sale — I still feel it's important to give them something they actually want.
And if I'm not sure exactly what they want, I'll probably go the route of a gift card or cash.
For example, last Christmas, Dave's brother-in-law asked for a lap desk for his laptop. We had no idea what kind of lap desk he would want, but we had an extra (unopened) lap desk lying around our house and a $30 spending limit. So we decided to go ahead and give him our extra lap desk… BUT we paired it with a $25 gift card to Staples and 2 bags of peanut M&M's — which are one of his favorite candy.

This way, we figured that if he loved our extra lap desk, he could use the gift card on something extra. If he didn't love our lap desk, he could donate it and buy one he liked better with the gift card. Plus, we added a little personal touch with the M&M's.
Simple, practical, thoughtful, useful.
I certainly do not think a good or appropriate gift needs to be expensive or elaborate — and obviously, sometimes the physical gift isn't nearly as important as the person who is giving the gift.
I just personally feel that by giving it a little extra thought and attention to detail, we can give fabulously frugal gifts WITHOUT being cheap.
If you're interested, here are a few more posts I've written about gift-giving.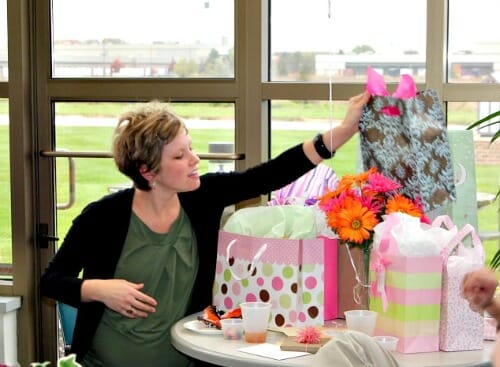 What are your thoughts on cheap vs. frugal gifts?
What are some of your favorite frugal gifts?