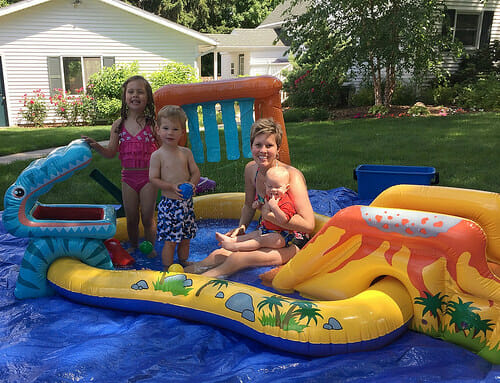 Over the past 4 years, I have gotten SO many emails (usually from women with small children) asking:
how I lose weight after each baby?
what I do to keep the weight off?
how do I prevent myself from gaining too much weight during pregnancy?
what type of exercising do I do?
do I diet?
do I stay away from any specific foods?
etc. etc. etc.
For a long time, I felt like I had nothing to offer in terms of dieting tips or health and wellness advice — I figured I was just blessed with good genes and a good metabolism (obviously these doesn't hurt anything!)
The truth is, I don't do any formal exercise program and I've never been on any type of rigid diet or cleanse. I don't stay away from any specific foods and I honestly don't DO anything to intentionally prevent myself from gaining excess weight during pregnancy.
With Nora's pregnancy, I barely gained 20 pounds, I packed on almost 60 pounds with Simon, and James' pregnacy fell right in the middle — around 35 pounds. I don't think I did anything differently, all my babies were healthy and strong, and I eventually lost the weight again (although it's not all spread out the same way anymore!)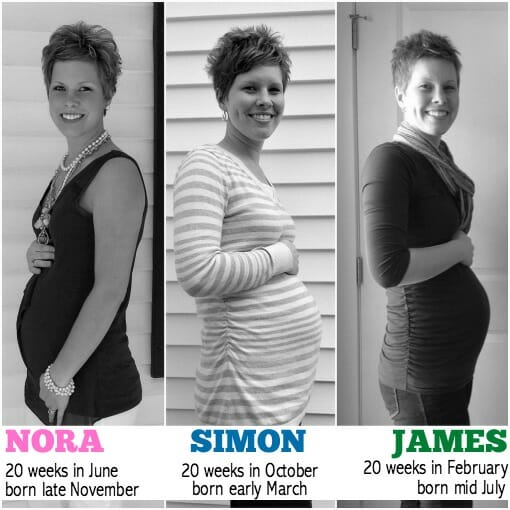 I wasn't planning to write a blog post about this; however, the emails and questions just kept coming!
So for the past year, I've made a conscious effort to think about anything I do on a regular basis that helps me cut calories, curb cravings, rev up my metabolism, and encourage a healthier lifestyle… I came up with 5 ideas.
I certainly don't claim to be an expert in this area, and my ideas might not work for your life. But at the very least, I hope this post encourages you to work towards developing a healthier body image — even if it's just for the sake of the other women and girls in your life.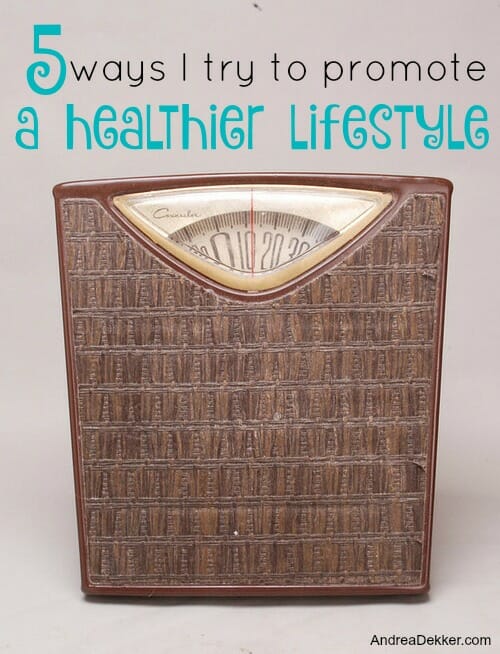 1. I don't drink calories.
I know this might seem impossible for many of you, but I rarely ever drink any calories (besides milk) and I think it makes a huge difference in the number of calories I consume on a weekly basis.
I don't ever drink coffee, tea, cappuccinos, lattes, or any other fancy hot or cold coffee-type beverage. I will very occasionally have a mug of hot chocolate on a cold winter day — but that's about it.
I don't drink a lot of lemonade, juice, or pop (soda) and I almost never drink any type of alcohol.
Of course, if I'm a guest at someone else's home, I will drink whatever they serve me without hesitation… but when I'm choosing, I stick with water, milk, and an occasional Diet Dr. Pepper! Maybe that's boring, but it's my own personal preference, and I really do think it helps me cut out a bunch of extra calories and sugar from my diet.
2. I almost always eat at home.
It's no surprise that eating home-cooked meals is better for your waistline than eating at a restaurant… but as many of you know, I'm not opposed to eating some processed foods, and we do enjoy fast food and pizza a couple times each month.
However, since we have 3 little kids, we almost always eat the fast food and pizza AT HOME (because it's easier than going out!) And when we eat at home, we often make a few tweaks to "health-ify" the meals 🙂
For example, if we get donuts for breakfast, I'll make some fresh fruit and yogurt smoothies to go along with them. If we get pizza, I'll make salad and pull out our tray of raw veggies as more nutritious side dishes. If we get burgers and fries, I'll make a fruit salad and serve raw veggies again.
This might not sound like much, but by eating at home, we're able to fill up on more nutritious options along with the less nutritious fast food and pizza, so we eat fewer calories overall.
3. I eat smaller "meals" throughout the day.
Since I'm home a lot, I tend to eat smaller meals (more like big snacks) regularly throughout the day. Again, this is just my own personal preference, and it's how I've eaten for as long as I can remember (even back when I was in school).
I usually have yogurt or fruit when I wake up, then have my 2nd breakfast with the kids after they are awake and dressed. I'll eat some crackers and cheese, a muffin, or something small right before I serve the kids lunch because it's impossible to eat while they eat, and I'm too hungry to wait until they are napping. I usually have another lunch (sandwich or leftovers) while they are napping. We eat dinner really early, and then Dave and I usually have a larger evening snack after the kids are in bed.
From what I've read, eating smaller meals throughout the day helps to keep my metabolism going all day long and prevents cravings or "crashes" in the afternoon when my blood sugar gets too low. Also, eating smaller meals throughout the day make me a much more pleasant person to be around (just ask Dave what I'm like when I'm hungry!)
4. I keep moving all the time.
I know that pushing the stroller around the block, biking with James through the neighborhood, running up and down the stairs 87 times a day, cleaning the house, or playing in the backyard with the kids is NOT the same as formal exercise. However, I'm certain that I burn more calories doing any of these activities than I would working a desk job or driving a semi-truck!
Of course, I sit at my computer at various time during the day, but for the most part, I keep moving all day long — playing, cleaning, cooking, running errands, going for walks, etc. etc.
Eventually, when the kids are a little older and I feel less tired in the evening, I'd like to exercise more regularly — either at a gym or with DVDs at home, but for now, I'm content to just keep moving all day long — I'm sure it can't hurt anything!
5. I try not to worry, stress, or even think about my weight.
There have been a few times in my life when I actually did worry and stress about losing a few pounds, restricting calories, or not eating certain things. During those time periods, I found that I immediately became obsessed with food and what I looked like.
I thought about what I SHOULDN'T eat, and wanted to eat whatever I wasn't supposed to eat all the time! I was constantly looking at myself in the mirror, weighing myself, and wondering if my clothing felt tighter or looser. It was totally ridiculous and I hated living like that. So for the most part, I actually make an effort NOT to worry, stress, or even think about my weight or what I'm eating.
Now, I almost never weigh myself, I don't worry about what size my clothing is (women's sizes are ALL over the place anyway), I don't stress about eating or not eating certain things, I don't track calories, and I don't have a strict workout regimen.
I know this wouldn't work for some personality types, but I do think that not worrying about it is one way I'm able to have a much healthier and positive body image of myself — and I'm sure I don't need to explain how much happier this makes me. In my opinion, I'd rather be a little overweight and enjoy life than super thin and obsessed with every calorie I eat.
.
Of course, there are days I wish my pants weren't so tight, days I wish my abs looked like they used to before kids, days I vow to not eat so much chocolate, and days I wish I could just finally lose that last 5 pounds.
But for the most part, I feel like I have a very healthy body image — and that's worth more to me than dropping a few pounds or having super flat abs.
One More Thing About Body Image:
I personally make a very conscious effort not to talk about weight, or being fat, or skinny as "good" or "bad" in front of my kids (or really at all). I'm sure my kids will start feeling pressure to look a certain way soon enough — they don't need to hear it from me!
In fact, just the other day Nora said, "Mom, your belly looks like it might have another small baby in it — do you think it could be a sister for me?"

Dave almost busted out laughing, and if anyone other than our family would have been there, I probably would have felt embarrassed. However, I just said, "There's no baby in my belly, it's just sort of stretched out from you guys being inside me."

To which she responded, "well, you're probably just growing and your belly is getting bigger since you're eating all your food and getting older."

Again, I felt slightly embarrassed, but also proud of the fact that Nora thinks of a "big belly" as a positive result of eating all my food and growing up big and strong — not as a negative result of being overweight.
I think girls especially need to see women who are not ashamed of their bodies and not obsessed with counting calories, exercising all the time, wearing a certain size, or seeing a certain number on the scale. They need to see women who own their stretch marks, their saggy skin, and their "belly that looks like another small baby is inside"!
After all, at least she said it looked like a SMALL baby and not a BIG baby 🙂
.
As with all aspects of my life, when it comes to health, wellness, nutrition, exercise, and body image, I strive for "all things in moderation" and "gradual forward progress".
There is always more I could do to live healthier, eat more nutritiously, exercise more regularly, etc. etc. but I've already made many baby steps in the right direction and I'll continue to move forward.
Who knows, maybe in another couple of years I'll write a post about how much I love exercising (or maybe not!). In the mean time, there are only so many hours in the day and I personally don't care to spend those hours worrying about what I'm eating, how many calories I'm burning, or what size my jeans are!