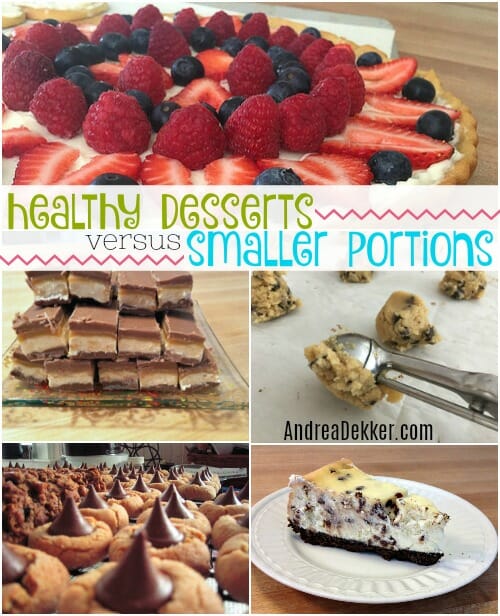 Over the past 8+ years of sharing recipes and menu plans, I have gotten a large number of comments and questions about the fact that our family enjoys quite a bit of dessert!
So many have asked why we have dessert after most of our meals, some joke about how they wish they could eat so many sweets, and others request that I share healthier dessert recipes (is there really such a thing?)
As I've mentioned before, I've always been a strong advocate of "all things in moderation" — and that includes desserts and other sweet treats on a DAILY basis.
Dave and I both grew up with a variety of cookies, bars, sweet breads, ice cream, candy, etc. available all the time. We didn't pig out on it, we didn't count down the minutes until we could eat our next treat, and truthfully, we didn't really even think about it.
The sweets were there to eat if and when we wanted a little treat, but they weren't a huge temptation because they were just a normal part of our daily diet (like a bowl of fruit on the counter and the milk in the fridge).
Certainly sweet treats are not necessary, but our family regularly enjoys small sweet treats throughout the day… and no, they aren't healthy, low calorie, or nutritious.
If I want a nutritious snack, I'll have raw veggies and hummus, apple slices or a banana with peanut butter, plain yogurt parfaits, or a few cheese cubes — and my kids know that most of the time, our snack times are for filling snacks that will tide them over until the next meal.
However, if I want something sweet, if we're celebrating a special occasion, or if we're enjoying a small dessert after our meal, I'm not going to stress about how much sugar is in a cupcake, how many calories are in a cookie, or how nutritious my brownies are.
Because more often than not, healthy desserts and sweet treats really are NOT all that "healthy" compared to just eating an apple or raw veggies.
.
So for those of you requesting "healthy dessert recipes", I probably won't be sharing them any time soon!
I have actually tried several healthIER recipes over the years, but honestly, they are all gross. My kids won't touch them, Dave and I don't really enjoy them, and there have been several batches of "healthy desserts" that we've simply trashed because it goes bad and we don't feel like forcing ourselves to eat something that's really not very nutritious and that we don't love just so we don't waste the ingredients.)
Yes, there are times when I'll replace the oil with applesauce in my cakes, there are times when I'll add a can of pureed black beans or pumpkin to my brownies, and there are times when I'll sub in Flax seed for eggs — but most of the time, I'll just enjoy an occasional small sweet treat, with lots of fruits, veggies, and other more nutritious foods filling up the bulk of my diet.
.
And when I say "a small sweet treat" I really do mean SMALL.
When I cut portions out our treats, I usually end up with 2 to 3 times the number of bars, cookies, or slices recommended on the recipes because we cut our pieces so much smaller.
I often forget about how small our dessert portions are until we go to someone else's home and get a restaurant-size dessert portion after an already large meal.
I use my mini muffin tins ALL the time to make mini cupcakes, tiny cheesecakes, Reeses Peanut Butter Cup cookies, and more — all the perfect "bite-size" treat after a tasty meal.
.
When it comes to the concept of "healthy desserts" I'm convinced there is no such thing!
In order for a food to taste like dessert, the recipe will still require a decent amount of fat and sugar — even if it's a healthier version of fat and sugar (like avocados and honey). Also, the ingredients in "healthy desserts" are usually much more expensive and the actual recipes take significantly more work than a more traditional dessert recipes (like brownies from a box!)
For me, this just isn't worth it to save a few calories.
Some of you might disagree… and that's OK.
However, after years of trying and testing different healthier alternatives to our favorite sweet treats, I'd still much rather have a SMALL unhealthy dessert that tastes amazing versus a supposedly "healthy" treat that leaves much to be desired!
Bring on the cheesecake, boxed brownies, and peanut butter pie (just a small portion!)
What are YOUR thoughts on "healthy desserts"?
NOTE: you can find all my dessert recipes right here!