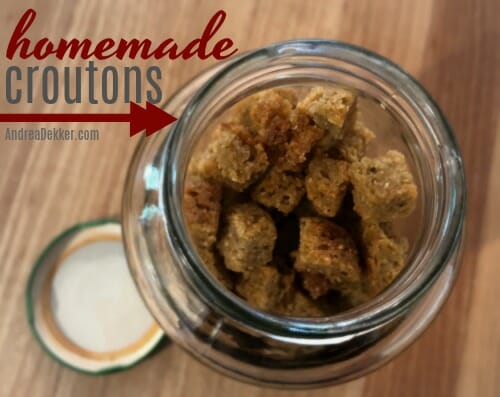 Homemade croutons are one of those things that SOUNDS really intimidating… until you actually make them and realize they are SOOOOOOO ridiculously simple to make, you really don't even need a recipe.
Dave's mom has made homemade croutons for a long time, and although I've made croutons before, Dave and I have mostly eaten store bought croutons for the majority of our married life.
This all changed when I started making my own bread (and had MANY loaves of bread that didn't turn out).
I couldn't bare the thought of wasting all that time and effort… so instead of tossing the slices of stale and "dense" bread, I cut them up into bite-size pieces and stuck them in freezer bags for later.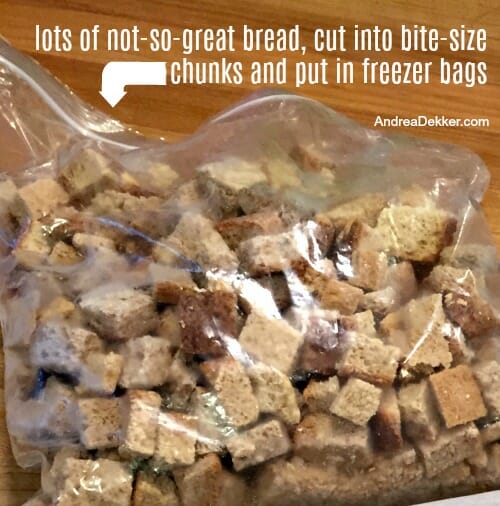 I used these bread chunks for quiche, baked french toast, stuffing, and croutons (recipe links for all of these below).
Thankfully, I don't have many unsuccessful loaves of homemade bread these days, but even if a few slices of bread just start to get a little stale (or if we don't want to eat the crusty ends), I chop them up and put them in the freezer for later.
When I'm getting low on croutons, I defrost some of my bread chunks, mix them with olive oil, add some seasonings, and bake them with whatever else I'm baking that day.
Making a batch of these croutons takes almost no extra time or effort on my part as I usually use a bowl I already have out for mixing other foods, and I bake them at the same time I'm baking something else.
In my opinion, there is absolutely NO reason to "waste" bread — unless it's growing mold! There is almost always a way to salvage not-so-great bread, and homemade croutons are one of my favorites!
Homemade Croutons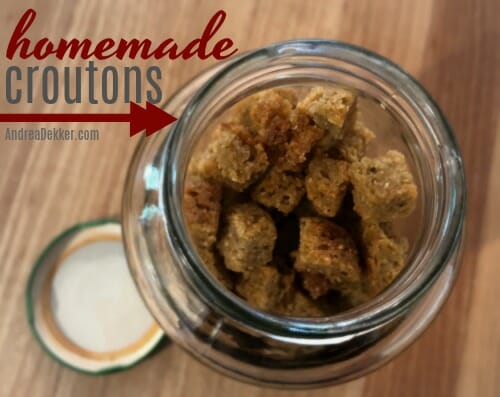 Homemade croutons are a quick, easy way to use up stale or not-so-great bread... you can add whatever seasonings or flavors you like, and you really don't have to follow a strict "recipe" for them to turn out!
Ingredients
any type of bread, buns, rolls, etc. cut into bite-size pieces
olive oil or melted butter
salt
spices and/or seasonings of choice
Parmesan cheese (optional)
Instructions
Preheat oven to 375º
Line a large baking sheet with aluminum foil (or grease it well)
Dump as many bread chunks as you want into a large bowl
Drizzle with olive oil or melted butter and stir well to coat
Sprinkle with a generous pinch of salt and several shakes of your favorite seasonings and/or Parmesan cheese (see notes below)
Spread seasoned bread chunks out on baking sheet
Bake in preheated oven for 20-30 minutes, stirring and checking for crispiness about half way.
Let cool completely, then store in an air-tight container (or freeze for later)
Notes
I know it will bother some of you that I don't have specific measurements listed above -- but it's nearly impossible to list specific measurements as it all depends on how much bread you use and how seasoned you like your croutons to be.
As an example, if I use 3 cups of bread chunks, I'd probably use 2 T. olive oil, 1/4 t. salt, 1/4 t. garlic powder, 1/2 t. Italian seasoning and 1 T. powdered Parmesan cheese.
HOWEVER, if you like your croutons very seasoned, you'd want to use more seasonings... and if you don't like Parmesan cheese, you can leave that out.
As for the baking time and temperature -- this is very flexible as well!
I usually bake these with whatever I'm already making that day. Sometimes this means the croutons are in the oven for 45 minutes at a lower temperature. Other times, it means they are in for 15-20 minutes at a higher temperature. Just give them a quick stir and taste test one to see if they are crunchy enough for you!
I might struggle to get our kids to eat traditional lettuce salads… but boy do they love my croutons! They even request them for a "snack" at times!
I've gotten into the habit of freezing any bits of bread we don't eat to repurpose later in a variety of ways.
Here are a few other ways I use up stale bread…

Blueberry Stuffed French Toast Casserole
I love how quick and easy these croutons are, I love that they taste better and are more nutritious than store bought croutons, and I love that I can use up every last crumb of bread without wasting any!!!
What is your favorite way to use up stale bread?
Visit my virtual recipe box for more simple, delicious, family friendly recipes!