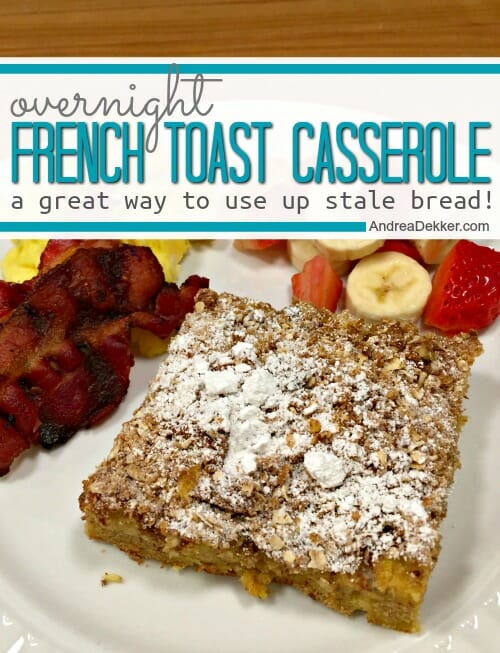 As many of you know, I've been grinding my own grain for the last several months — with the intention of making all my own whole wheat bread products.
Unfortunately, baking with freshly ground whole grain has been MUCH more challenging than I anticipated — especially when it comes to yeast breads.
I've been successfully making 100% whole grain pancakes, waffles, corn bread, banana bread, apple cake, pumpkin muffins, and even brownies… but yeast breads are still giving me SO MUCH trouble!
I've had a few moderately successful loaves so far, but even the loaves that taste amazing fresh out of the oven are often crumbly, tough, and dense the next day.
At least they look pretty though! 🙂
Since I can't handle wasting food (even not-so-amazing food) I cut up any bread we don't eat within the first 2-3 days and put these bit size pieces in gallon-size bags in the freezer.
I use these bread chunks to make croutons, bread crumbs, and this yummy recipe for Whole Grain Overnight French Toast Casserole.
So far, we've gobbled it up every time… which means there's a good chance your family with love this recipe too!
If you're looking for a great way to use up stale bread, buns, or rolls, try this french toast casserole!
Recipe for Overnight French Toast Casserole
makes a 9″ x 13″ pan (I only make a half-batch for our family)
INGREDIENTS:
several slices of stale bread, cut into bite-size chunks (at least 1 slice per person)
1 t. cinnamon
6-8 eggs**
1-2 cups milk, cream, or half-and-half**
1/4 c. maple syrup
1 t. vanilla
powdered sugar, butter, syrup (for serving)
**NOTE: If there is still lots of dry bread after you pour the egg mixture on, simply mix up more eggs and milk to pour over top — it is not an exact science!
OPTIONAL CRUNCHY OAT TOPPING:
1/2 c. oats
1/4 c. flour
1/4 c. brown sugar
1 t. cinnamon
pinch of salt
1/4 c. cold butter
DIRECTIONS (The night before):
Grease a 9″ x 13″ baking pan (I always use glass because eggs make a mess of my non-stick pans!)
Arrange bread cubes in the pan (filling the pan about half full).
Sprinkle cinnamon (and any other spices or seasonings you'd like) over the bread cubes.
In a medium size bowl, mix eggs, milk or cream, maple syrup, and vanilla. Pour over bread mixture.
Cover and refrigerate overnight.
DIRECTIONS (in the morning):
Remove pan from fridge and let sit on the counter while oven preheats. The casserole might look a little "dry" but that's because the bread has absorbed all the egg mixture.
Preheat oven to 375ºF.
Make optional oat topping by mixing oats, flour, brown sugar, cinnamon, and salt in a small bowl. Then cut the butter in with a knife or fork until it forms a crumbly mixture. Sprinkle mixture over french toast.
Put pan in preheated oven and bake for 40-50 minutes, or until the middle is no longer soggy and the top is slightly crunchy. If the top gets too brown before the middle is set, cover loosely with aluminum foil and continue baking until middle is set.
Dust with powdered sugar and serve with butter and syrup.
I absolutely LOVE the crunchy topping combined with the very soft, chewy, egg-soaked bread… you'd never guess it was made from stale, dense, crumbly, not-so-great, homemade, whole grain bread!
And I feel SO good knowing none of my bread-baking ingredients or efforts went to waste.
I will continue my tireless effort to find really good homemade whole grain bread (I'm giving myself a full year). In the mean time, we will continue to enjoy lots of French Toast Casseroles!
NOTE: I also use bread chunks to make this hearty egg casserole (everyone loves that recipe too!)

And here's one of my very OLD recipes for Blueberry Stuffed French Toast Casserole — a little less healthy, but equally yummy!
What is your favorite way to use up stale bread?
Visit my virtual recipe box for more simple, delicious, family friendly recipes!