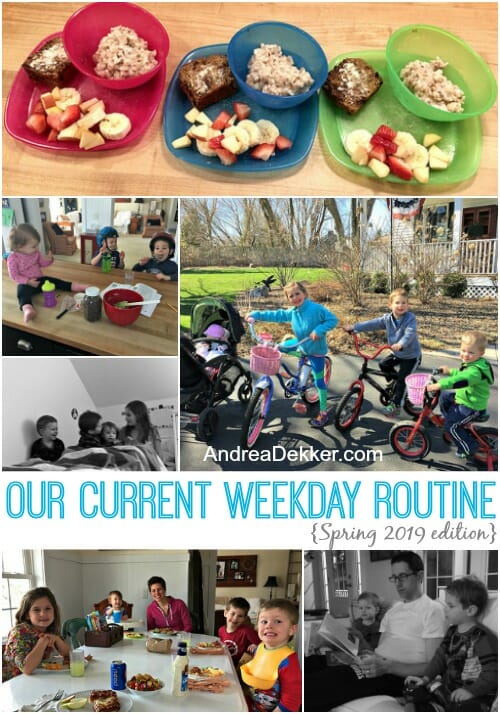 Every week, I get emails asking me to share more about what our normal daily life looks like.
I have attempted to do this in my string of Peek Into Our Week posts. I've also shared a handful of "daily routine" posts over the past 6 years. However, it appears I'm due for another daily routine post now that we have 4 children, now that we have different school schedules, and now that Dave and I wake up so much earlier.
I actually really enjoy writing these types of posts, but it's also difficult to keep them up-to-date because our daily routine changes with each new school semester — and of course, our routine is MUCH different when everyone is home in the summer.
Since we're already a couple months into second semester, I feel confident that this is a pretty accurate picture of our family's current weekday routine!
4:00am = adults wake up
Dave and my alarm has gone off at 4am every single weekday morning for the entire school year — we LOVE this early morning wake-up.
Of course, we're usually still a little groggy when the alarm goes off, and there are times we hit "snooze" a time (or 2), but most mornings we both roll out of bed, make the bed, and quickly get to work on our list of to-dos for the day.
We have been pleasantly surprised how much more productive we both are in the mornings, and even though we're going to bed much earlier these days, we're accomplishing more in less time as we are so much more efficient in the morning.
Here's a more detailed breakdown of my morning routine:
4:00 = wake up, make the bed, drink a bunch of water, get dressed
4:15 = get my hair wet, go to the bathroom, do my makeup, do my hair (it's dry already)
4:30 = head out to my computer to check and respond to emails, comments, social media, and work on blog posts
5:15 = take a break from computer work to make Dave breakfast and prep breakfast for myself and the kids. I also use this time to put lunches in backpacks, make sure all bags are packed and ready for the day, and change out the bathroom and kitchen hand towels
5:45 = I either go back to my computer or I continue working in the kitchen — roasting veggies, chopping fruit, making bread, etc.
6:30 = my alarm goes off to remind me to wake Nora up, I quickly heat up the griddle or frying pan so it's ready to start making more breakfast
6:30am = kids wake up & get ready
The boys are technically supposed to stay sleeping until 7:00, but many weekday mornings, they get up with Nora at 6:30, which doesn't bother me too much as they can all eat breakfast together.
After the kids come downstairs, they quickly say goodbye to Dave and then go to the bathroom and make their beds. Nora gets dressed for school — she puts her clothes in the bathroom the night before.
We eat breakfast together at the table, then I clean up the kitchen while Nora finishes getting ready for school and the boys SLOWLY finish breakfast.
After Nora leaves for the bus and the boys finish eating, they brush their teeth and get dressed (yes, they can do this all on their OWN!) Once they are ready for the day, they usually play upstairs or do something at the table, depending on if Clara is awake already or not.
Clara doesn't have a set time that she always wakes up. Sometimes I have to wake her up as we need to get out the door on time. Other times I let her sleep in as long as she wants. Whenever she gets up, I change her diaper, get her dressed, and feed her whatever breakfast was leftover from the older kids.
8:00 am – 11:30 am = morning activities and errands
Every morning is a different routine in our house, but this is usually the time of day when we try to do more activities as Clara still takes a nap in the afternoon.
Some mornings we have preschool drop off and pick up (with a grocery run in between). Other mornings we have Story Hour or Music 'n Motion at the library, Coffee Break or a Mommy & Me play group at church, and free events and activities at our local Early Childhood Center.
We might go visit a friend's house, have friends over to our house, visit grandparents at work, or even just go for a walk/bike ride.
Whatever the case, we try to DO something or GO somewhere for at least part of every morning.
The rest of the morning hours are spent baking, cooking, and playing at home.
11:30 am = lunch time
We are home by 11:30 each day, no matter what our morning activities and errands are — so this is when it works for us to eat lunch.
We eat very simple lunches at home (sandwich, meat and cheese, cheese quesadilla, fruit, veggies, cookie, water). The kids know their handful of lunch options and we usually figure out what everyone wants on the drive home in the morning.
The fruit, veggies, meat, and cheese are already cut up and ready to go, so it's just a matter of putting everything on their plate and making a sandwich or quesadilla. The kids play in the living room or upstairs while I quickly get our lunches on the table, then we eat.
The boys take FOREVER to eat their food as they talk and play and giggle throughout, so once I'm finished eating and feeding Clara, I let her get down to play and I clean up the kitchen.
Once everyone is finished eating, we might read a couple books or play a short game, then the boys go upstairs to play while I put Clara down for her nap.
1:00 pm = nap/quiet time
My goal is to have Clara down for her nap by 1:00 every day. During this time, the boys play upstairs for about 30 minutes.
Once Clara is sleeping, the boys and I usually play a couple games together, then I set them up with something to do at the table (coloring, stickers, gak or slime, paint pens) while I try to get a little work done — either on my computer or in the kitchen.
If the weather is nice, we usually go outside while Clara is sleeping… if the weather is not nice, the boys get to watch a show.
3:00 pm = everyone comes home and wakes up
Clara usually wakes up around 3, Dave and Nora are home by 3:30… then the craziness begins!
We unpack backpacks and lunches, refill water bottles, sort through papers, look at school projects and birthday treats, and listen to all the exciting tales of 1st grade (and high school math!) Then the older 3 scamper upstairs (or go outside) to play while Dave plays with Clara and chats with me about the day.
I re-pack lunches for the next day and start getting food ready for dinner.
Dave eventually takes Clara to wherever the older kids are playing and they all hang out together until dinner time.
4:30 pm = dinner
I realize this is crazy early for most people to eat dinner — but we wake up early, we eat lunch early, Dave gets home early, and we go to bed early — so it just makes sense to also eat dinner early.
And our early dinner time means we don't need "after school snacks"!
We really truly are sitting down at the table with food on our plates at 4:30 almost EVERY SINGLE DAY… and we're often finished eating, with the kitchen completely cleaned up and the dishwasher started by 5:30pm. It's glorious!
After dinner, all 4 kids go upstairs to play for a little bit longer (they will eventually go outside once the weather warms up). They play REALLY well together!
6:00 pm = pick up, baths, books
Almost every night, we start the bedtime process at 6:00 – again, I know this is early. It's just what works for our family right now!
We help the kids pick up ALL toys, games, crafts, dress-up clothes, and anything else they got out throughout the day. Then they pick out their clothes for the next day, bring their PJ's to the bathroom, and we start baths.
Nora takes a shower in the main floor bathroom, the boys and Clara take a bath (together) upstairs. Once we finally get around to finishing our 3rd bathroom, Simon will probably switch to taking showers as well (3 in the tub is getting crowded!)
We let the kids play in the bath for a while — they LOVE it. Nora gets herself ready for bed and reads while Dave or I finish the bath upstairs. Whoever isn't finishing the baths cleans out the dishwasher and gets snacks ready for the kids (grapes and cheese or bananas).
We read books until 7:00 (Dave usually reads to the boys, I read to Nora, Clara switches between the 2 groups or looks at books by herself).
7:00 pm = kids in bed
At 7:00, the kids brush their teeth, go to the bathroom, and get into bed.
Since they all share a bedroom, the bedtime process is sort of a family affair 🙂 It used to annoy me that BOTH Dave and I had to put them to bed, but now I actually really like this short time together every night.
We all go into their room and everyone gets to pick a song. Then we all sing songs, they share something they are thankful for and a prayer request, then we turn out the lights and let them talk for a bit.
I put Clara to bed and Dave eventually goes back upstairs to tell the older kids when it's time to stop talking.
7:30 pm = prep for the next day
Dave and I previously did lots of work in the evenings — grading, lesson planning, writing, etc. However, now that we can accomplish so much in the morning, we don't have nearly as much to do after the kids are in bed.
The short period of time we now have in the evenings is usually spent wrapping up various things we've started throughout the day and preparing for the next day.
I prep breakfast for the next morning, get laundry ready if I'll be doing laundry, make my to-do lists, make sure bags are packed and the cars are loaded and ready to go. I'll try to clean out my inbox (my goal is always ZERO!) and maybe work on my digital photo book or read for a bit.
We both also shower at night as well.
9:30 pm = adults in bed
Dave and I have been very good about getting to bed on time, especially during the week. Yes, there are always exceptions to this — like if Dave is watching a sporting event or if I'm on a roll with some project or writing assignment. However, 90% of the time, we are IN BED by 9:30 every night — sometimes earlier!
It's not totally unusual for one or both of us to get up at some point in the middle of the night with one or more children… but more often than not, we are both able to sleep through the night these days — HALLELUJAH!
Then we wake up the next morning and do it all over again!