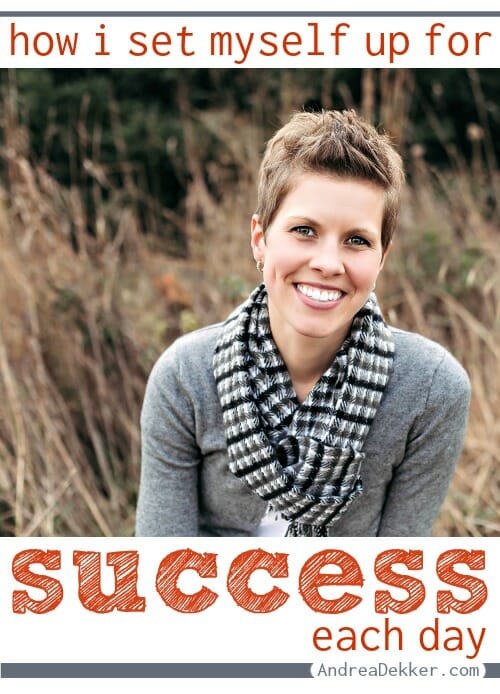 For the past 5-6 months, Dave and I have woken up between 4:00 and 4:30 EVERY single weekday (roughly 5:00 or 5:30 on the weekends).
There are mornings when it's not super easy to "hop" out of bed, but for the most part, we are both morning people and we both LOVE how much more productive, awake, and "with it" we feel for the entire day when we wake up early.
I regularly accomplish more by 8:00am than I do for the rest of the day because I am able to work quickly with few distractions and I'm very alert and focused at this time of day (the benefits of being a life-long morning person!)
That said, our evening productivity is basically non-existent now!
Thanks to our early alarm clock, we must prioritize an earlier bedtime so we don't miss out on too much sleep. Our goal is to be in bed by 9:30, but sometimes it's closer to 10.
Either way, by the time the kids are sleeping (7:30ish), we don't have much free time in the evenings anymore — especially since we use part of our evening hours to pack lunches, clean out the dishwasher, wash dishes, finish folding any laundry, pick up the house, take showers, get ready for bed, etc. etc.
I usually have between 30-60 minutes of extra time each night after all the random household stuff is taken care of… but I'm also usually quite tired by that point, so writing a blog post, reading, or working on any sort of focused project isn't ideal (I can't tell you how many times I've dozed off in the middle of reading something at night!)
Instead, I use this 30-60 minute time-block to prep everything I possibly can for the next morning – when I'll be WIDE AWAKE and ready to work productively.
I pull anything out of the freezer that we'll eat, prepare, or bake the next day
I make pancake or waffle batter, or get things prepped for oatmeal, muffins, quiche, or whatever we'll have for breakfast
I make sure our container of raw veggies is stocked for the next day
I often set the table for breakfast and have pots, pans, cutting boards, slow cookers, griddles, etc. sitting out ready for me to cook the next morning (I usually prep dinner while I'm making breakfast)
I make sure all backpacks, diaper bags, and any other bags are completely packed and ready to go in the mudroom
I have the van ready to go for various errands we'll run the next day
If I'm doing laundry the next day, I'll have the first load in the washer with the delay-start set for 3:30am, so it's ready for the dryer by the time I wake up.
I respond to short emails and blog comments
I draft responses to longer emails and save them to send out the next morning (after reading with fresh eyes!)
I schedule posts to go out on social media
I edit photos and upload them to corresponding blog posts (this makes the writing process go faster but doesn't require the concentration of writing)
I make a fairly detailed to-do list for the next day — specifically with what I hope to accomplish between 4am and 8am
Of course, I don't do every single one of these things every single night — but these are all tasks I can quickly and easily accomplish, even if I'm a little drowsy.
And while they might not seem like much, these tasks are crucial to boosting my morning productivity!
Here's a look at what a typical morning looks like for me…
When my alarm goes off at 4:00, I head to the bathroom (where my clothes are already sitting out) to get dressed and ready — by 4:15, I'm 100% ready for the day.
If I'm doing laundry, I'll switch loads at this point. Then I read through my drafted emails, edit as necessary, and send those off by 4:30.
My goals is to write one blog post every morning from 4:30 – 5:30 — sometimes I write more than this, sometimes I don't.
At 5:30, I head to the kitchen to make breakfast and prep dinner. Dave usually eats breakfast around 5:30-5:45, so I make our breakfast first and keep stuff warm for the kids closer to 7:00.
After we eat breakfast, I finish anything I need to do for dinner (my goal is to have dinner ready for the oven, the pan, or the grill before the kids wake up). I also use this time cut up a bunch of fruit to eat throughout that day, start up the bread machine if I'm making bread, and make lunches for myself and the boys (usually just to eat at home).
By now, it's 6:30/6:40am and time to get Nora up for school. The boys often get up with her and they all get dressed, go to the bathroom, do their hair, etc.
They sit down to eat shortly before 7:00 and Nora heads off to the bus at 7:15. I often read to them or read on my own at the table while they eat breakfast.
After breakfast, the boys usually scamper upstairs to play together (so amazing!!) while I clean up the kitchen from 2 rounds of breakfast, lunch prep, and dinner prep.
I check my to-do list, respond to any new emails that came in throughout the morning, and then basically "pack up shop" until nap time.
By this point in the morning (8:00am) I usually have the majority of my to-do list crossed off, including most of my kitchen work for the day. This means I don't need to think about lunches or dinner, I don't need to run to the store for an ingredient I forgot, and I don't need to make a huge mess in the kitchen again (unless I decide to bake with the boys!).
Clara usually wakes up around 8:00 as well, and after a quick breakfast, we take Simon to school, head to the grocery store, run a few errands, hit-up a local play group, go to story hour at the library, or visit a friend — depending on the day.
Our goal is to be home again by 11:30 for lunch. I've cut back on morning snacks and usually don't offer them anymore as the kids eat A LOT for breakfast and we eat lunch fairly early.
This means everyone is pretty hungry by 11:30, but since I have lunches ready and waiting for us in the fridge, it takes 2 minutes for me to quickly hand out the prepared lunches.
After lunch, I put Clara down for her nap (around 1:00pm).
During Clara's nap, I usually have one "planned" craft or project I work on with the boys, then they play by themselves for a bit, followed by a small snack while I read to them, and finally a TV show. I use this TV time to work on a few more of my to-dos, fold laundry, finish the blog post I started that morning, various household chores, etc.
By the time Dave and Nora get home at 3:30, Clara is awake again and we're usually all playing upstairs or outside (weather permitting).
Dave takes over the kiddos while I finish up whatever I was working on during nap time and get dinner in the oven.
We eat at 4:30 almost every single night… and start picking up the house for the bath/bedtime process around 6:00.
.
The kids are usually in bed by 7:00 and sleeping by 7:30… at which point Dave and I start the whole process over again!
I realize this might sound like a lot when you're just reading it, but our days honestly flow SO smoothly as these routines are now effortless and mindless — but it all starts with the fact that I prepare to be productive the night before (and actually get out of bed when the alarm goes off at 4:00).
Dave essentially does the same thing, except he prepares school stuff to work on the night before — often laying out stacks of tests to grade, or laying out lesson plans to complete the next morning.
We both accomplish SO much each morning thanks to planing ahead at night. We can then get through the rest of our day without constantly stressing about how much we have to do or worrying about forgetting something important.
I can help out at the kids school, have a play date with friends, do stuff at church, or whatever else comes up without thinking about work, or dinner, or all the other things I "need to do" — because I've already DONE them!
It's VERY freeing!
Due to the nature of our jobs, we function somewhat non-stop throughout the school year (I can't even remember the last time I watched TV or the last time Dave and I 'went out' on a date), but keep in mind our family also has the entire summer to hang out at home doing as much or as little as we want to do.
Plus, we have 2 glorious weeks at Christmas, a week at Spring Break, and other various school breaks and holidays throughout the year.
It's a different schedule than many other jobs, but it works for us and our family for now!
.
Yes, I do realize that not everyone is a morning person… that's OK!
The point I hope to make in this post is that I use time when I'm NOT super productive (evening hours) to prep a variety of tasks I can then work on during my more productive hours (early morning).
If you are the opposite, simply use your morning hours when you're still a bit groggy to prep things you can then work on after the kids leave for school or after they are sleeping for the night and you can focus.
There is no "right" or "wrong" way to do this!
Determine what YOUR most productive time of day is, and then focus on consistently thinking ahead for ways you can prepare to be even more productive during that time-frame.
Eventually you will develop the fantastic habit of prepping for future tasks and activities without even thinking about it!
How do you plan ahead to set yourself up for success?