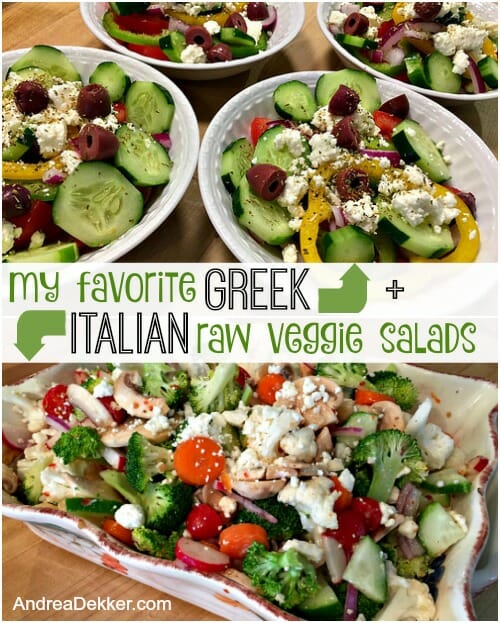 When it comes to eating salads, I'm usually a fan of lots of stuff on top of my leafy greens — meat, cheese, veggies, fruit, nuts, seeds, beans, eggs, grains, etc. etc. The more "extras" the better for me (I've linked to some of my favorite salads at the end of this post!)
However, there are times when eating a simple salad sounds good, or I'm in the mood for raw veggies… but not just plain raw veggies.
In those situations, I turn to one of my 2 favorite Raw Veggie Salads — and yes, you read the title correctly, neither one has actual lettuce, spinach, kale, or any other leafy greens. They are just raw veggies with delicious seasonings and dressings (and some feta cheese) but boy are they tasty.
They are each fantastic side dishes for so many different meals, and I often eat them on their own for a lighter lunch.
.
Recipe for a Simple Greek Salad:
Serves 4
INGREDIENTS:
2 cucumbers; sliced
4 roma tomatoes; chunked
1 green pepper; sliced (or colored pepper)
1 red onion; cut into thick slices
12 Kalamata olives; halved
1/3 c. Feta cheese; crumbled
1 tsp. Oregano
salt and pepper to taste
2 T. olive oil
4 T. balsamic vinegar
DIRECTIONS:
Layer veggies and cheese in a large bowl or 4 salad plates.
Mix oregano, salt, pepper, olive oil, and vinegar in a small container.
Pour dressing over veggies just before eating.
.
Recipe for Marinated Italian Veggie Salad:
Serves 4
INGREDIENTS:
1 c. broccoli florets
1 c. cauliflower florets
1 c. cherry tomatoes; halved
1 cucumber; sliced
3 carrots; sliced
4-6 oz. fresh mushrooms; sliced
4 radishes, thinly sliced
1/2 red onion, thinly sliced
1/4 c. Feta cheese (or to taste)
Italian dressing to taste (roughly 1/4 c – 1/2 c. depending on how big your salad is)
NOTE: You can use WHATEVER veggies you have in the house or whatever your family prefers. Also, this salad would also be good with Ranch dressing!
DIRECTIONS:
Layer veggies and cheese in a large bowl.
Drizzle with dressing and mix well.
Let veggies "marinate" for at least 30 minutes before serving (I often make this several hours in advance, or even a day before and it tastes great)
.
As I mentioned above, these salads are both SO flavorful, and an easy way to enjoy raw veggies without a lot of work or extra ingredients.
If you're a salad-lover, I have a feeling you'll like these salads too — even if it is a little strange to have a "salad" with no lettuce!
.x
A Few More of My Favorite Salads:
This salad is one of my all-time favorite "stuff salads" — most likely because the homemade honey mustard vinaigrette is SO delicious!
This is an excellent salad if you need to make it in advance to bring to a party. It can easily sit (even with the dressing) for a full day or more and still taste fresh!
This is our favorite salad to eat with homemade pizza or Stromboli.
This salad has something for every season — and the homemade Apple Vinaigrette is the perfect dressing for this delicious salad.
Breakfast BLT Salad
I don't have a link to this recipe, but it's bacon bits, roasted veggies, cherry tomatoes, and fried eggs on top of spinach, drizzled with balsamic vinegar.
This is another really good "non lettuce salad" that actually tastes better when you make it in advance!
This is a fantastic stand-alone meal, and also a perfect side dish for any type of Mexican meal. The homemade yogurt-based dressing is something I always keep on hand for drizzling over so many Mexican foods!
What about you… what are YOUR favorite salads?
Visit my virtual recipe box for more simple, delicious, family friendly recipes!