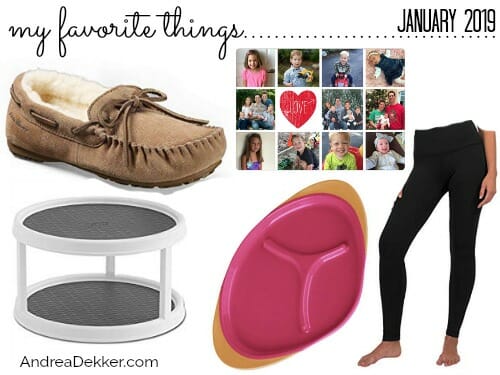 HAPPY NEW YEAR, FRIENDS!!!!
I had a fabulous "week away" from my computer, the blog, social media, and even from most of my emails… but I'm excited to get into a better routine again.
Of course, another new year (and new month) means another new list of my favorite things!!
DISCLOSURE: None of these products are sponsored; however, some of the links below are affiliate links — which means that at no cost to you, I may get a small commission. Please know that I use these products daily in my own home and life. Read my full disclosure policy for more information.

Also, check out my Amazon Market for all my favorite things.
Fleece-Lined Leggings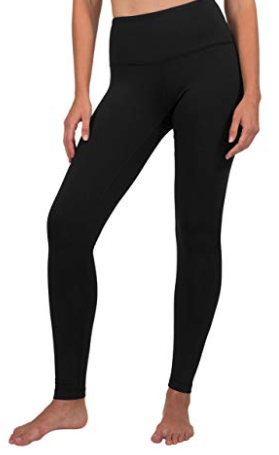 Oh my word, I am freezing cold all the time in the winter!
Even though we keep our house pretty warm, I'm in and out all the time — picking up kids, dropping them off, running by the bank, heading in to the store, playing outside with the kids, etc. etc.
I have a coat, gloves, scarf, boots, etc. but my legs always get so cold.
I found fleece-lined leggings on ThredUp this fall ($9) and they have been my pants of choice for most of the winter so far! The brand name is 90 Degree By Reflex and here's the link to them on Amazon.
They are super comfy, super warm, super soft, easy to wash/dry, and have held up to constant wear (especially considering mine were purchased "used" to begin with!)
.
Eddie Bauer Slippers

And speaking of being cold all the time — I wear slippers in the house ALL day long as many of our floors are wood or tile.
Plus, I like the support they give me (I always wear slippers with a hard sole).
My previous slippers were on their last leg (or foot!) I had worn them daily for many years and it was time for a new pair. I posted my slipper question on Facebook and got SO many fantastic options.
I ultimately decided on these slippers from Eddie Bauer.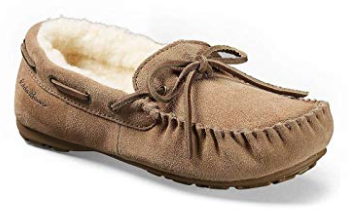 I did purchase mine directly from the Eddie Bauer website as I got 50% off with an additional 20% off coupon code AND I had a $20 "gift voucher" waiting in my email (not sure why I got this, but I did).
The slippers were extremely reasonably priced and SUCH GREAT QUALITY!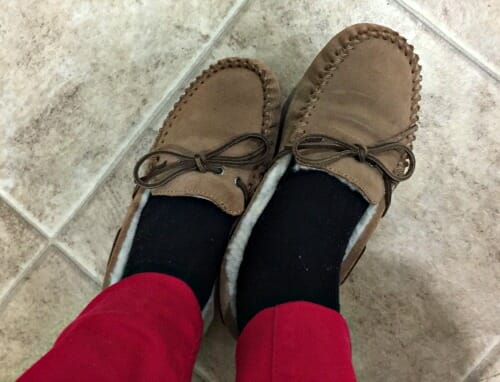 I've worn them for 12+ hours a day for the past month and they still feel brand spanking new. They are super supportive, super soft, and super warm. They could probably even be worn as shoes as the sole is so thick and sturdy.
I'm hoping they hold up for several years like my last pair — if so, they are MORE than worth the investment!
.
b.Box Compartmentalized Kids' Plates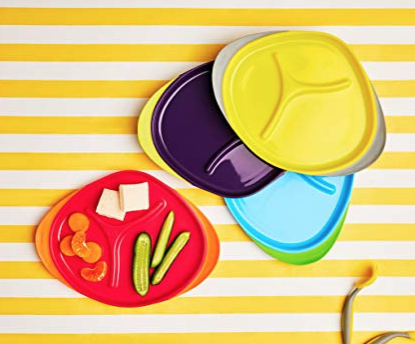 We've been using these fun plates from b.Box for several years now — they are often our "breakfast plates" because they keep syrup contained!
The kids LOVE them, the bright colors are super fun, they are extremely durable, non-skid, dishwasher safe, microwave safe, and they stack well too.

Nora is almost ready to 'graduate' from her plate so we can give it to Clara — or maybe we'll need to buy the purple one too!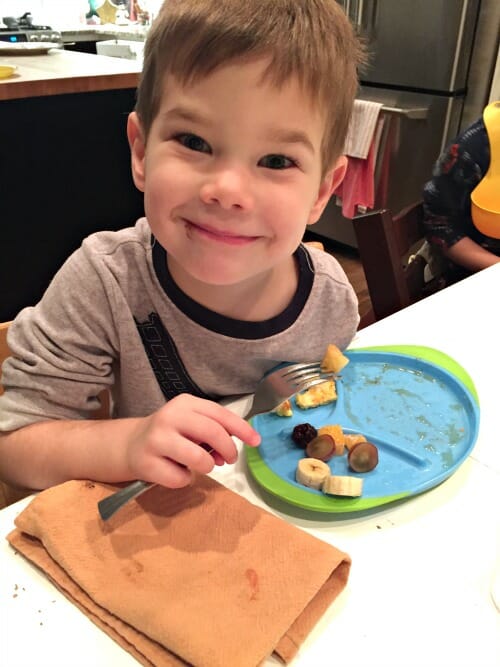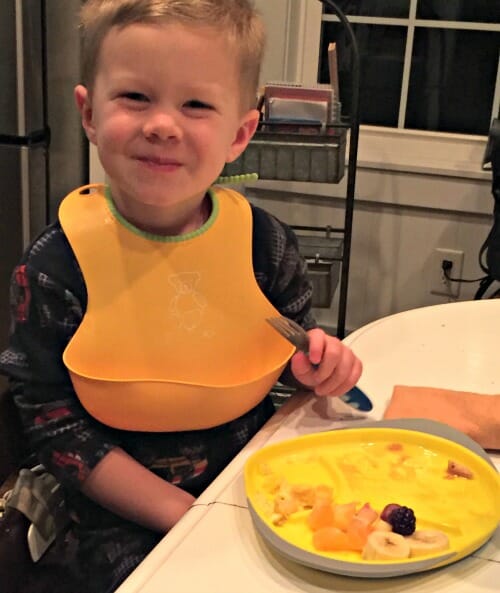 .
Photo Magnets
Everyone I know uses magnets — teachers, coaches, parents, grandparents, etc. etc. and while I know you CAN have "too much of a good thing" I feel that a small cute photo magnet is a really great gift.
I order photo magnets all the time — whenever I get a free coupon for them from Shutterfly. I sometimes save them as gifts, but mostly I just enjoy using them myself on our various magnet boards!
We gave photo magnets to our parents and grandparents this Christmas — which they can display as a photo AND use to hold up all the artwork our children will eventually give them.
We have given photo magnets to many others over the years as well… we even used them as wedding favors for our wedding 12+ years ago! We included our new address as well as a picture of us and a brief "thank you" note. We still have many relatives who use those magnets even though we no longer live at that address!
Shutterfly always seems to have "free magnet" deals going on, so even though I still have to pay shipping (and I know they inflate the shipping rates) it usually works out to $1 – $2 per photo magnet, depending on the size. Not bad for personalized gifts!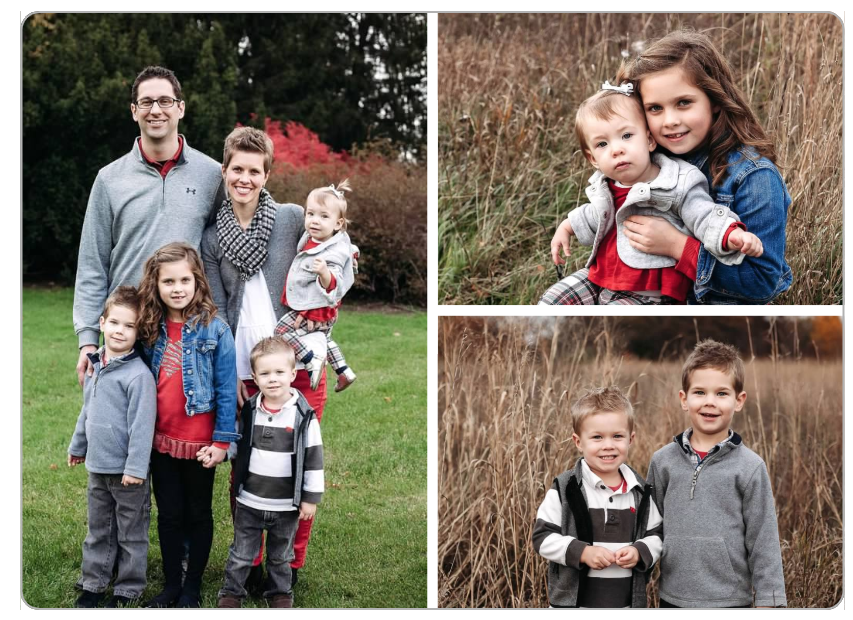 .
Lazy Susans
I know so many people who have a love-hate relationship with their Lazy Susan cabinets, but my kitchen has 5 built-in Lazy Susans and I LOOOOOOOOVE them so much!
Side Note: do you know where the term "Lazy Susan" came from? I tried looking it up, but it says the meaning of the name is lost in history — apparently the term has been around for about 100 years!
As long as I don't over-stuff them and keep them relatively organized, they are a fantastic way to better-utilize awkward corner cabinets that are difficult to access.
Notice the black leggings mentioned above — I live in them in the winter!!
If you don't have built-in Lazy Susans in your kitchen (and a remodel is not feasible right now) you could always purchase a few of these really great Lazy Susan turntables to put inside regular cabinets. There are so many different sizes, heights, colors, etc. You're sure to find something that will look good and function well in your kitchen!
.
That's all for me this month.
Check out my previous months' favorite things — and feel free to share some of YOUR favorite things in the comments below!