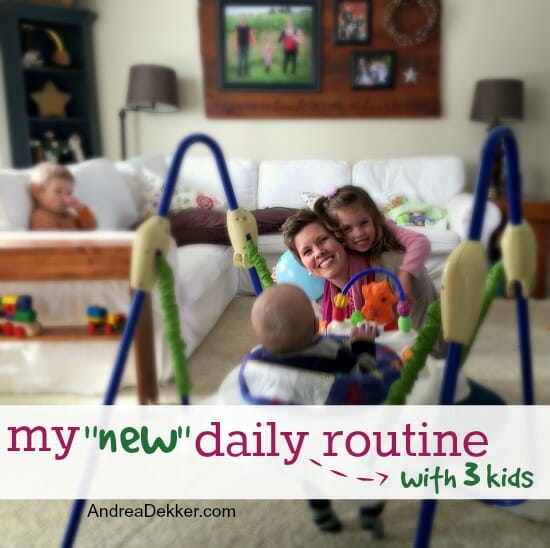 Now that James is 6 months old, and I've been home with all 3 kids for half the school year, I thought it was time to share a little bit more about my "new" daily routine.
I've been asked about my new routine several times over the past few months — but since it takes a bit for me to find my groove when big, huge, life changes happen (like a new baby), I wanted to wait until Dave was back in school for a couple of months and we had more of a "regular" routine.
And I say "regular" (in quotations) because any caregiver of young children knows that things rarely go exactly as planned!
So as you read, please keep in mind that there are days that don't look exactly like the picture I've painted in this post. However, the majority of our days generally follow the routine I've laid out below.
5:30am
Don't worry, I'm not awake yet — unless I'm feeding James 🙂
This is when Dave's alarm goes off… and on a rare occasion that James slept really well the night before, I will sometimes get up and do a little work before the kids wake up.
However, 90% of the time, I roll over and go right back to sleep.
6:40am
Dave usually leaves for school around 6:40, and he is instructed to wake me up before he leaves!
For a natural-born morning person, I should easily be able to wake up on my own by 6:40… but unfortunately, James is a pretty crappy nighttime sleeper at this point (I'm often up with him 3-6 times a night) so mornings having been coming too quickly right now.
That said, if I don't get up at least 15 minutes before Nora and Simon wake up, the whole morning feels rushed and unfun.
So I try really really hard to pull myself out of bed and very quickly get dressed, make my bed, do my hair, and put some mascara on (read my own personal morning routine here)
If I move quickly, I can honestly get completely ready to go (including making the bed and eating my first breakfast) in about 15 minutes… so it really is worth it for me to give up 15 minutes of sleep for a much better start to the day.
6:45 – 7:30am
Nora and Simon usually wake up between 6:45 and 7:30 am. Nora comes down and usually just lays on the couch and waits for me to turn Curious George or Princess Sophia on Netflix. Simon almost always plays happily in his crib for 15-20 minutes until I go get him.
During this time, I get Nora a bowl of grapes and cheese (her preferred "first breakfast") to eat while she watches her show, and I heat up milk for Simon. Then I go get Simon, give him his milk, change his diaper, and get him dressed. We usually play upstairs in his room for a bit before heading back downstairs.
7:30 – 9:00am
James doesn't have any sort of routine or schedule for when he wakes up — so depending on how much (or how little) he slept the night before, he will wake up any time between 7:30 and 9:00.
When he wakes up, he rarely wants to eat, so I just change his diaper and get him dressed. Then we all "play" out in the living room for a bit.
This is also when Nora gets dressed as she likes to stay in her PJ's for a while after she wakes up. She picks out her own clothes these days — so it's always an interesting combo!
9:00 – 10:00 am
Since I like eating together at the table, we usually don't eat our "official breakfast" until around 9:00am. I'll often make pancakes, waffles, cheesy eggs and toast, or something else that's hot since my kids won't eat cereal.
They take FOREVER to eat their breakfast, so once I'm finished eating, I quickly clean up the kitchen, load the dishwasher, and prep anything I can for lunch and dinner.
If we're going anywhere that day, I'll use this time to make sure the diaper bag and car are packed and ready to go. And if I didn't get fully ready when I woke up, I'll finish getting ready during this time as well.
As the kids finish eating, they play or look at books for a bit and then we'll officially "start our day".
10:00 – 11:30am
Once everyone is finally finished eating and all the sticky syrup messes are cleaned up, we have a couple hours to play until they are hungry again for lunch 🙂
When the weather is nice, we almost always spend this time outside. We'll play on the swingset, go for walks, ride bikes, etc. However, during the winter, we usually just stay inside as it's too overwhelming for me to try to bundle everyone up and make sure James stays warm too.
James often takes his 30-40 minute morning nap during this time as well — and when he's napping, I try to do something a little extra fun with the other two (something I couldn't do while watching a baby). Sometimes we'll paint or bake, sometimes I'll let them jump on the beds, make forts with the couch cushions, or be extra loud upstairs, sometimes we'll read books, and sometimes a grandparent, aunt, or friend will come over to play.
James usually needs to eat before his nap, so that's always an interesting time of day, especially if Nora and Simon aren't playing well together. I try to have things for them to do that won't make a mess and don't require supervision so I can go feed James in the quiet of his room (since he'll be drifting off to sleep).
Also, on days when Nora has school, we usually bring her around 11:00 as she goes to the childcare center for 1.5 hours before her school actually starts. This way, I don't have to get out during nap time and she gets to pack her lunch and eat with her friends!
11:30am – 1:00pm
At 11:30, we spend a few minutes picking everything up and then I turn a show on for the kids while I make lunch. After lunch, Nora and Simon usually play really well together while I clean up the kitchen.
I let them play until 12:30 or 1:00 and then it's time for Simon to take his nap. Simon is SUCH a good napper and often just brings me his blanket and asks me to pick him up when he's ready to take his nap!
I let Nora "babysit" James downstairs for the 5 minutes it takes me to change Simon's diaper and put him down for a nap. Then, Nora gets to do something extra fun just by herself while I get James down for his nap.
I have little kits of things prepared for her (like a cookie decorating kit, a sewing kit, a sticker kit, etc.) and she can pick one of those things to do for 10-15 minutes while I change and feed James.
1:00 – 4:00pm
Although it doesn't always work out perfectly, I am usually able to get Simon and James napping at the same time — at least for an hour. I use this time to do laundry, baking, cleaning, small organizing projects, and dinner prep (all with Nora's help as she thinks these are just the most fun activities ever!)
We also do crafts during this time… and we usually read 1-2 chapters out of a Little House book.
On the days when Nora is in school, I use the afternoon nap time to get blogging work done. When I have a heavier-than-normal work load, I let Nora watch a movie during the boys' naps so I can get a little bit more accomplished.
The boys wake up from their naps any time between 2:30 and 4:00 and we usually have a snack when Simon wakes up.
4:00 – 5:00pm
Dave is almost always home by 4:00. Then he takes over while I work on the computer, get dinner in the oven, run an errand or two, or just catch up on various to-dos. Hallelujah!
5:00 – 7:00pm
We usually eat dinner around 5:00 — which I realize is pretty early, but our kids go to bed earlier if we eat earlier… so we eat at 5:00 (sometimes 4:45!)
After dinner, Dave plays with the kids while I clean up, start the dishwasher, get a load of laundry in, and sweep that massive amount of crumbs on our kitchen floor!
7:00 – 8:00pm
This is an hour of craziness at our house.
7:00 = bathtime, then PJ's, then pick up the toys, then a snack while watching a music show on TV, then read a book, brush teeth, and off to bed.
Nora and Simon are almost always sleeping by 8:00 and James is starting to go to bed earlier as well. This means that Dave and I usually have 2-3 hours every night to "get stuff done" (as we say!)
8:00 – 11:00pm
Although I am not a night owl, these 3 hours are my favorite 3 hours of the day! All our kids are sleeping, the house is quiet and dark, and I can do whatever I want to (sort of).
Dave usually spends most of this time grading, doing lesson plans, and packing his stuff for the next day. He's also really great about washing dishes, folding laundry, and helping to clean up any other lingering messes from the day.
I use these hours to respond to emails and get the majority of my focused work done. I might also go get groceries one night if I'm not ordering groceries from the curbside pickup.
James will usually wake up around 11:00pm to eat again — so my goal is always to be showered and ready for bed before he wakes up, and then Dave and I will both go to bed after James is sleeping again.
It's not a perfect system… but it's working (most of the time) for us right now.
.
I will say that as someone who is fairly good at managing her time, having 3 very young children at home all day, running a business from home, and having a teacher husband who has school work to do every night has stretched my productivity and efficiency more than ever before.
Dave and I have streamlined and consolidated, dropped some of our responsibilities, said no to many new requests for our time, and still, we often feel like we're just barely fitting everything in.
This is NOT to say that we feel stressed out or unhappy or even too busy with our lives right now.
The fact is that we really do enjoy everything we are doing — it's just a very "FULL" time of life I guess.
So there you have it — a relatively realistic picture of how my days roll as a work-at-home mom of 3 kiddos!