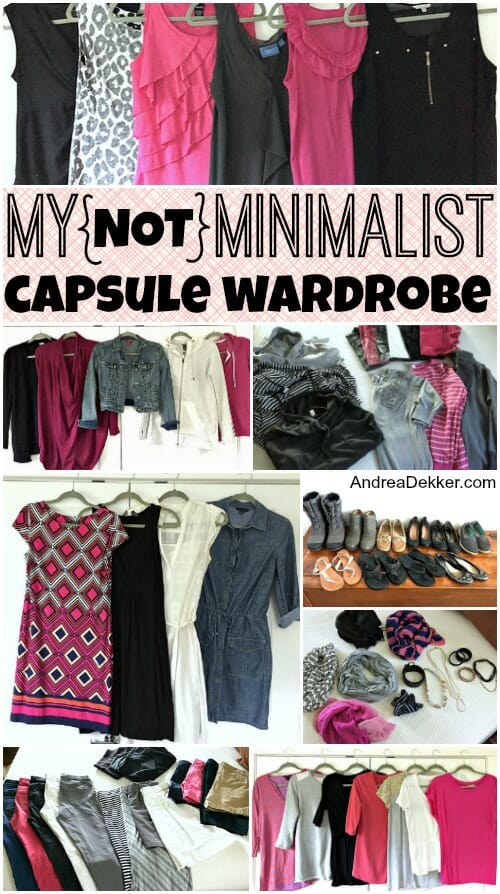 Over the past 5-6 years, I have gotten a ridiculous number of questions about capsule wardrobes:
Do I have a capsule wardrobe?
Would I recommend one?
How would someone go about creating their own capsule wardrobe?
What staple items of clothing would I recommend?
And the list goes on….
I usually bypass answering most of these questions by simply stating something like, "I don't have a capsule wardrobe, but I think the concept is really fabulous. Be sure to check Pinterest for more ideas to create your own capsule wardrobe."
Sometimes, I'll also send them a link to the Mix 'n Match Wardrobe Post I wrote 4 years ago or the 6 Reasons A Capsule Wardrobe Might Not Work for You post I wrote 3 years ago — they seems to be satisfied with those answers!
HOWEVER, over the past 3-4 years, I've done a major wardrobe overhaul… and I realized I DO actually have somewhat of a "Capsule Wardrobe" — it's just a really BIG Capsule Wardrobe!
(the photo above is every item of clothing Dave and I own… minus the underwear, PJ's, and workout clothing we keep in our dresser)
.
As I've mentioned before, I'm most definitely NOT a minimalist in any area of my life — except maybe my schedule!
I like decorations in my home, I like cute things sitting on the counters, I like displaying my kid's artwork on our magnetic walls, I like having a large number of toys and games for the kids to enjoy every day, and I like having several different options for clothing each day (especially with the constantly changing weather here in Michigan.)
That said, when it comes to what I wear, I NEED to keep things simplified and streamlined, otherwise I struggle from decision fatigue and just end up wearing the same 3 or 4 things over and over and over again — which defeats the purpose of buying clothing in the first place!
So, like I mentioned earlier, my wardrobe is FAR from "minimalist" but it IS somewhat of a capsule wardrobe by definition.
What is a Capsule Wardrobe anyway?
According to Wikipedia, a Capsule Wardrobe refers to:
"a collection of clothing that is composed of interchangeable items only, to maximize the number of outfits that can be created."
In my opinion, I have that definition of a Capsule Wardrobe… because 99% of my clothing is interchangeable, which greatly maximizes the number of outfits I can create — especially considering I have a fair number of pieces in my wardrobe to begin with!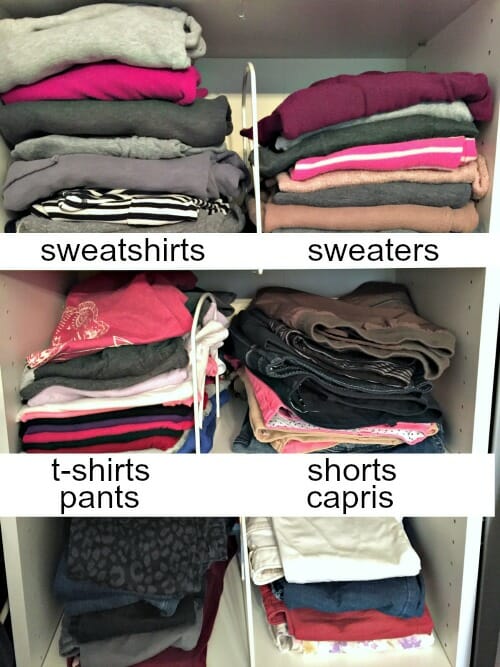 .
Let me explain:
Almost every single item in my closet is black, grey, white, navy, cream, or magenta/dark pink
I don't buy anything if it's not one of those colors
I buy mostly solid prints (especially for the bottoms) so I don't have to worry about clashing
I know what brands fit me best and what size I am, so ordering online is a breeze (especially since I usually shop second-hand online)
I no longer own any red, orange, yellow, green, light blue, dark tan, or brown
I have 2 purplish items, but one is almost grey and the other is almost magenta, so they still work
I have a few colorful scarves and necklaces to brighten up my mainly black and grey outfits
I can get by with only a few pairs of shoes since I wear coordinating colors
My grey winter coat and boots and my black flip flops go with almost everything I wear
If you think this sounds very boring — I completely understand.
HOWEVER, I promise you that I never get bored of wearing these colors because I feel great in these colors. Also, as you'll read below, I have enough items in my closet that I really can wear SO many different outfit combos that I don't have a chance to get bored.
As a real-life example, I went back through my photos from last week, all the way back to when Clara was born and pulled out all the pictures of me. Even without planning what I was wearing or thinking about the possibility of this upcoming post, you can see I ALWAYS wear the same colors, but rarely the same exact outfit.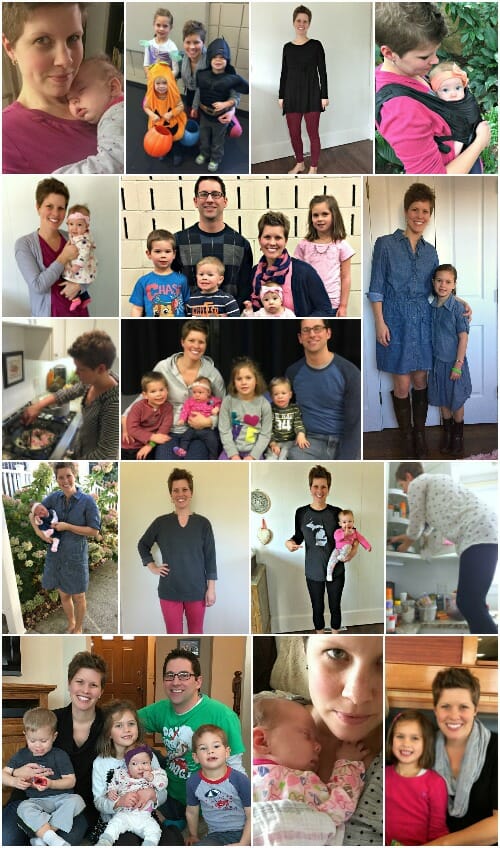 .
Several months ago, I purged ALL my maternity clothing (hallelujah!), all the "slightly too big" items I wear for the first couple of months after I deliver, and anything that didn't look and feel really great on my new mother-of-four body shape.
At that time, I also altered several pieces of clothing to work better for me now — shortening outdated pants into capris or Bermuda shorts, slimming down tops that are now too big for me, hemming skirts and dresses that weren't really long enough to be maxi length but now look cute as a shorter style, and cutting up several of my sweatshirts for a more updated look.
I updated 15 items of clothing that didn't flatter me or work with the current styles… and now they all fit again and I have significantly more clothing options!
So fun!
Then, about a month ago (after finally losing the last of my baby weight) I decided it was time to add a few new pieces to my closet in preparation for spring. Plus, it had been a REALLY long time since I purchased anything "new" for myself.
I say "new" because every single item I purchased for myself was actually used!
I found a handful of items on Swap.com and Thredup, and I made out like a bandit at a local thrift store over spring break! They had a sale where every item of clothing was $1… and I walked out with 20 new-to-me items for spring and summer… yes, for $20 total!!!!
Currently, my wardrobe is larger than it's been in a very long time — but when you get cute, brand name clothing for $1 a piece, it's really hard to turn them down!
Plus, after altering so many of the items I already owned, I truly feel like I have a brand new wardrobe for right around $50 (the cost of the clothing from the thrift store, Swap, and Thredup).
.
In the interest of time, I will NOT share pictures of every different outfit — but it's safe to say I have hundreds and hundreds of different combinations based on the tops and bottoms I currently own.
Here are a bunch of my pants, capris, skirts, shorts, and workout pants.
These are the majority of my sweatshirts, sweaters, and t-shirts.
Here are a few of my many cardigans, hoodies, and jackets.
These are some of my favorite three-quarter sleeve and short sleeve tops.
These are my favorite sleeveless tops.
Some of my dresses for spring.
My most-worn accessories.
And the majority of my footwear.
.
As I mentioned above, every single item I purchased for myself this spring (and every single item pictured above – minus 1 hoodie) was purchased USED!
These are things I paid $1, $3, or maybe $8 for from second hand stores, thrift shops, and online garage sales — and I truly didn't spend more than $50 total on everything I purchased to update my wardrobe this spring (roughly 30 items total).
I know thrift shopping won't work for ever body type or every demographic area, but I'm convinced that one of the main reasons I've been able to do so much thrift shopping over the past 3-4 years is because I've created a form of a capsule wardrobe for myself — even though it's NOT minimalist in anyway.
And speaking of not being minimalist… I know several of you will ask, so I did a quick count and listed out the different types of clothing I have below, along with how many of each item I have.
Jeans :: 3 (light, medium, dark — all skinny-leg jeggings)
Other Pants :: 3 (black, maroon, grey — all skinny jeans)
Athletic Pants :: 3 (2 black, 1 grey)
Capris :: 3 (white, jean, pink)
Shorts :: 4 (pink, jean, navy, light khaki)
Athletic Shorts :: 2
Long Skirts :: 3
Short Skirts :: 5
Dresses :: 4 (white, black, jean, pink/navy)
T-shirts :: 12
Tanks :: 8
Dressier shirts :: 12
Sweaters :: 7
Sweatshirts :: 6
Cardigans :: 14 (I wear these daily, year round!)
Belts :: 2
Scarves :: 12
Shoes :: 3 athletic, 6 casual, 2 dress
Sandals :: 2 flip flop, 2 dress
Boots :: 1 winter, 1 rain, 2 dress
See… told you I wasn't a minimalist!
I certainly have many option to choose from these days — definitely no more wondering "what to wear" because everything mixes and matches with everything else (well, almost everything else!)
I don't plan to buy anything else for myself until fall, but it was fun to find so many thrift store deals over the past couple of months.
Oh, and I should mention that thanks to folding most of my t-shirts and sweaters, I'm still sticking to my self-imposed "rule" of 40 hangers or less! You can check my math, but I believe I'm at 38 right now! 🙂
If you have an ultra-minimalistic capsule wardrobe, I think that is fantastic. There have been so many times in my life when I think how fun and freeing it would be if I could have so few items in my closet.
However, as I shared a few years ago, there are many reasons a true minimalist capsule wardrobe will not work for me — and I'm OK with that.
My current goals for my wardrobe are…
To feel great in what I wear.
To have practical, kid-friendly, yet cute options for all the crazy weather we experience in West Michigan.
To have almost exclusively mix and match pieces.
To have a decluttered closet with plenty of room to 'breathe".
To do it all without spending an exorbitant about of money.
So far, I have definitely accomplished these 5 goals… and I'm thrilled with the results!
I'd love to know… what are YOUR goals for YOUR wardrobe?
If you've never thought about this before, now is a perfect time of year to do it!
Take a few moments to think through the types, styles, colors, and fabrics you love wearing and feel great in. Then, remove everything else. You don't even need to purge it completely; just remove it from your closet for the time being so you can experience what it feels like to ONLY have things you love and feel great wearing staring back at you when you go to get dressed!
I guarantee it will be more fun to get up and get ready in the morning!
.