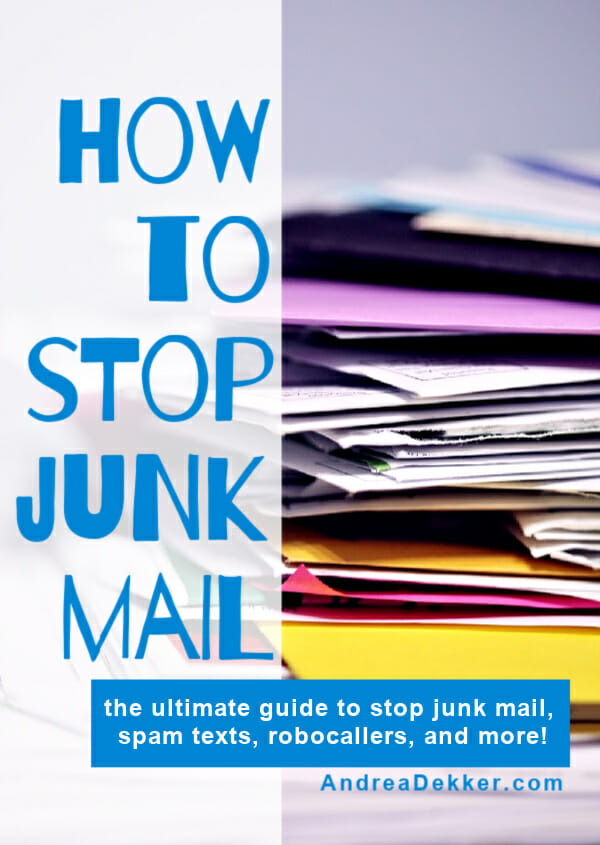 Have you ever wondered how to stop junk mail, spam texts messages, robocalls, telemarketers, promotional emails, and more from cluttering up your mailbox, inbox, voicemail, and messages??
If so, this post is exactly what you're looking for!!!
I've done the research and put together a huge list of resources for how to stop junk mail, unwanted phone calls, texts, and emails.
Best of all, most of these resources are completely free and only take a few minutes and a few clicks of your mouse!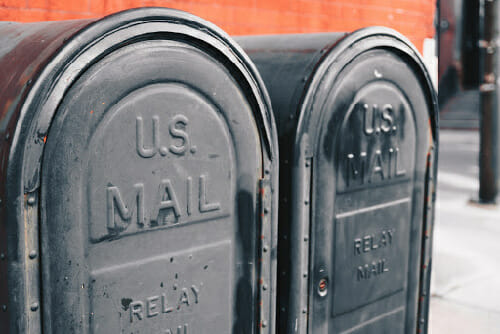 How to Stop Junk Mail:
There are so many quick, simple, frugal ways to stop junk mail, promotional mail, sweepstakes, fliers, catalogues, coupons, credit card offers and more from cluttering up your mailbox (and eventually your countertops).
Choose a few and do them right now!
1. Sign up for FREE accounts with CatalogChoice.org and DMAchoice.org to remove your physical address(es) from thousands of mailing lists nationwide.
2. Add your name (and the names of everyone who live at your address) to the National Do No Mail List via DirectMail.com.
3. Visit OptOutPreScreen to "opt out" of all credit cards offers for 5 years. (NOTE: you will need to provide your SSN, but it's encrypted for security.)
4. Opt out of receiving additional phone books via this form at YellowPages.com.
5. Send an email to optout@epsilon.com to request that your address be removed from all catalog mailings. Use the subject line "remove" and include your name, your address, the names of anyone who lives at your address, and any previous addresses you've occupied over the past 6 months.
6. Opt out of sweepstakes by filling out this form from Publisher's Clearing House's website, or emailing Reader's Digest with your request (rdstoreservice@rd.com) Those are the 2 largest sweepstakes companies so that will remove most of this type of junk mail.
7. Stop coupon junk mail from Valpak via this form, and from Redplum via this form.
One other option is to simply save your junk mail for a period of time, then take an hour or so to personally call the number or visit the website on the back of each piece of junk mail and request that your address be removed from the mailing list.
I did this and shared more about how to stop junk mail via this process in a blog post several years ago.
.
How to Stop Spam Phone Calls and Text Messages:
Unfortunately, it's REALLY REALLY hard to completely stop or eliminate all spam calls and texts, but these tips should help you drastically reduce the number of junk calls/texts you get.
1. Add your phone number(s) to the Do Not Call list via this website or by calling 1-888-382-1222. This only takes 30 seconds and it's completely free! (You'll need to allow a full month for changes to go into effect.)
2. Copy and/or forward each spam text to 7726 (SPAM) to "report" it. This won't necessarily stop the texts altogether, but it will help to reduce them.
3. Block the number (there is usually an option to "block caller" or "block sender" if you open the phone call or text message and scroll down).
4. Download the Robokiller app.
5. Download the NoMoRobo app (free for VoIP landlines, $1.99 per month for mobile).
6. Filter out the spam by following the instructions below.
iPhone = go to Settings and tap on Messages. Scroll down to Filter Unknown Senders and toggle the setting on.

Android = open your phone app and tap on the three-dot icon and choose Settings. Under Settings, enable Caller ID & Spam.
RELATED POST: I recently shared how we saved a bunch of money by switching to a prepaid cell phone plan — it might be worth considering if you're looking to save money on your cell phone bill!
.
How to Stop Spam and Promotional Emails:
In my opinion, Gmail does a fantastic job of filtering spam emails directly into the Spam folder and keeping them out of my inbox. However, there are still other emails that I've signed up for over the years (and many that I haven't signed up for) that I don't really care to read anymore.
They clutter up my inbox and waste my valuable time and energy skimming and deleting them.
If you have a significant number of spam and promotional emails that make their way to your inbox, use these tips and enjoy your clutter-free digital mail!
1. Sign up for a FREE account at Unroll.me and watch in amazement as the number of junk and spam emails you get drops!
2. Mass unsubscribe from emails you no longer want to receive by using these instructions from Google (specifically for Gmail)
3. Enter your email address in at GetUnsubscriber.com and you'll see an Unsubscriber folder/label in your inbox. All you have to do is drag messages you no longer want into that folder. Unsubscriber works with any email provider. However, they will no longer work with Gmail after March of 2020 (bummer).
4. Manually unsubscribe from emails on your own time by simply searching your email for the words "unsubscribe", "unroll", "remove", etc.
Your search results should pull up all emails containing those words — meaning you can simply click on each email, scroll to the bottom, and click on the "unsubscribe" link. (Read more about this process here).
I go through this unsubscribing process every year around this time to remove myself from all the junk holiday email offers I signed up for!
.
Do you know of any other resources to stop junk mail, phone calls, text messages, or emails?
Or have you successfully implemented any of my tips for how to stop junk mail and the like? I'd love to know!