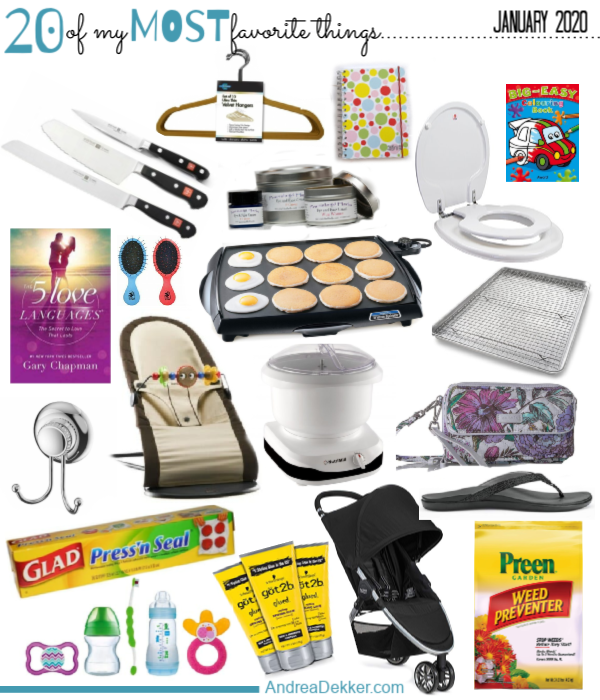 Can I tell you a secret?
I've been planning and looking forward to today's post for MONTHS!
After almost 7 years of sharing my favorite things on the blog each month, I went back through ALL my previous Favorite Things posts and hand-selected 20 of my MOST favorite things to share with you for the start of 2020!
These are the cream of the crop. The products I use daily (even 7 years and 3 more children later). They are products I recommend regularly on the blog and in real life. They are my most favorite and worth every penny (in my opinion!)
I'm also using a new format this month — one that I hope will make the post more readable and more easily "shoppable". Simply click the button link under each description to be taken directly to the sales page on Amazon (or whatever website the product is available through).
And if you're interested in reading my original review of each product, I've included that too. Just click the dated link directly under each picture.
Ex: "Originally shared in September of 2016."
DISCLOSURE: None of these products are sponsored; however, some of the links below are affiliate links — which means that at no cost to you, I may get a small commission. Please know that I use these products daily in my own home and life. Read my full disclosure policy for more information.

Also, check out my Amazon Market for all my favorite things.
I won't make you wait any longer…
Here are 20 of my MOST favorite things!
(In no particular order.)

One "runner-up" item was my braided rugs — but I can't find them on the website anymore, so I didn't include them in my list.
Whew… you made it!
I hope you find at least one item on my list you'd like to try.
Also, SO many of you tell me these posts are some of your favorite posts… is that still true? I'm trying to decide if these posts are something I should continue writing each month or not — your opinion is very helpful!
As always, check out my previous months' favorite things — and let me know if you've tried any over the years!