Upgrading The Everyday: a simple, frugal way to make life more fun!
posted by Andrea | 09/29/2016
As someone who enjoys staying home, having a regular routine, sticking to a strict schedule, and living a relatively frugal lifestyle, it is not likely that I will do anything very extravagant on a daily basis — for myself, for my home, for my family, or for my friends.
I'm not going to wake up and suddenly decide to take all the kids to a local indoor waterpark for the day (all by myself). I'm not going to take them out to eat during the week, we almost never go on any family vacations right now, we don't spontaneously go out with friends on a regular basis, and even any changes to our home are very thought-out and planned ahead of time.
Dave and I both thrive on routine and structure — and for the most part, our children do too. However, there is just something about a special surprise or a fun change in plans that can instantly cheer up even the gloomiest, saddest, kids-not-listening, nothing-is-going-right kind of day.
These special surprises and change in plans are usually very simple, very easy to pull off on my own, and they are almost always free (or extremely frugal).
I call it "Upgrading the Everyday"… and I try to do it at least once every day.
.
I have a whole stash of "upgrades" I can pull out at any given moment — when the day is feeling long, when the kids are getting crabby, when we've run out of things to do, and sometimes just because I feel like doing something different.
Here are some of my kids' favorites: 
Special Snacks: string cheese, gogurts, squeezable fruit/veggie pouches, and fruit snacks are all snack items they don't get regularly… but I always keep them in the house for special snacks throughout the week. I'll take a special snack along if we're going somewhere I know they aren't excited about (like the doctor's office), if we'll be at the park, or if we have a longer car drive somewhere mid-week. I'm not sure how long I can keep using these simple snacks as awesome surprises for my kids… but so far, a special snack is one of the simplest and easiest ways to upgrade our everyday!
Special Desserts: we almost always have dessert after dinner… and sometimes after lunch. Usually this just means whatever cookies or brownies I've already made. But every once in awhile, we'll break out the ice-cream cones, make ice-cream sundaes with ALL the toppings, or let the kids pick a fun-size candy bar for an extra special dessert. By their reaction, you'd think it was Christmas or their birthday!
Themed Meals: I think I've shared this before, but at least once a week we'll have some sort of a themed meal when we eat all foods of one color, all foods that start with a certain letter, a rainbow color meal, or just something a little extra special (using M&M's to make faces on their pancakes or using a cookie cutter to cut a fun shape into their sandwich bread). So simple… but so fun for them!
Thrift Store Finds: we have some amazing thrift stores near our house and we we usually go 2-3 times a month. The kids know that we don't always buy something… but there are so many times when we find something fun for the kids. Last week, we found a large jar of craft beads for $1 (Nora is very into all sorts of beading crafts right now) and a little blue bird toy for Simon (out of the free bin). They were both overjoyed and it only cost me $1. I'm sure Simon will get tired of the bird eventually and we'll donate it back — but in the meantime, Nora will be easily entertained for a LONG time with all these beads.
Resurrecting Old Toys: I have personally chosen not to "rotate toys" because I just don't want to have boatloads of toys in storage. However, we do have a few larger toy items that we put away for a period of time… and then bring out every once in a while when we're cooped up inside for a long time and running out of things to do. We have a large whiteboard easel, a couple bouncy balls (the type with a handle that the kids can bounce on), and a horse they can ride on. These toys are "special toys" that aren't always available to them; it's always an "upgrade" to their every day toys when we pull them out.
Fun Projects: Nora is obsessed with craft projects of any type, and even Simon is getting more interested in crafts. I often check out kids craft books from the library and take a picture of the instructions for the ones I want to do. Then, when we have time in our schedule for a craft — or when Simon wakes up early from a nap and James is still sleeping, we'll break out one of my "new" craft ideas and the kids think I'm the best mom ever. I try to stick with non-messy crafts and projects so I don't have to do a bunch of clean up — and when all else fails, I just bring up a cardboard box for them to color on or decorate with stickers (I always keep a few extra boxes in the basement for this purpose!)
Special Outings: Although I don't usually go many places with all the kids, we do try to get out of the house at least once every single day. We walk to the library and get new books, walk to the hardware store and look at the flowers and water fountains, walk to the dollar store (and let the kids pick 1 thing), ride bikes to the park, head to a neighbor's house for an hour in the morning, go to local freebie play groups for kids, etc. etc. With a very minimal amount of effort, I have been able to find SO many free and frugal activities for kids during the day (most of which are walking distance from our house). There is something we can do almost every day to break up our time at home — and the kids are usually very excited for our various outings!
Special Visitors: It is not uncommon for one of our parents or my sister to stop by at various points during the week. Usually it's only for 20-30 minutes, but if I know they are coming, I'll get the kids playing outside so they can be really surprised when a "new car" pulls into our driveway.
A few more ideas for younger children:
eat a picnic lunch (even just in your own yard) instead of eating at the table
open a new pack of crayons, markers, sidewalk chalk, etc.
bake cookies and eat them when they are still gooey
take a walk to a local venue (park, library, splash pad, etc.)
set up an obstacle course in your house or yard and let the kids burn off energy
set up a kiddie pool or sprinkler (or let them play in the bath tub for a bit)
have friends over
let your kids wear an outfit they don't usually wear (Nora LOVES getting really dressed up during the week!)
wear clothes backwards for a day or wear mismatched clothing
do their hair in a weird way
eat dinner for breakfast and breakfast for dinner
do something or go somewhere you haven't been/gone before.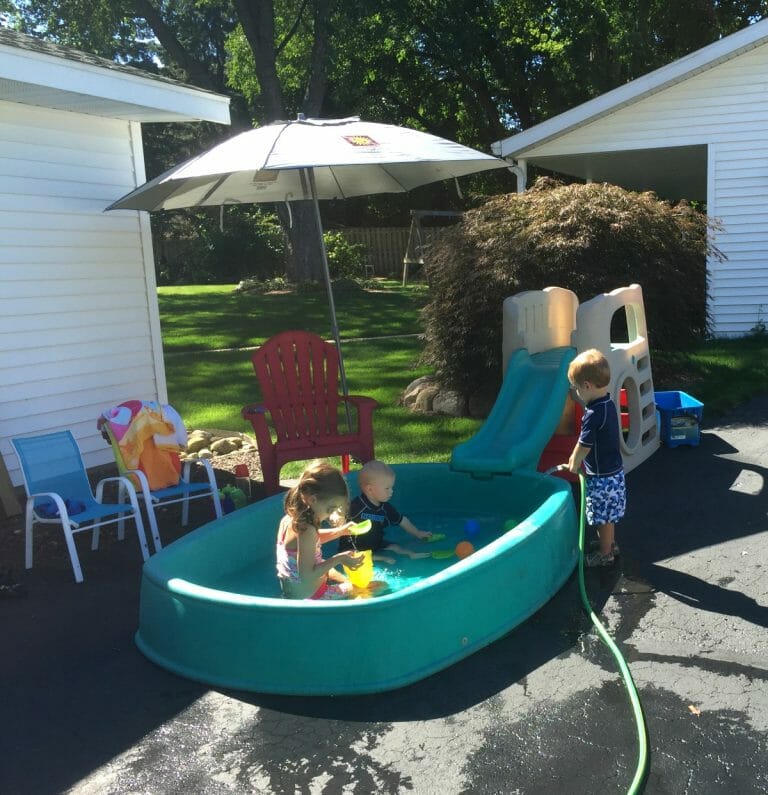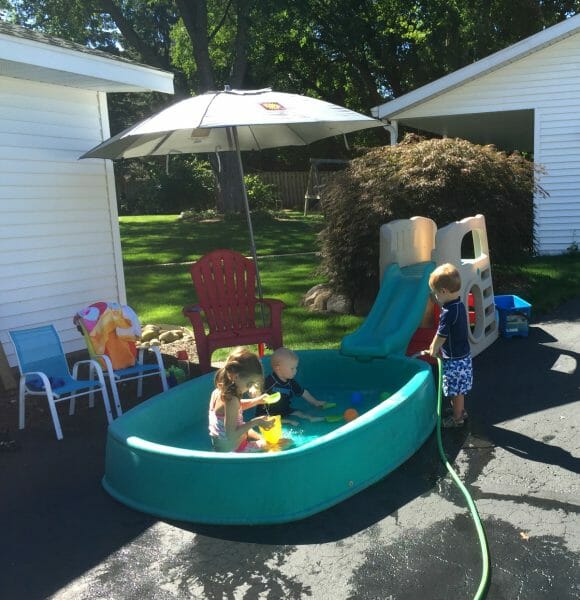 I realize that with young children, I can get away with much smaller "upgrades" (I'm not sure a 16 year old would be so thrilled with string cheese) but I do think the concept can apply to EVERYONE — no matter their age — even adults!
Dave and I "upgrade the everyday" on a very regular basis, and it always amazes me how much I appreciate a small upgrade.
For example: 
I'll buy or make something extra special (like salmon or a really good steak) and we'll have a nicer dinner after the kids are in bed. We can eat hot food at our own pace, we don't need to clean up a huge mess after the meal, and we can actually hear each other talk.
I regularly make brownies after the kids go to bed and then we'll each have a warm hot-fudge brownie sundae as a special treat while watching Fixer Upper or another Netflix show.
I'll bring fresh flowers in from the yard and put them in a few vases around the house — I don't know why, but I feel like the whole house seems cleaner and fresher with the flowers inside.
We had fun rearranging furniture in all our bedrooms this summer. We didn't spend any money and it was honestly fun for everyone to feel like we upgraded our bedrooms.
We'll toss our to-do lists for a night and watch a movie on Netflix after the kids are soundly sleeping.
I think I could probably list 50 more ideas to upgrade the everyday — for kids, teens, and adults — but I hope you get the idea!
If you're looking for a little something extra to liven up your days or as a special treat for your spouse, children, friends, coworkers, etc. consider a few of my free (and frugal) ideas to upgrade your everyday.
If you're anything like me, you'll probably be amazed how much faster the day goes and how much more fun the day is!
What are your favorite ways to upgrade the everyday?