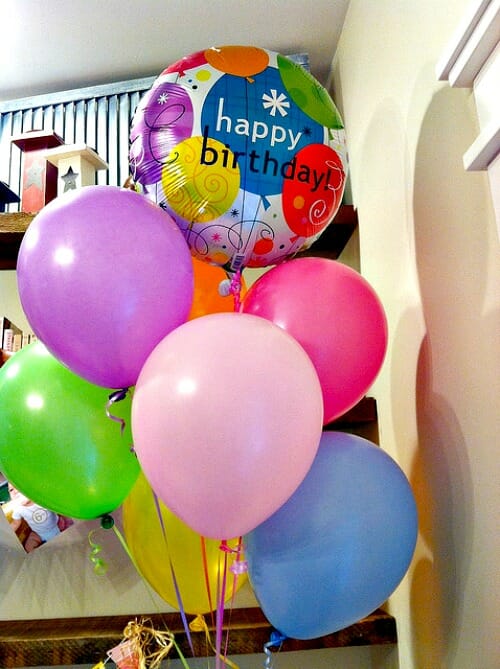 Tomorrow, our family will celebrate Thanksgiving Day AND Nora's 7th birthday!
Seriously… SEVEN!!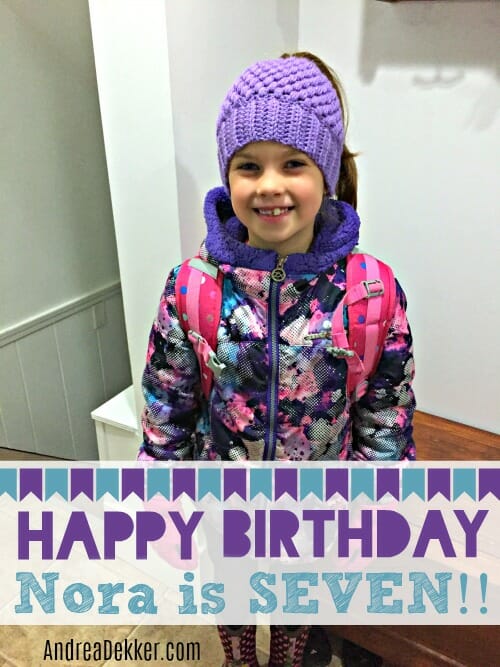 Since I'm stepping away from my blog over the long holiday weekend (and since we're actually celebrating her birthday with our immediate family today), I decided to share Nora's birthday post a day early!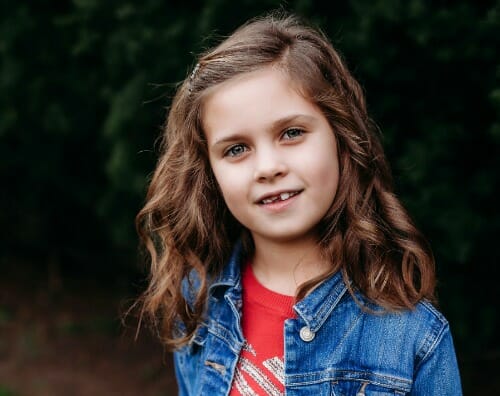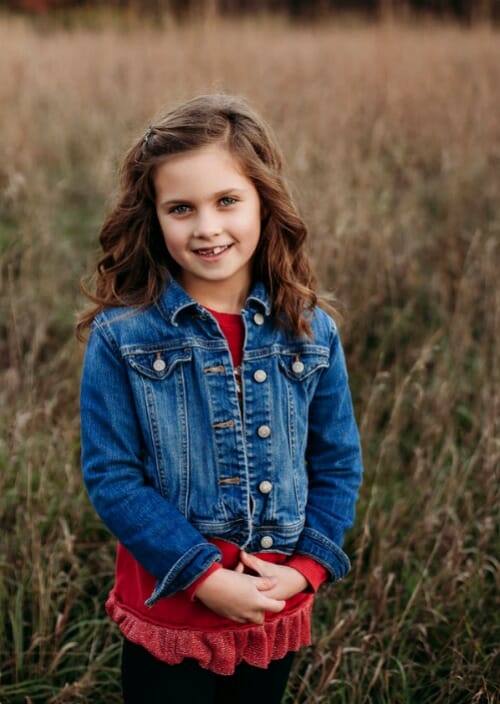 .
Nora had her very first friends' birthday party this past weekend.
We invited all 10 girls from her class and it was very fun (and very loud)!
We decorated (and ate) cookies, made this fun spinner craft, opened gifts, played a "getting to know Nora" game, and more — nothing expensive, time-consuming, or difficult to prepare for, but I know Nora had a good time.
I was originally hesitant to do the cookie decorating, but it went over SO well!
It occupied the girls for a solid 45 minutes, it served as the snack, AND it was their party favor as we packaged up their leftover cookies to take home!
Our "plan" moving forward is to let the kids each have a "friends party" for their 7th birthday (with the same-gendered children from their class at school). After that, we don't plan to do any formal birthday parties for our kids (even with relatives).
We will probably have grandparents over for dinner at some point, and keep the rest of the birthday celebrations to our immediate family.
A fun breakfast on the morning of their birthday (they like tie-dye pancakes, cinnamon rolls, or donuts!)
Special lunches and snacks throughout the day
Their choice of dinner, or potentially ordering pizza or going to Culver's
I'll decorate a cake or cupcakes in the way they request
They get to pick the books we read, the games we play, the TV shows we watch, etc.
They get a few gifts from us and their siblings
They get to stay up a little later than their siblings to play with their gifts, read with mom and dad, or whatever
At the end of the day, the birthday child still feels very special and loved, and I don't need to plan, prepare for, or host a big party, AND we don't end up with a pile of unnecessary gifts! Win-win!
Hopefully this works well for us — of course, I'll keep you posted if we change our tune in a couple of years.
As I mentioned above, we've chosen to celebrate her birthday today since everyone has the day off from school, and it's a little less busy than trying to pack everything into an already very full day tomorrow.
I made cinnamon rolls with pink frosting to go with breakfast this morning and she'll open a few gifts after that. She has requested mac and cheese (from the box) for lunch, pink lemonade (with special, color-changing straws), and chicken cordon bleu with rice for dinner.
One of her gifts was delayed in the mail and is supposed to arrive later today — so that might actually be an extra fun surprise too as our kids LOVE getting mail!
p.s. a note to all the grandparents, aunts, uncles, etc. if you want to do something extra-special for the little people in your life, MAIL THEM a birthday card or special note on their birthday. Kids LOVE getting mail!
And that's it!
She'll go to bed for the last time as a 6 year old, and wake up tomorrow morning another year older… probably with more wiggly teeth (she has 3 loose teeth right now!)
The rest of our Thanksgiving Weekend plans…
We will hopefully enjoy a relaxing Thanksgiving weekend at home this year.
We have ZERO plans of any shopping over the weekend (I won't even get groceries!) We will most likely use the extra time away from work to set up our Christmas tree, do some crafts I have ready for the kids, enjoy Nora's new birthday gifts, do some baking, and rake the leaves out of our planting beds!
Whatever the case, it will be a welcome break from our normal school-year routine.
.
And now… here's a look back at Nora's past birthday parties!
Click on the links for details on each party.
SEVEN: (No "theme" — just a fun party with friends)
SIX: (Little Mermaid Theme)
FIVE: (Frozen Theme)
FOUR: (Cinderella Theme)
THREE: (Curious George Theme)
TWO: (Daniel Tiger Theme)
ONE: (Owl Theme) Her birthday was also on Thanksgiving this year!
Happy Thanksgiving to my U.S. Readers!
I am so thankful for all of you — seriously, I know many of you have been reading since the VERY beginning; and so many new readers contact me each week with kind words and encouragement.
I feel like I have the best "job" ever!
And Happy Birthday to our sweet seven year old!!
You are so loved, my dear.