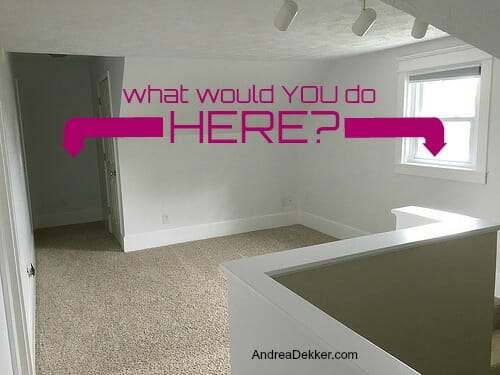 When I first toured our house (exactly 7 years ago this week!!) I can remember walking up the stairs with the realtor, seeing the wide open landing area, and thinking, "This is the most awesome space ever!"
I know it's a little crazy looking with the brown sponge paint (the previous owners REALLY liked sponge paint) but I could INSTANTLY see the potential.
I had several cool ideas to utilize this space — and 7 years later, we've gone through most of those ideas!
First we used this space as a small den area with a TV, 2 reclining chairs, and a small side table with a lamp.
Then I used it as a cute craft/sewing/gift wrap supply nook.
After our international students arrived, we turned it into a hangout area for them with chairs, TV, and a place for them to do homework.
When we moved Nora upstairs right before Simon was born, we transformed this area into a fabulous playroom.
Then, when Nora and Simon started sharing a room and we used Simon's old room for the playroom, the landing area basically turned into extra floor space for the kids to play.
Here are a few pictures showing how this space has evolved over the years.
Now the space is COMPLETELY empty — and last week, I finally worked up the energy to repaint all the trim, the walls, and the ceiling to "erase" the blue (it took 3 coats of paint on the walls!)
I know it looks a little "bland" right now — it's even too much white for MY taste! However, once we get some fun stuff on the walls and some cute furniture pieces, I'm sure it will look great.
My question is… what in the world should we do with this space?
We really don't need the space for toy storage as all the toys fit easily in the kids' bedrooms — and their bedrooms are large enough that they have PLENTY of floor space to play.
Here's a look at Nora's bedroom.
Here's a look at Simon and James' bedroom.
Also, in the future, we could see using this space as a reading loft, a homework hub, a large craft zone, or even a kids' TV/hangout space.
However, our kids are way too young for any of those options right now (ages 5, 3, 2). They can't read on their own, they don't have homework, I only let them do crafts at the kitchen table, and they only watch TV in the living room so I can monitor what they watch.
.
Nora has requested a stage or someplace for the kids to dance. Simon has requested a train table, Dave and I thought it might be fun to put a puppet theater up somewhere, and of course, we could just leave it open and let the kids use it however they want.
That said, I like all the spaces in my home to be usable, functional, and FUN for our family — and right now, this space just seems boring to me!
So that's where YOU come in!
I know there are so many ideas we just aren't thinking of, and I'd love it if you shared your ideas in the comments. Make sure you watch the short video tour and take a look at the pictures below for more "inspiration".
A mini video tour of the landing area:
Note: if you're reading this via email, you'll want to click through to the post to see the video.
And here are a few more pictures (in case you can't get the video to play, or if you just need a few more minutes to look and think!)
The view from the top of the stairs — looking back to the hall the goes to the bathroom.
Looking towards the boy's room (left) and Nora's bedroom (right). Also, you can see the stairs down to the living room.
Standing by the bathroom looking towards the stairs and into the boys' bedroom.
Standing in Nora's bedroom doorway, looking at the back wall and stairs (on the right).
Standing in the boys' bedroom doorway, looking over the whole playroom and back towards the bathroom and storage closet (door on the right back by the bathroom).
As I mentioned in the video, this space is roughly 11′ x 11′ (the hallway is 22′ long); however, it's not all "usable space" because we need to be able to walk to the bathroom, the bedrooms, and access the stairs.
I know there are probably so many fun (and frugal) ways to transform this space for our 5, 3, 2, and soon-to-be new munchkins… I just need a little inspiration!
For the record, I did check Pinterest, but those ideas are so over-the-top — I'm just looking for something "normal" that won't require 2 weeks of construction and $2000 to pull off 🙂