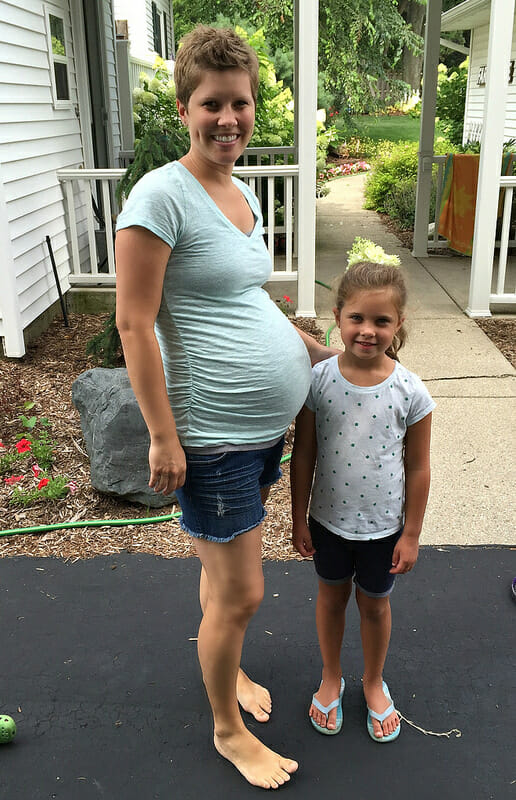 The other day, I was talking with some friends and I mentioned that Dave and I have never taken our kids to the beach. Yes, they have BEEN to the beach a couple times during various family vacations, but considering we live about 20 minutes from Lake MI (absolutely gorgeous beaches and water) it's pretty crazy that Dave and I have never driven our kids to the beach!
Did I mention I hate sand… and crowds… and going anywhere public with multiple little children? 🙂
In all seriousness, Dave and I really don't enjoy DOING a lot of extra things with young children. Too much 'extra' stresses us out, makes us crabby, and we become less fun parents.
We both feel there is plenty of time (once the kids are a bit older and more self-sufficient) to DO more with them. For now, we are 100% satisfied to play outside, ride bikes in our neighborhood, go for walks to the local dollar store or pizza place, have fun with neighbor friends, invite Grandparents over for special meals, and just spend time together at home.
If you're the type of parent who can nod in agreement, I hope this post helps you realize you're not alone, and you're not completely weird!
NOTE: I most definitely do not think it's bad or wrong if you do any of the things I've listed below — in fact, there's a very real possibility Dave and I WILL do many of these things with our children in the future.
.
I don't cook or bake with my kids all that often. Yes, I have a handful of kid-friendly recipes I let them help with, but the majority of my time in the kitchen is spent trying to make food for our family as quickly and as efficiently as possible. They help occasionally, but I definitely don't have the patience to let them help with everything I make (nor do they want to help with everything).
I don't make our kids do chores. Yes, they often pick up their toys (with our help) and Nora is good about putting her laundry away, but I personally feel like "forcing" a 2, 3, and 5 year old to do actual chores simply creates more work for me as I'd most likely need to re-clean anything they supposedly "cleaned" anyway! Plus, I actually ENJOY cleaning — it's like a cathartic release for me to do mindless cleaning work while the kids are sleeping or outside playing.
I don't monitor everything they do. Speaking of the kids being outside to play… I'm often asked how on earth I dare let my kids play outside unsupervised! Of course, when they are too young to know not to go into the road, I'm always out there, but we have a fenced in yard, we are set back VERY far off the road, and our kids know the "rules". After almost 6 years of parenting, James is the only who who has crossed the invisible line and gone too close to the road — and he only did it once. So yes, I feel very safe letting the kids play outside unsupervised.
I don't feed them all organic or natural foods. It's great if others are more gung-ho about eating all organic, it's just not something I'm passionate about right now. My children eat lots of fruits and veggies, they clean their plates at every meal, and (in my opinion) they have a relatively balanced diet.
I don't limit desserts to special occasions. We literally eat a small dessert after every lunch and dinner (provided they finish their main meal) and our whole family thoroughly enjoys it. Sometimes, on special occasions, we even have "breakfast dessert"!
I don't "enjoy every moment" (but I enjoy a lot of them!)
I don't take nearly as many pictures as I could or maybe should (and I don't have a fancy camera). We often end up with very few pictures of birthday parties and vacation because I'm the one who takes 95% of our pictures, and if I'm enjoying myself at a birthday party or on a vacation, I often don't have my phone out every spare moment to take pictures. I DO have a simple "checklist" of photos I try to get every month — mainly so I have enough photos for our family's yearly photo album, but outside of that, I definitely do not stress about photographing every major (or minor) event in our family's life.
I don't throw amazing birthday parties. My kids' birthday parties are just great (in my opinion, and usually in their opinions) but I rarely spend more than $40 on them. I also don't spend a lot of time on them — and they certainly are NOT "Pinterest worthy". Also, my kids have never had a birthday party with friends and I don't anticipate doing 'friend parties' any time soon.
I don't do sleepovers. Besides sleeping at their grandparents' houses 2 or 3 times in their lives, our kids have never had a sleepover at anyone else's house. I'm honestly not opposed to sleepovers (despite some of the super creepy stories I've read) but my kids are WAAAAAY too young for sleepovers with friends right now. I have absolutely no problem saying no to any sleepover requests — and most likely will for a few more years.
I don't always have enough patience with my children and sometimes yell at them when I don't know the full story.
I don't always do family devotions. In fact, more often than not, our kids are very antsy after a meal, so Dave and I just let them get up and run around while we clean up. Devotions don't necessarily have to be after a meal (in my opinion) — we can still read Bible stories at other points in the day.
I don't plan family vacations. Dave and I were just talking last week about the fact that we have never once taken a family vacation with just our immediate family (Dave, me, and the kids). The only time we've ever gone on any vacation in the last 6 years is if one of our parents planned it, coordinated all the details, and basically just told us when to show up. In general, Dave and I have ZERO desire to travel anywhere with small children on our own. It's not enjoyable, it's not relaxing, and it's definitely not a "vacation" for either of us. We enjoy spending time with both of our families (and our kids LOVE playing with their cousins) but I don't see myself planning any big family vacations for our immediate family in the near future!
I don't do extra curricular kids' activities. I know, I'm such a boring mom, but besides doing 1 week of swimming lessons last summer and taking a free 4-day dance class 2 years ago, our kids literally have never done any type of extra curricular activity. No sports camps, no music lessons, no gymnastics or karate, no vacation Bible school, no outside learning opportunities, nothing. And you know what, they are fine. We have friends with similar-aged kids who do EVERYTHING under the sun, and earlier this summer, Nora said to me, "Mom, why is the __________ family always gone? Isn't it weird that they don't ever want to be home and their kids never just get to play?"
I don't worry about eating only "nutritious" snacks. My kids are great eaters (in my opinion) and usually clear their plates at every meal. My kids also LOVE snacks! They usually ask for candy as their snack, but I almost always make them choose something "filling" first (note: I don't say "healthy" or "nutritious" or "good", just "filling"). They can choose between pretzels, goldfish, veggie straws, string cheese, yogurt, or fruit. Once they have their "filling" snack, then they may have a small candy snack (Tootsie Roll, Starburst, DumDum sucker, etc.)
I don't care about what they wear. They have a couple nicer outfits for church, but everything else is fair game for whatever and whenever they want to wear it. They can wear their clothes outside, to school, to friends' houses, to run errands with me, whatever. I don't care if it doesn't match, if it's a little too big or a little too small — if they feel great wearing it (and it's weather appropriate), I usually don't care.
I don't stress about a little TV time. My kids love playing outside, doing crafts, playing dress-up, building with blocks, and playing games. They have fantastic imaginations and actually play really well together the majority of the time. That said, they usually get to watch a show (via Netflix, Disney Jr, PBS, or YouTube apps) 2 or 3 times every single day — usually right before breakfast, lunch, and dinner so I can cook in peace and quiet while they calm down a bit! They do not ALWAYS watch TV before we eat, but if they aren't playing nicely outside, if they are overly hungry and whiny, and if Dave isn't around to help, the TV is a fabulous (and free) babysitter in our house, and I honestly don't feel guilty about that at all.
.
I could probably keep going, but I think that's enough for now.
I want to reiterate again that, in no way, do I think it's bad if any parent does any of these things on my don'ts list. In fact, I have LOTS of friends and relatives who DO many of the things we DON'T. That's fine!
I like parents who plan the fun parties and invite my kids to enjoy them.
I like parents who come up with amazing craft ideas and post them to Pinterest, so when I'm not feeling very creative, I can 'steal' their ideas to do something extra fun for my kids.
I like parents who serve my kids super healthy snack choices because it makes my kids appreciate the fact that I'm not as strict with snacks!
I like parents who don't allow TV because I know I can send my kids over to their house and they will do something fun and creative (note: we almost NEVER watch TV if we have friends over).
.
The world would be a very boring place if we were all the same — but for those of you reading this who also have a long list of things you DON'T do, please don't let yourself feel guilty or "less than". You're doing just fine!
I'm certain there are so many things you DO do – focus on those instead!
And now I'm curious, what things are on YOUR "don't" lists??