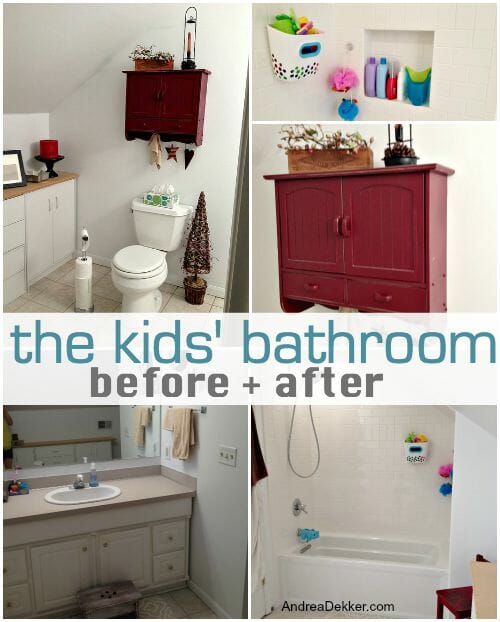 Exactly 2 months ago, I shared a bit about all the progress we had made on various house and yard projects from the middle of April through the middle of June.
Dave and I are still amazed at everything we accomplished in 2 short months, and we've joked that we should have a baby every summer as this apparently helps motivate us to be extremely productive and make tons of progress on lingering projects 🙂
One of the projects we really really REALLY wanted to accomplish before James made his entrance into this world was to put a bathtub in one of our bathrooms.
We've made it through almost 4 years of babies and toddlers with no bathtub, and although it is doable, it's definitely not ideal.
Our original plan was to renovate the main floor bathroom off the kitchen to include a bathtub (a clawfoot tub!) But plans changed when Dave and I couldn't make up our minds or come to a definite conclusion of how we wanted to renovate that bathroom.
Yup, it still looks like this…
Instead, we decided to partially make-over the upstairs "kids' bathroom".
While I'm bummed that our main floor bathroom didn't get its MUCH NEEDED makeover this summer, I'm honestly thrilled that we ended up putting the bathtub upstairs as it's SO much more convenient with Nora and Simon both already sleeping and playing upstairs.
Although we still have big plans for this bathroom (probably knocking down a wall and separating the tub/shower area from the toilet/sink area) this mini renovation totally transformed the kids' bathroom and made everything feel fresh and new again.
The best part is, that aside from the large expense for the tub, tile, plumbing, etc. we only spent $100 or so to transform the rest of the space!
Here are the before/after pictures!
Standing by the toilet, looking back at the shower area.
Standing by the sink area, looking towards the shower and side of the bathroom.
Standing in the doorway, looking towards the toilet (shower behind the door, sink and vanity to the right of the toilet)
Standing behind the toilet, looking towards the sink area.
Do you like it?
Unless you are in love with neon green, fish, or underwater scenery in a bathroom, I'm hoping that the "after" pictures look better than the "before" pictures.
Dave and I always laugh about how brightly colored our house was when we purchased it — from tie-die wallpaper in the nursery, Smurf-blue sponge painting in Simon's room, and bright purple everything in Nora's room, our house was very "loud" and this bathroom certainly didn't help!
We are thrilled to be done with the bright colors… and yes, I did use my favorite wall color: Frost White from Behr 🙂
A few more pictures of the new bathroom:
This is the original vanity… we definitely want to change this out with a new vanity, new sink, new counter, and new faucet… but that will happen later.
Our beloved built-in shower cubbie that keeps everything nice and organized 🙂
Inside our extra deep bathtub.
Our "fancy" shower head that allows us to easily rinse off the kids without getting water in their face (mainly a perk for Nora!)
Storage cabinets from go-organize.com. We put a plywood shelf on top to make it look more like a custom unit. It's not perfect, but it was inexpensive and the added storage is exactly what we needed in this bathroom.
The cute little curtains I made after Nora requested "buttons".
My $5 garage sale cabinet (from about 9 years ago) that is just the perfect addition of red to this bathroom 🙂
Nora and Simon LOVE their "swimming pool bathtub" (they actually take turns trying to swim in it!) and Dave and I love that we can give them both baths at the same time and not worry about them getting too big for the kitchen sink!
We are thrilled with how well this mini makeover turned out… and, as I mentioned before, we are so happy with our decision to put the bathtub upstairs for now.
We still haven't totally ruled out the idea of a clawfoot tub in the bathroom off the kitchen… but we'll save that decision for another day!
For now, we will just continue to enjoy our new swimming pool bathtub and how much nicer the upstairs bathroom looks.