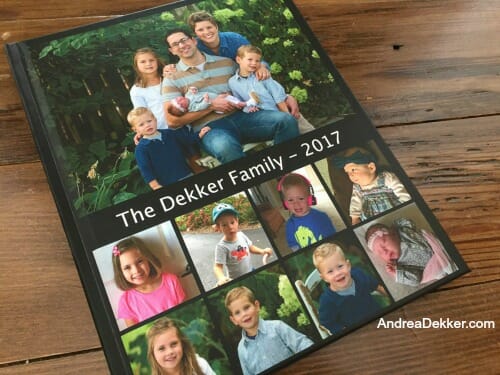 Our 2017 photo book arrived in the mail last week and we've enjoyed looking through all the pictures together.
The photo book got me thinking about the fact that almost every time I mention my digital photo books on my blog or in real life conversations, someone makes one of the following comments:
"I wish I would have started digital books when my kids were little."
"I could never find the time to digitize all my old photos, so there's no point in starting now."
"I'd never be able to keep up with doing this for each child year after year, so I don't even want to start. "
Honestly, I AM really glad I started my digital photo books before my kids were born, and I'm thrilled that all of Dave and my childhood photos are now digitized and printed in a book so we can actually enjoy them.
However, even if I hadn't started making these books before Nora was born, I definitely still think there's value in making books now with our current photos. Our kids will enjoy any books I make, even if they all don't get the same number of books.
If you're like many people I talk to, you don't have the time or energy to make photo albums for past years, BUT there's most likely nothing stopping you from starting one NOW!
If digital photo books have always been something you've wanted to try, but you've felt overwhelmed by the thought of going back through ALLLLLLL your old photos, simply push the old photos aside and start your first digital photo book right now (seriously, just start in February of 2018, and move forward!)
Don't worry about making them pretty, don't worry about adding anything extra, don't even worry about putting the photos in chronological order. Just dump a handful of photos into a book, add a few more as you go along, and eventually print the book at some point! See, doesn't that sound much less overwhelming!
You might hate it and never make another book, or you might love it and continue making books in future years.
Whatever the case, there really isn't any harm in giving it a try (if it's something you want to try).
Of course, the point of this post is NOT that everyone should create digital photo albums for their families (although we do love our photo books!)
Rather, I hope to encourage you to stop worrying about doing everything perfectly, and instead, focus on what you can do right now and just MOVE FORWARD!
.
The concept of pushing the past aside, starting fresh, and moving forward can easily be applied to so many areas of life — exercising and eating right, keeping your home neat and organized, getting involved in your community and church, creating special family times, and yes, making digital photo books.
I've heard all sorts of crazy stories and "excuses" for things that make no sense to me…
So many people think they are too overweight or too unhealthy to start any type of diet or nutrition program — but we all know we aren't going to magically drop a bunch of weight without simply getting started and putting in the work now. And if you fall off the healthy-eating bandwagon, don't worry about it… just hop back on again the next day.
Others want to simplify and get their homes more organized, but they continually do nothing — sometimes because they don't know where to start, and other times because they honestly think their homes are too messy and cluttered for their efforts to make any sort of a difference. No, you won't see results overnight, but don't worry about your lack of organizing in the past and just focus on making better choices and continually purging from here on out.
I get countless emails from people saying how excited they are to compile their important papers into one, nice, neat binder like I have… but they are always waiting for something. They want to buy the exact binder I use, they want to fill out the forms I used for my binder before they gather their paperwork, they want to get their will created first, they want to file their taxes first, blah, blah, blah. My answer for people who come to me with questions about my binder is usually, "don't worry about having every single detail in place, but rather, JUST GET STARTED. Something is always better than nothing!"
Someone even shared with me that she purposely purged the hat their newborn wore home from the hospital (even though she really wanted to keep it) simply because she didn't keep the hat for her first 2 children and she wanted things to be "equal".
.
Just because you've stopped exercising for a while, doesn't mean you can't start up again.
Just because you aren't currently eating a balanced diet, doesn't mean you can't make a few healthier choices from here on out.
Just because your home is completely disorganized, doesn't mean you can't start working to get it more organized.
Just because you did one thing with one child, doesn't mean you need to do the exact same thing with each child.
Just because you haven't digitized any of your past photos, doesn't mean you can't start now!
As I mentioned above, there really isn't anything stopping us from starting whatever we want to start RIGHT NOW — except maybe our own perfectionistic tendencies that make us feel like we can't even get started until we have every detail in place.
Don't worry about perfection… and just move forward!