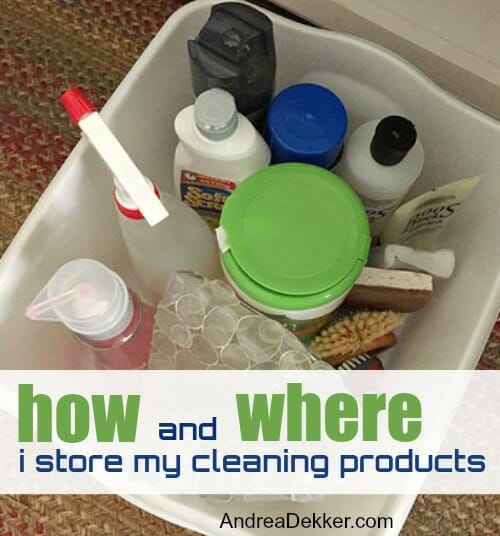 Believe it or not, after over 8 years of blogging about cleaning and organizing my home, I've never dedicated a post to how or where I store my cleaning products!
I suppose part of the reason for this is because I really don't have all that many cleaning products — I use sanitizing wipes, vinegar spray, and microfiber clothes to clean the majority of my house… so there's just not much to store.
Another reason I haven't shared my cleaning product storage is because the cleaning products I do have are stored in our laundry room cabinet… and I've never done a post about our ugly impractical laundry room yet because I want to wait until we renovate it (hopefully this spring/summer!!!)
Well, ugly impractical laundry room aside, today is the day I'm finally sharing where I store my various cleaning products!
.
Bathroom Cleaners:
Several years ago, I shared my bathroom cleaning bucket — and this is basically the same system I use today.
I keep this bucket in the laundry room cabinet and carry it around to each of the 3 bathrooms whenever I'm ready to clean them.
We also have a can of sanitizing wipes in each bathroom. I use these to quickly wipe down door knobs, faucets, counters, toilet seats, and floors in between cleanings.
.
Kitchen Cleaners:
I have a small tub under the kitchen sink for dish soap, vinegar spray, sanitizing wipes, a few sponges, the oil for our butcher block counters, dishwasher tabs, a rubber mat for our sink, and the oven cleaner I use on occasion.
I can simply pull out this tub whenever I need to wash dishes or clean anything in the kitchen and I'm good to go.
.
All Other Cleaners:
Everything else is stored in the laundry room…
vacuum (on the right side of the washer and dryer)
Swiffer, broom, and dust pan (hanging on the wall to the left of the washer and dryer)
laundry detergent, bleach, and Oxyclean
extra microfiber cloths and t-shirt rags for cleaning
carpet cleaning spray
a few scrub brushes
extra paper towels
It's all in the very awkward cabinets in our laundry room. I'd show you a picture, but they are so awkward to access as they are mounted against the wall, next to the door (sort of kitty-corner from the washer and dryer). Plus, there is a counter top in front of them, so you can't even stand in front of them to take a picture (or access the contents inside).
I cannot wait to redo this tiny space and make it more functional!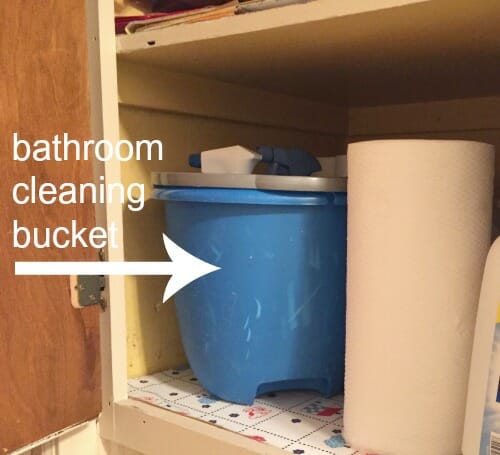 .
I've never been one to want or use tons of different cleaning products — I sort of stick to the basics to prevent the need to organize my cleaning supplies (which seems like a funny concept to me!)
I rarely ever "stock up" on cleaning supplies — mainly because I don't like storing so much extra, but also because I use vinegar and baking soda a lot, so I can just make more whenever I need it.
As I mentioned above, we're hoping that this summer will finally be the summer we get around to renovating our last bathroom (the one right off the kitchen) and the laundry room (also right off the kitchen).
Once we have these 2 spaces renovated the way we want, I should have TONS more storage space in both the laundry room and bathroom — so my tentative plan is to use the extra space in the laundry room for craft supplies. I'll let you know how that all works out in another 6 months or so! 🙂
In the meantime, I'd encourage you to go through your cleaning supplies, purge the ones you no longer use, consolidate, simplify, store them in convenient places, and then USE THEM!
Where do you store your cleaning supplies?