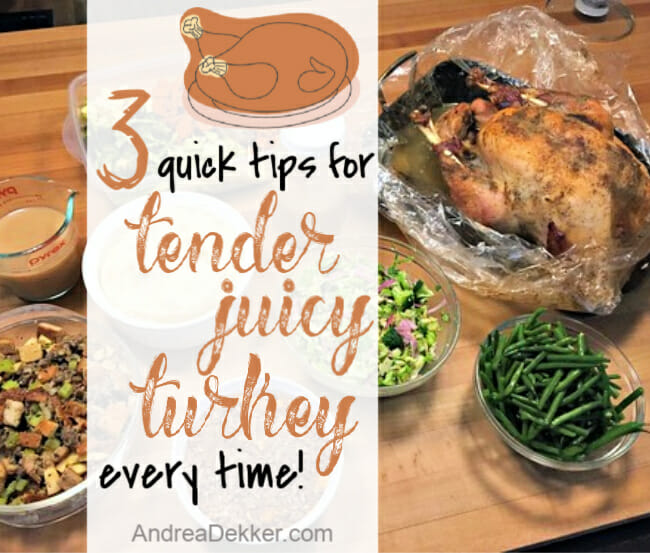 Since Thanksgiving is just a few days away (seriously, I can't believe it!) I wanted to re-share one of my most popular Thanksgiving posts from a few years ago. If you're in charge of the big meal this year and are wondering how to roast a juicy turkey, I'm here to help!
By following the 3 super simple tips in today's post, I can almost guarantee your turkey meat will be SO tender and juicy, you won't ever roast a turkey any other way again!
This post may contain affiliate links. Please read my disclosure.
.
1. Roast Your Turkey in an Oven Bag
I always roast my turkeys in Oven Bags — in fact, I can't even remember the last time I roasted a turkey (or a chicken) without using a roasting bag.
The bags are very inexpensive, they are available at most grocery stores (or online), they save your oven from boatloads of grease splatters, and they will almost guarantee that your meat will turn out extremely moist and juicy.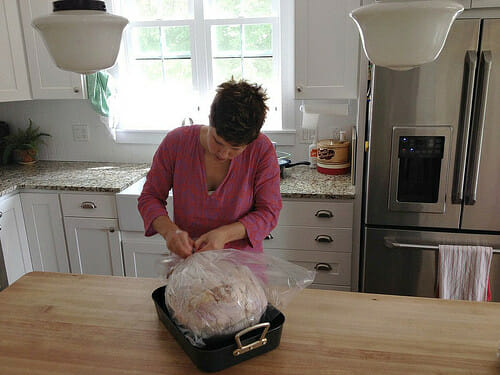 .
2. Roast Your Turkey with the Breast Side DOWN!
Another slightly unconventional tip I've used for years is to roast my turkey with the breast side DOWN.
This allows all the juices to flow down through the white meat and keeps it nice and juicy! (The dark meat is still very juicy too)
As you can see by the photo below, roasting the turkey with the breast down is not nearly as pretty as when it is roasted breast up.
But since I almost always carve the meat off the bones before I bring it to the table, it really doesn't matter much what the bird LOOKS like coming out of the oven.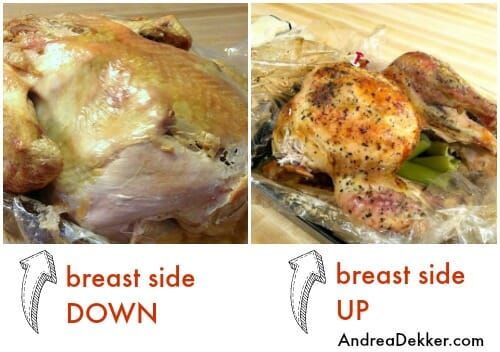 Which brings me to my third tip…
3. Roast your turkey ahead of time and cut the meat off the bone before guests arrive.
Whenever I'm cooking for a crowd, I roast the turkey (or whatever meat we'll eat) a day or more in advance, pull all the meat off the bone, put the meat (and juices) in a large slow cooker, and simply warm it up before guests arrive.
This tip saves SOOOOOO much time, mess, hassle, and stress.
Plus, the meat is SO tender and juicy because it's cooking in a nice slow cooker meat-juice bath!
Not only do I know the meat is fully cooked on time, but I also can taste test it, add more seasonings if necessary, use some of the juices to make the stuffing and gravy in advance, AND clean up the huge turkey mess!
On Thanksgiving morning, I simply put the turkey in the slow cooker, the gravy in another slow cooker, the stuffing, potatoes, squash, corn, etc. in the oven, and the fruit, applesauce, salad, dessert, and rolls in the fridge or on the counter.
The only "last minute" thing I need to do is the veggies… talk about less stress for the cook!!
I'm sure Gordon Ramsey and Martha Stewart would not approve — but my dinner guests have never once complained, and it's so much easier for me to host when I can have things prepped ahead of time!
.
Tips for leftover turkey meat.
The extra juicy meat freezes wonderfully to use later in soups, stews, casseroles, and more!
While I would never consider myself a "master chef", I do enjoy trying new recipes and ideas. I also like finding simple solutions to improve the taste of my food and reduce the amount of time I spend in the kitchen.
If simplifying and streamlining your time in the kitchen while preparing a deliciously juicy turkey sounds like a win-win for you this Thanksgiving, then today's tips are just what you need!
I've roasted many turkeys in my life and every single time, the meat has been fall-off-the-bone delicious, thanks to these 3 tips!
Do you use Oven Bags to roast turkey?
Have you ever roasted a turkey breast down?
Do you make your turkey ahead of time?