Why I Roast My Turkeys Breast DOWN
posted by Andrea | 11/11/2015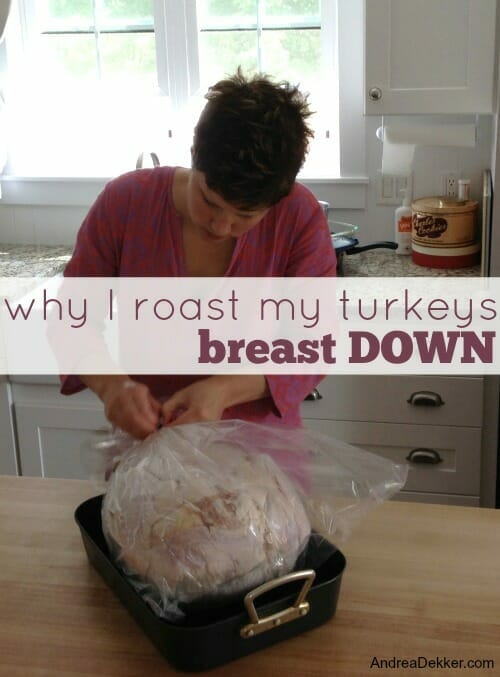 While I would never consider myself a "master chef" or even a "really amazing cook", I do enjoy being in the kitchen and trying new recipes and ideas. I also like finding simple solutions to improve the taste of my food and reduce the amount of time I spend in the kitchen.
And since Thanksgiving is only a couple weeks away, I thought I'd share one of the super simple (yet slightly unconventional) things I often do to help my turkey meat come out nice and juicy every time.
For starters, I always roast my turkeys in an Oven Bag — in fact, I can't even remember the last time I roasted a turkey (or a chicken) without a roasting bag.
The bags are very inexpensive, they are available at most grocery stores (or online), they save your oven from boatloads of grease splatters, and they almost assure your meat will turn out extremely moist and juicy.
As you probably guessed by the title of my post, another slightly unconventional tip I use is to roast my turkeys breast DOWN.
This allows all the juices to flow down through the white meat and keeps it nice and juicy! (The dark meat is still very juicy too)
As you can see by the 2 photos below, roasting the turkey with the breast down is not nearly as pretty as when it is roasted breast up… but since I almost always carve the meat off the bones before I bring it to the table, it really doesn't matter much what the bird looks like coming out of the oven.
I'm positive Martha Stewart would not approve — but my dinner guests have never once complained!
And the extra juicy meat is fabulous for freezing and using later in soups, stews, casseroles, and more! (Read how I make the most out of a whole turkey in this post)
Although I've roasted many turkeys these past 9 years, Dave and I are actually hosting our first Thanksgiving party this year… and you can bet I'll be using this tip to assure our turkey meat is fall-off-the-bone delicious!
Have you ever roasted a turkey breast down?