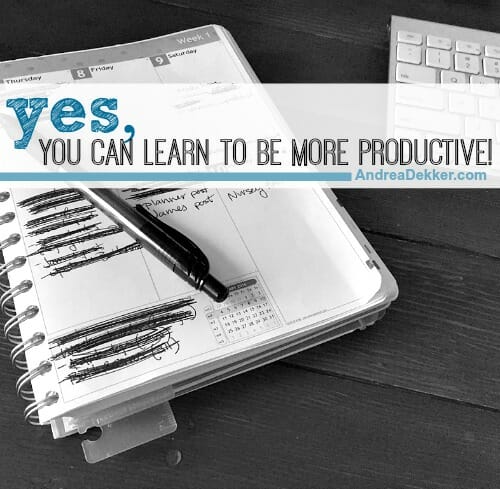 For as much of my life as I can remember, I have been highly motivated by productivity.
As a child, I constantly challenged myself to clean my room before my sisters, ride my bike to school faster than the day before, and finish all my homework before the school bell rang so I wouldn't have to take it home.
As I grew older and my schedule became busier, my productivity continued to improve as well — to the point that I was able to take an "overload" of college credits while playing 2 sports and holding down 2 part-time jobs so I could graduate in 3 years.
Now as a work-from-home mother of 4, I continue to hone and refine my "productive-powers" to allow me the ability to wear so many different "hats" without feeling over-worked, over-tired, over-stressed, or overwhelmed.
I have developed routines and systems that work very well for my life, my home, my family, my business, my schedule, etc. And although I always have a lengthy to-do list each day, there are very few days that end without a fully crossed-off to-do list!
This is not because I'm super special or because I never sleep, but simply because I work hard to continually increase my productivity in order to make the most of the 24 hours I have each day.
The result of my super-productive nature means I accomplish what needs to be accomplished each day with a decent amount of free time left over to do things I enjoy doing…
help in the kids' classrooms a school
go out for lunch with neighbors or friends
volunteer for something at church or school
spend all afternoon baking with whatever kids want to help
take a full week off from blogging responsibilities (because I worked ahead) in order to tackle a home project
entertain and cook for others on a regular basis
read a book
go to bed early!
I readily admit that Dave and I do not have the most exciting lives ever, (remember we are frugal introverts so our idea of a GREAT night is eating a slice of cheesecake while watching The Crown and folding laundry… then heading to bed on time!) but I promise, we thoroughly enjoy our semi-boring lives.
We also realize the simplistic, relaxed, non-stressed, semi-boring lifestyle we crave would not be possible unless we both practiced excellent time-management every single day.
The more I learn about personality types, the more clearly I see how different people are "wired" and how certain personalities naturally possess stellar time-management and productivity skills (Dave and I fall into this category).
That said, I firmly believe we can all LEARN TO IMPROVE our time-management and our productivity IF we're willing to invest a little time and effort.
Are you willing to invest time and effort to improve your productivity?
I've always been a huge advocate for life-long learning — not necessarily in a traditional school setting anymore, but via podcasts, ebooks, YouTube videos, online courses, cookbooks, how-to blogs, and more.
It's astonishing how many useful skills I've learned over the past 15 years via the non-traditional schooling methods listed above (one of many reasons I love the online world!)
Thanks to the internet, we can find information about any and every topic under the sun… the only problem is sorting it all out and finding what is the most useful and beneficial for YOU and your journey to better productivity!
If you're ready to jump-start your productivity, eliminate wasted time, and stop procrastinating, I have the perfect resource for you!
The Ultimate Productivity Bundle!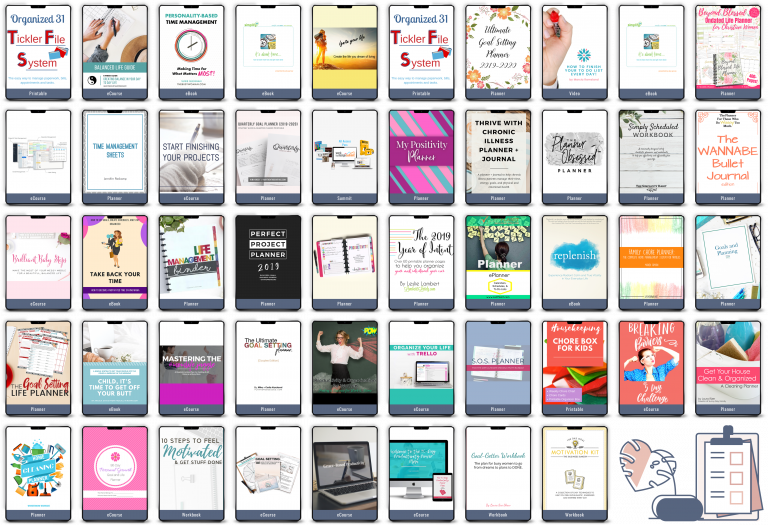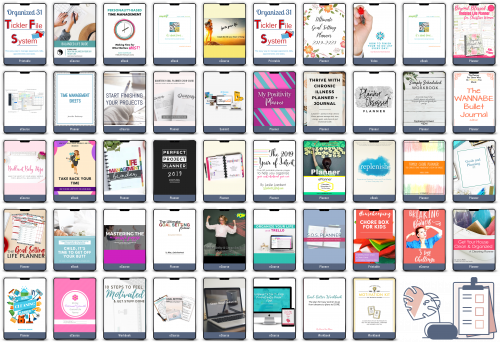 NOTE: The links below are my affiliate link. Read my disclosure and contact me with any questions.
This bundle is packed full of productivity-boosting tips and tools, all neatly compiled into one easy-to-digest (and easy-to-download) package.
The bundle contains:
5 eBooks

14 eCourses

1 summit

26 printables, planners, & workbooks

almost $80 worth of fabulous bonus offers
I'm told the estimated retail value of everything included in this bundle is over $15oo, but the folks at Ultimate Bundles are offering the entire package for only $37 (now through Monday, February 25 only!)
WOW!!
This bundle has something for almost every person and every stage of life — whether you work outside the home, work from home, stay at home with children or grandchildren, are married, single, kids, no kids, already fairly productive, or need all the help you can get.
I love that this bundle focuses primarily on eCourses, printables, and workbooks (all of which encourage you to take action right away instead simply reading what you should be doing in a book).
If I had to pick a favorite resource, it would most likely be the Brilliant Baby Steps eCourse (by Beth Anne Schwamberger).

Her eCourse teaches a simple but effective system for making the most of your day regardless of your stage of life. It will help you get more done with less stress, while still being there for the people you love and activities you enjoy.

This single eCourse is valued at $47 — so in my opinion, the bundle more than pays for itself with just this one eCourse!
There's a 30-day money-back guarantee, so if the bundle doesn't live up to your expectations, you can get your money back!
With a little effort (and the right tools) you will be on your way to making the most of your days (and probably enjoying a bunch of extra "free time" as well!)
This offer is available through Monday, February 25!