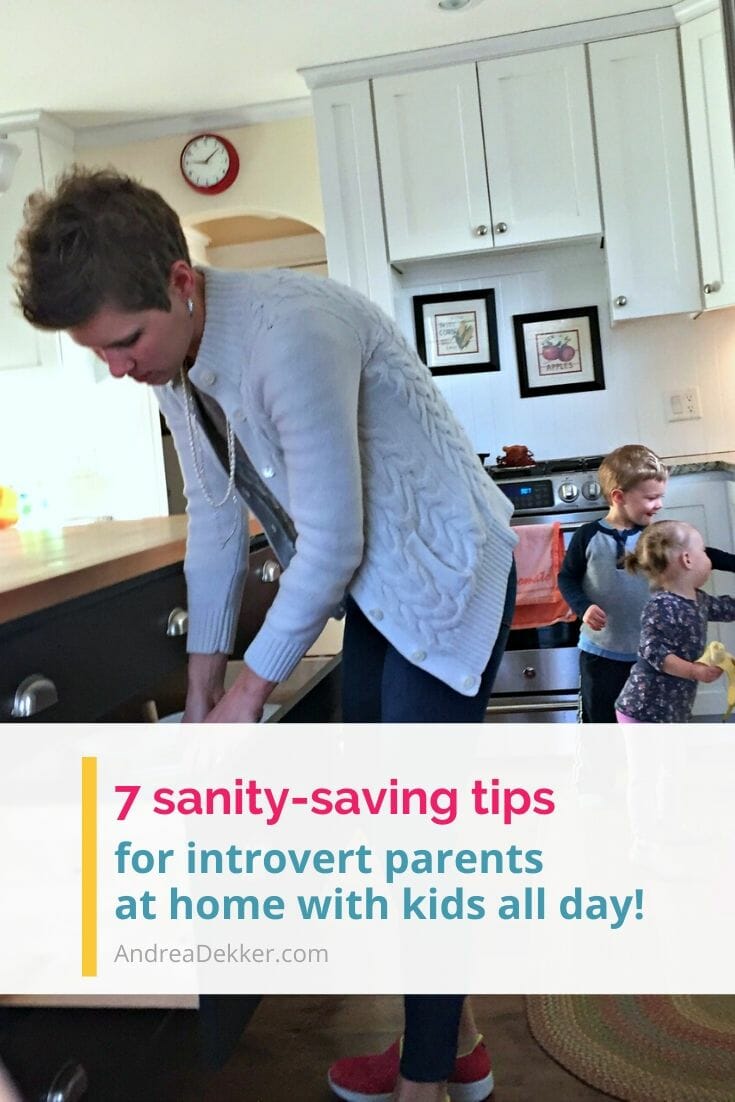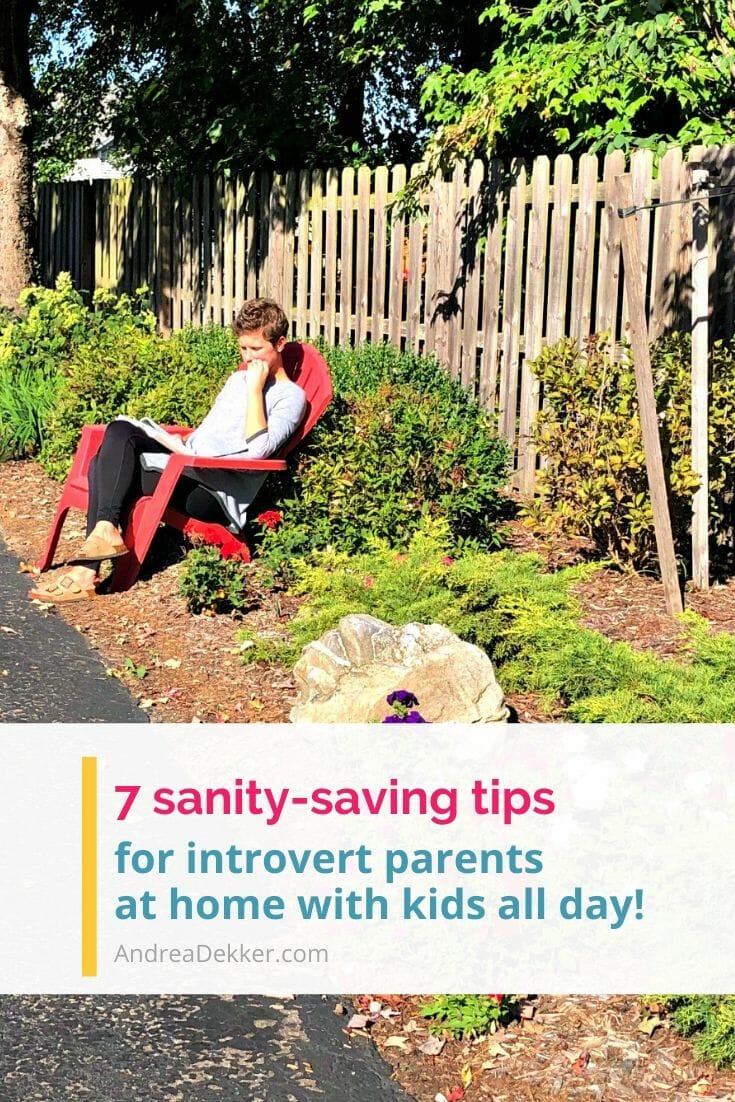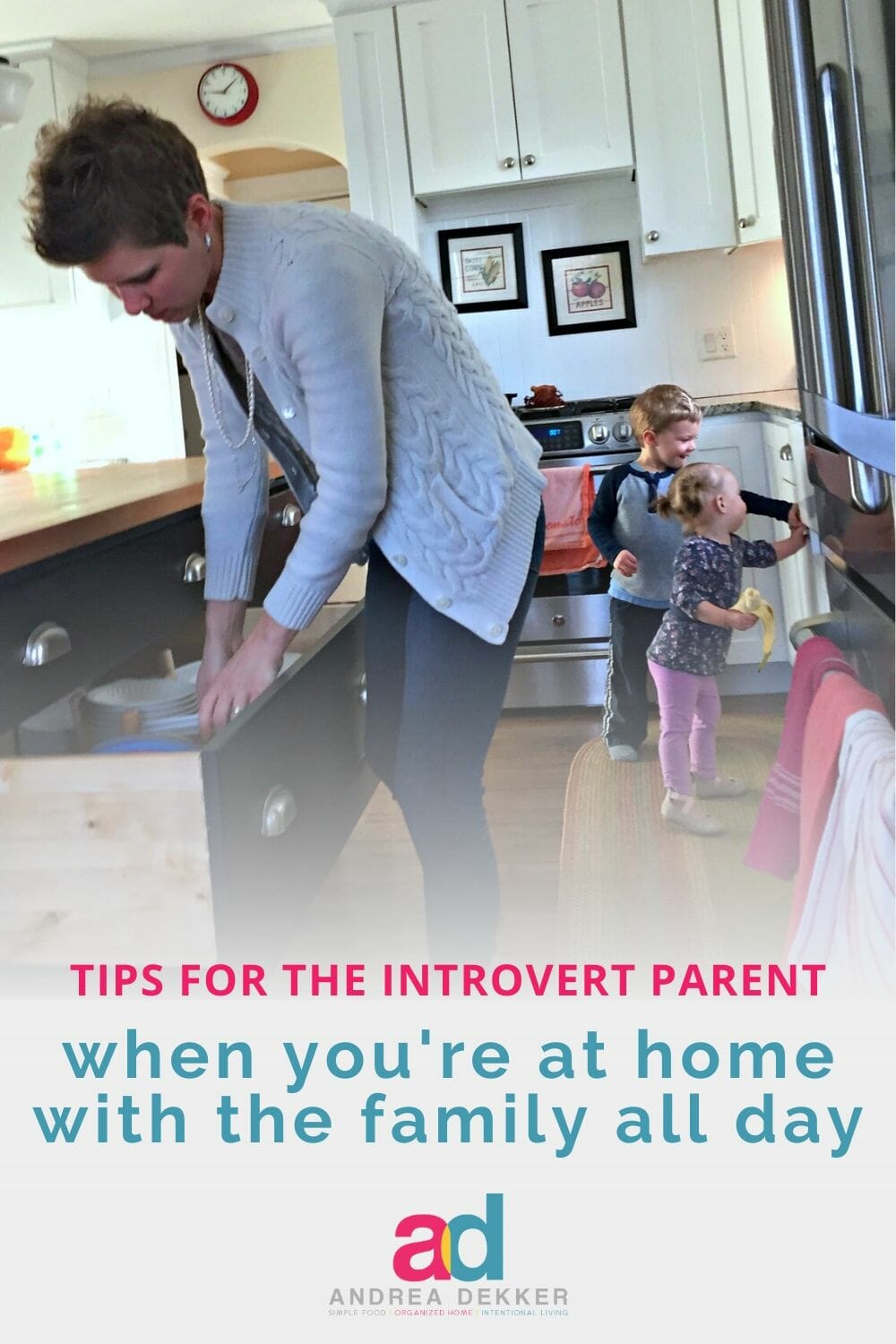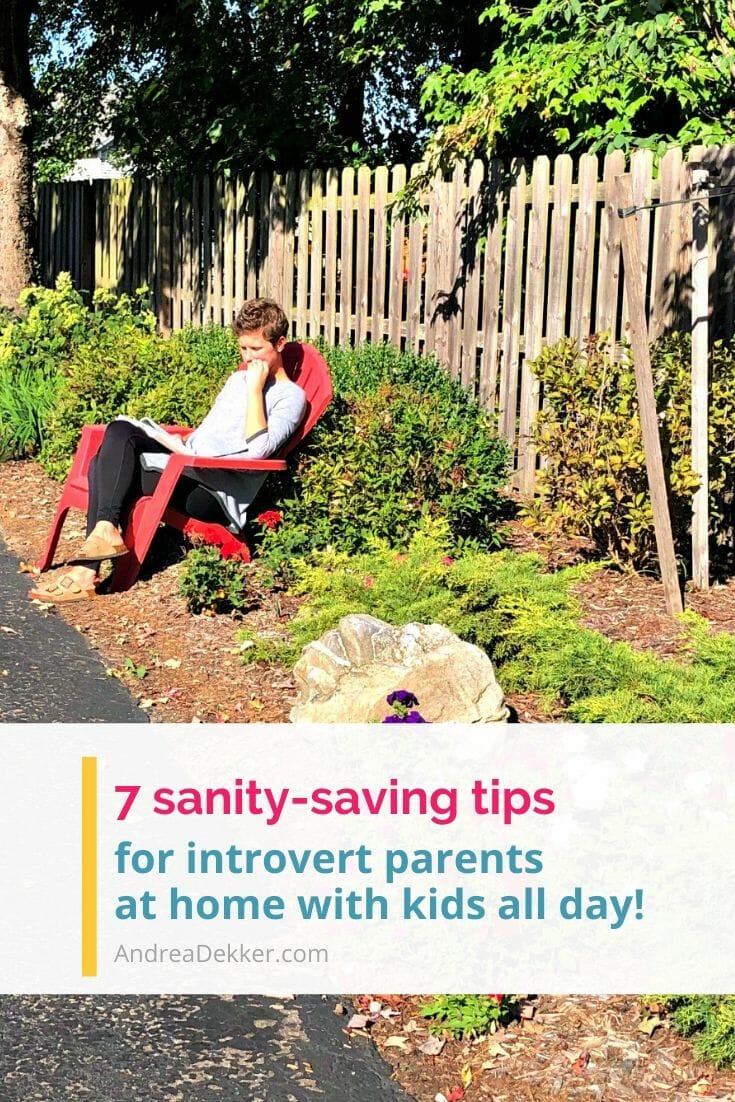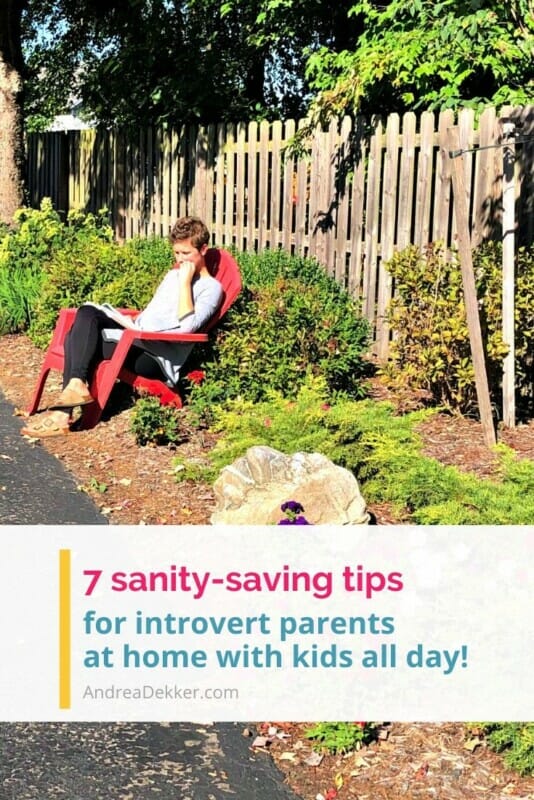 Are you an introvert struggling to navigate the constant "togetherness" of the current stay-at-home mandate?
I totally get it!
I love being home (seriously, LOVE IT), I love working from home, and I love all the extra time with Dave and the kids… but I also need some quality alone time throughout the day in order to be a better wife, mother, and person!
Can you relate?
Over the past decade, I've learned A LOT about myself as an introvert, and as a result, I'm so much happier and more content.
If you're struggling to make it through these very loud, very touchy, very people-centric days of everyone at home all the time, these 7 sanity-savers should help!
Dave and I utilize them EVERY DAY (even pre-quarantine!)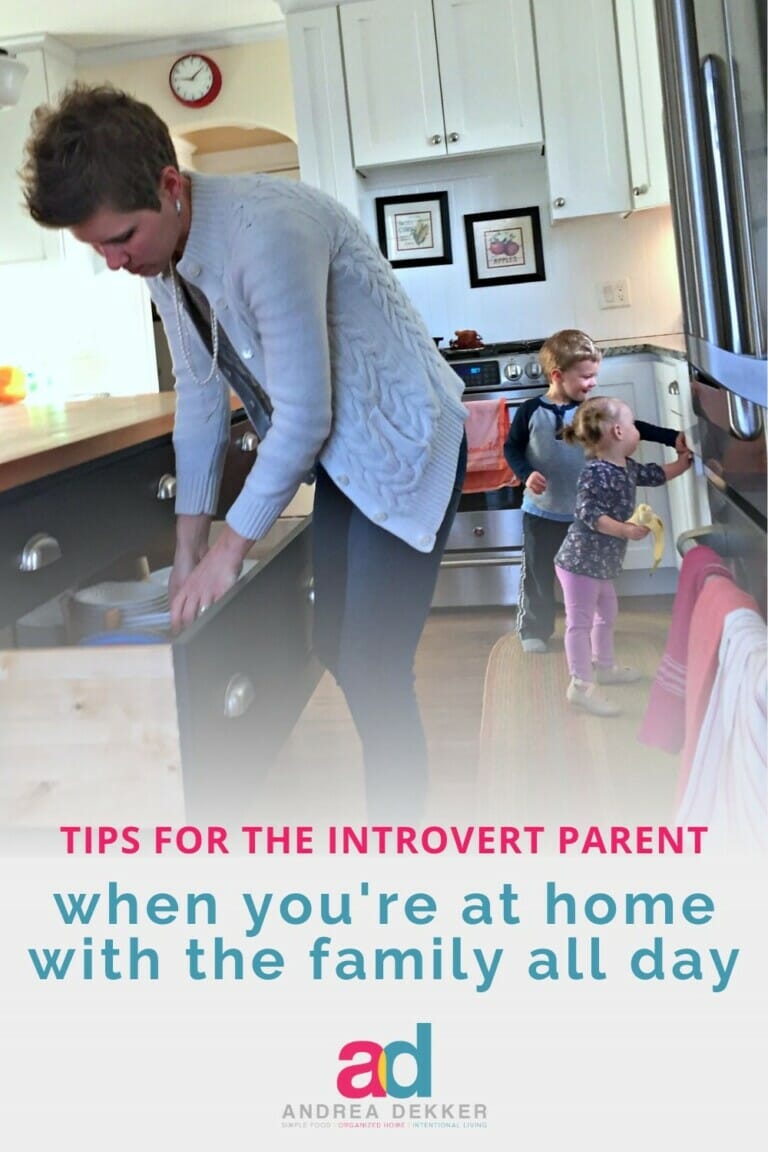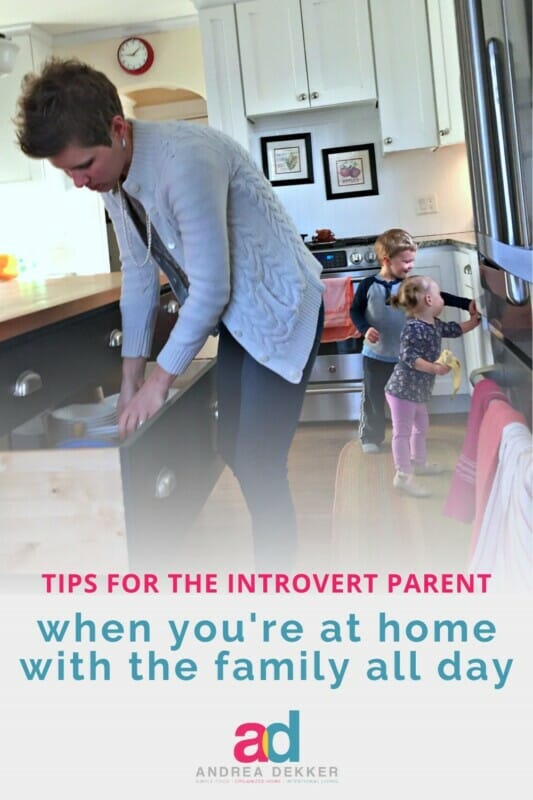 1. Put Children to Bed as Early as Possible
One of the best things Dave and I have done for our family, our marriage, and ourselves is to put our children to bed VERY early!
Most nights the younger 3 are in bed (often soundly sleeping) by 7 pm. Nora stays up to read until 8:00, but she literally curls up on the couch with her books and reads quietly for a full hour.
From 7 pm until whenever we go to bed, our home is quiet and calm! Hallelujah!
Dave uses this time to grade papers and plan lessons. I use this time to clean up the house, prepare for the next day, and schedule blog posts.
Of course, our children also wake up fairly early (6:30 on school days, 7:00 on other mornings) but Dave and I are early birds too — so we're always awake before the kids.
NOTE: We use these noisemakers and blackout shades in all our kids' bedrooms.
2. Wake Up At Least 30 Minutes Before Your Children
As I mentioned above, Dave and I wake up quite early — usually around 4 am.
This is not because we love setting our alarm so early, but rather, because we know we are SO much happier, more productive, and more "sane" if we get a couple of hours to wake up, get ready, and do whatever we want to do BEFORE our children wake up.
This is true all year long — but especially in the summer (or during quarantine) when we're together all day long.
Dave often goes running, showers, gets ready, and accomplishes a few school things before the kids come downstairs. I can almost always cross a few things off my to-do list, get ready, start working on a few household chores, and have a hot breakfast ready to go before the kids come down.
Of course, you do NOT need to wake up a 4 am to jump-start your day… however, I do think it's important to wake up at least 20-30 minutes before your children so you have that little bit of time to yourself before being "needed" by everyone for everything!
RELATE READING: How My Early Morning Routine Set the Tone for my Family's Day
3. Foster Early Independence
Although I don't necessarily want my children to "grow up too quickly" and I'm not one to get too crazy about kids doing specific chores, I DO think there are many benefits in fostering early independence.
Our children can do A LOT on their own — and it is SO helpful for me!
Yes, it took a little bit of time upfront to teach them, and it required a few adjustments to our home (putting stools in various rooms, lowering hooks, making their things more accessible to them, etc.) but our efforts have paid off with fewer questions, and less busywork for me!
They can all get dressed and ready for the day on their own (Clara needs some help yet!) They can access all their outdoor gear (summer and winter) and happily play together outside for extended periods of time.
This means I have windows of time throughout the day when I am not needed!
I can be near them, but still doing my own thing — weeding, cooking, reading, sewing, responding to emails, etc.
Of course, I am still very much in demand around our house… but the increased independence is glorious!
RELATED READING: 3 Ways to Help Children Live Simply
4. Have a General Plan for Your Day
I'm definitely a planner – I like structure and routine. However, even if you aren't as "type A" as I am, I believe the benefits of having a general plan for each day will be profound for you fellow introverts!
We write out "Fun To-Do Lists" for the kids almost every weekday when we're home. These lists include the daily menu of meals and snack options, what activities we will do in the morning and afternoon, if we will go anywhere, options for extra activities if they get bored, and when they can watch a TV show.
I realize this might sound totally insane to some… but I promise, it works!
It eliminates the constant "What can we do now?" and "When can we have a snack?" and "Can we watch TV?" questions and gives them a bit of structure (something I know they miss when they aren't at school all day).
Meanwhile, I don't have to continually tell them "no" when they ask for food or TV all day long.
RELATED POSTS: Healthy Snack Ideas for Kids
5. Use Screen Time Efficiently.
As I just mentioned above, our kids definitely enjoy watching a few shows each day. In fact, I'm pretty sure they'd have no trouble parking it on the couch for the better part of the day if I let them!
In general, I have ZERO "issues" with TV or screentime — as long as it's used in moderation.
Our "rule" is that they all need to agree on a show to watch, otherwise we won't watch anything. They have gotten good at compromising and taking turns picking their favorite shows, and they know not to constantly ask for more TV all day long.
One huge benefit of "scheduling" when the kids will watch TV (via the fun to-do lists I mentioned above) is that I can then plan ahead to use that time to my benefit.
If I know I have a solid 30-40 minutes of uninterrupted time in the middle of the day, I can be ready to maximize my efforts and boost my productivity whenever that time arrives.
Sometimes I work on a cleaning or organizing project. Sometimes I cook or bake bread. Other times I accomplish a bunch of quick work to-dos.
Either way, this mini window of QUIET TIME in the middle of the day is greatly anticipated by our entire family, and it's a key component in my ability to thrive as an introvert with 4 young children at home.
RELATED READING: A Life of Moderation – Food, Technology, Life
6. Get Outside Everyday
Life feels quieter and less claustrophobic when I'm outside — the giggling and "yelling" and playing is all more tolerable when we move away from the confined walls of our home and into the great outdoors!
Thankfully, we have a HUGE yard and super long driveway that the kids love playing in… so I rarely have to force them to go outside.
Even if you only have a tiny back stoop, there's still benefit in getting outside and breathing in the fresh air for a few minutes every day. Go for a walk or a bike ride (this saved my sanity on a daily basis when Nora was a baby!)
7. Don't Feel Bad Not Doing Something
Currently, it's easy to get away with staying home and not being overly busy or overly committed.
However, once the stay-at-home orders are lifted and your schedule goes back to normal again, do you really want to be busy all day long?
Take a bit of time to reflect on what you enjoy about your less-full schedule and consider if there's a way to continue this slower pace of life — maybe creating a "new normal" for yourself and your family.
Yes, this might mean saying "no" to something you previously said "yes" to. It might mean letting a few people down. It might mean feeling a bit uncomfortable at times.
However, the benefit of a simpler life for you and your family is more than worth it (I know from experience!)
RELATED READING: A "New Normal"
There is no parenting handbook for how to handle this situation — and we had zero time to prepare.
We're all doing our best, and we're all adapting to lots of changes (especially our children who probably don't fully understand why they can't see their friends or go to school).
Give yourself (and your family) a little grace… and then implement these 7 sanity-saving tips to help your days run a little smoother!
Are you an introvert parent (or grandparent)?
If so, I'd love to hear your tips and tricks to make it through these long-feeling days at home!