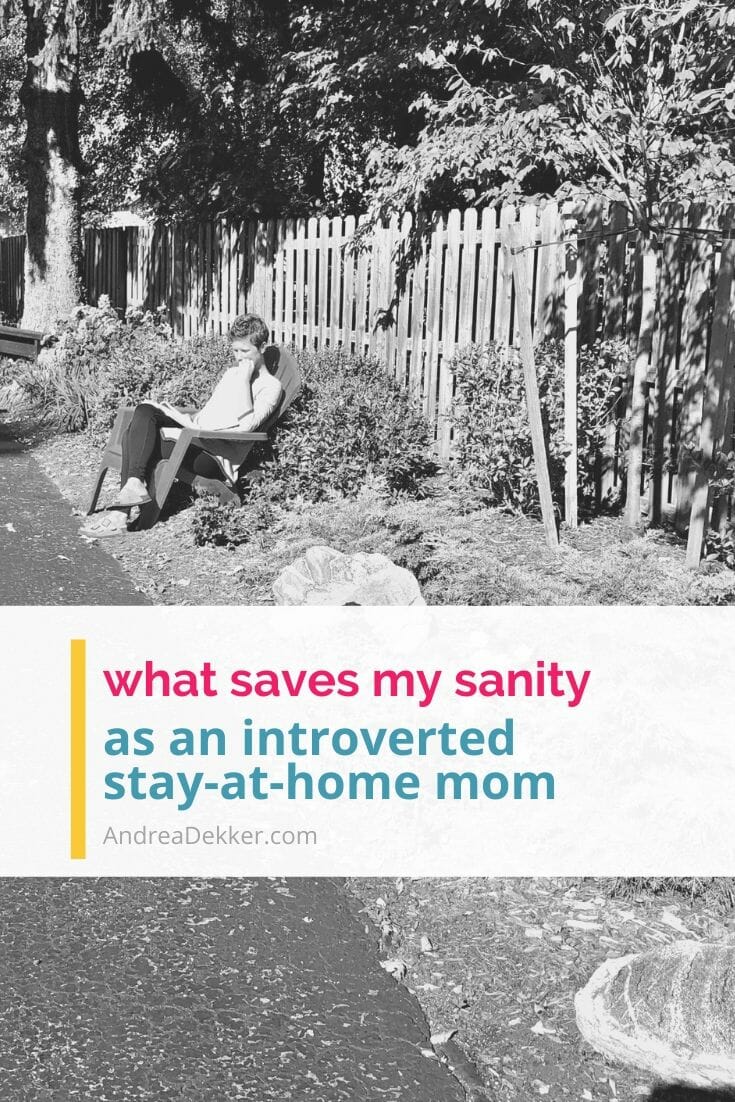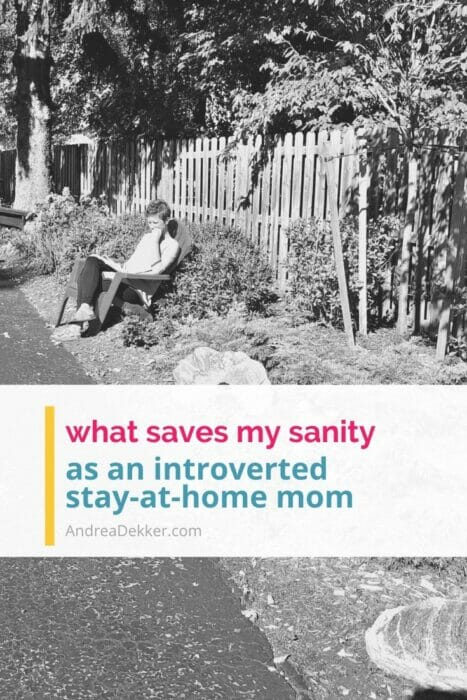 Although I would never describe myself as a "full-blown introvert" Dave and I both have many introverted tendencies, and usually fall right on the border between "I" and "E" on the Myers Briggs tests.
Fun Fact: I've taken the Myers Briggs test SO many times for various high school, college, career, and personal reasons. Before I was married, I almost always scored as an "ESTJ". After getting married, my scores have almost always been "ISTJ" 🙂

Also, if you've never taken a test like this before, here's a quick free option. And here's a great book specifically using your personality type to discover your parenting strengths.
I've never been a "touchy" person (I need my space people) and I don't particularly love small talk (just get to the point and move on). I am often the first one to leave a party even when I'm having a really good time, and I've ALWAYS been one to go to bed on time (my parents never even gave me a curfew!)
I love people, I can easily interact with all sorts of different people… but I need my own space and some alone time too.
In fact, I'd say Dave is the ONLY person I can be around 24/7 without feeling like I'm going to explode from "too much"… too much noise, too much pointless conversation, too much togetherness, too much closeness, too many questions, too many smells, too many hugs.
I'm sure Dave knows how lucky he is!
As you can imagine, my induction into motherhood was sort of a challenge for me — especially due to the fact that Nora had sensory issues and basically needed ME all the time.
Not only did she scream and cry for the majority of her waking hours (and you know how little she slept — so that was a lot of crying), she was basically glued to my body for roughly 23 hours of the day, insisting on sleeping ON me, refusing all babysitters, refusing bottles, and basically being miserable whenever she wasn't touching some part of my body.
Although I loved that needy little girl fiercely, I was desperate for my own space and my own time.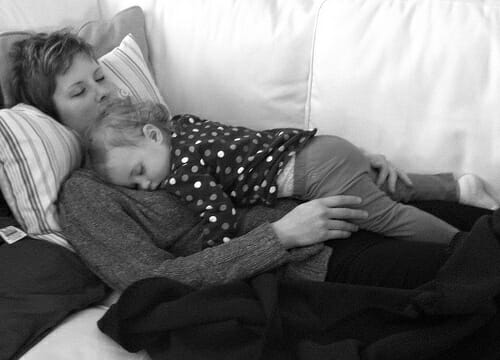 .
Thankfully, a few years and a few babies later, I have nearly perfected the art of staying at home with multiple little people without feeling like I'm going to go insane if they touch me for the 387th time, sing the same song for the 38th time, or make a ridiculous amount of noise for absolutely no reason at all.
Yes, I can be an introverted stay-at-home mom and enjoy it!
If you are also an introverted stay-at-home-parent struggling to make it through your very loud, very touchy, very people-centric days, here are a few of the things that have helped me over the years!
.
1. We put our children to bed very early.
I just talked about our kids' bedtime routine last week… but this is #1 on my list because I honestly think it's the most sanity-saving thing I do every single day.
All 3 kids are almost always in bed by 7:00pm, sometimes 6:45pm, depending on how tired they are… and you know what? Our kids don't suffer in the least!
They almost never put up any fuss when it's time for bed, they fall asleep quickly, they sleep well all night long, and they wake up relatively early in good moods.
Meanwhile, Dave and I get 3-4 hours of kid-free time every single night to work on blog posts, grade papers, watch a show on Netflix, work on house and yard projects, run errands, or whatever else we want/need to do.
We rest, we relax, we re-charge… without this time, I would most likely be a stressed-out, unhappy, basket-case (like I was for the first 2 years of Nora's life).
2. I use the TV to buy me a little free time.
I know there are different opinions on kids and screen time — but I will never feel bad for sharing the fact that our children watch some TV every single day. And no, I don't necessarily use it for educational purposes, I use it as a babysitter to buy me a little free time when I feel like I might have a nervous breakdown if someone touches my face, pulls my earrings, pulls on my clothing, or sneezes on me one more time.
Since we don't have cable anymore, we only watch shows on Netflix, Hoopla, PBS kids, and Disney Jr — which means no commercials and I can pick and choose what types of shows I allow them to watch.
During their TV time, I sometimes pick up the house, sometimes cook or bake in peace, sometimes respond to emails, and sometimes just sit on the couch and read or close my eyes for a few minutes.
Also, for anyone who is worried about my children's well-being with all this TV watching, I should point out that they have never used a computer or smartphone, they think the iPad is only for doing FaceTime with my sister, they don't even know what Nintendo or Wii are, and they really have no other access to technology in their life.
They will be fine… I promise!
3. I try hard to foster early independence.
Although I don't think my children need to "grow up quickly", I DO think there are many benefits in fostering early independence (especially for the mom who otherwise has to do EVERYTHING for EVERYONE)!
Nora can easily get dressed, make her bed, put her pjs away, go to the bathroom, brush her hair, and do her own ponytail without so much as one thing needed from me. She can reach all her clothing thanks to a conveniently placed step stool, she can access everything she needs to "get ready" each day, and she is even becoming quite competent in the kitchen — getting snacks for people, refilling her water, cleaning out the dishwasher, setting the table, etc.
Simon can usually get dressed on his own (depending on his pants selections) and always does his own coat and shoes. Thanks to our favorite booster chairs, he can easily climb up to the table on his own, put his own bib on (he insists on wearing a bib), and get his own water from the spout on the fridge. He still needs help wiping himself after going to the bathroom, but he can wash his own hands … and he loves being "helpful" by getting things James can't reach yet! He can also buckle himself into his car seat (all I have to do is tighten the straps).
James can get his shoes and coat off (not on yet) and he can climb into the van and get up into his car seat all by himself. He can wash his hands on his own (thanks to this automatic soap pump), he knows where we keep his pacifier, his water cup, and his blanket, and he is very good at following directions — especially when his siblings "help" him.
I realize this might not sound like much — but my people are becoming SO independent — which means there are SO many fewer things I need to do every minute of every day.
All 3 of them play outside fairly nicely, even if I'm in a different part of the yard weeding. They will also play upstairs for a while when I'm making dinner or answering emails.
Of course, I am still very much in demand around our house… but the increased independence is glorious!
4. I make it fun to stay home.
I do NOT like getting out and about with 3 little kids… even for fun activities. We will participate in free events at our local library and local early childhood center because they are walking distance from our house, but that's about it.
There are weeks when we literally never leave our house except to bring Nora to school, to get groceries, and to go to church — and you know what, I don't think anyone feels confined, bored, or restless.
In fact, the last time I took the kids out for a morning (I don't even remember where we went) Simon asked "are we going home now? I really like it when we go home."
I couldn't help but smile because I feel the exact same way!
We have a huge yard and a huge driveway to play in, we also have several play spaces insides our house — the play area at the top of the stairs where all our kitchen things are, our new playroom complete with a maze of roads, dress-up closet and baby corner, Nora's "school room" under the stairs, etc. etc. Plus, the kids have a few toys in their bedrooms, too.
I also try to invite people over to our house at least once a week — sometimes more. We'll invite friends or neighbors over or have grandparents over for dinner because I'd MUCH rather host than go to someone else's home!
5. I get outside as much as possible.
As I mentioned above, we are outside a lot — and even though I'm still there watching them, everything seems calmer and quieter when we're outside versus inside.
Plus, as the kids get older and more capable of being outside without constant supervision, I can actually do my own thing for a bit. Often, I'll sit in a lawn chair and read a book on my phone or do some yard work in solitude, while still keeping an eye and ear on my kids.
We also live in a great location for walking to so many destinations — and when we walk, we are often fairly quiet. The kids talk with each other, point out big trucks and police cars, ask a few questions every now and then, and sometimes even fall asleep. Meanwhile, I'm free to think my own thoughts while enjoying fresh air, a little exercise, and crossing something off my to-do list as we often walk to the bank, the library, the grocery store, etc.
6. I don't feel bad not doing something.
I wasn't really sure how explain this one… basically, if someone asks us to do something that I don't want to do, I say 'no thanks' even if it might be fun.
I know, this makes me sound completely unfun and horrible — but I promise it's not as bad as it sounds. My kids and I do LOTS of fun things, but I also turn down opportunities to do lots of fun things as well — especially if they are during nap time, later in the afternoon when Dave is usually home, or if they involve a long drive (my kids hate being in the car just as much as I do).
I used to feel bad saying 'no' and I'd often say 'yes' out of obligation — but then I'd feel stressed out and my kids often whined and asked to go home the entire time. I decided to trust my gut instinct and stop feeling bad if we decided not do something, even if lots of others were doing it and having a great time. My children are young enough that they don't know what they are missing, and they have plenty of fun things to occupy their time right here at our home!
.
Of course, there are still daily struggles, times when I force myself (or am forced) to get out of my comfort zone, and nights when I feel like I could easily go to bed at 8:30pm. I think most parents have these types of days though!
The important thing for me is that I can enjoy being home with my loud, messy, crazy, touchy children all day, every day without feeling like I need to lock myself in the bathroom until Dave gets home from school.
And speaking of Dave getting home from school — that's another huge sanity saver for me. He is almost always home around 3:30pm — which means I have at least an hour to re-group and decompress before we eat dinner (yes, we eat really early).
I know most stay-at-home parents aren't as fortunate and I am very grateful he can be home so early on a regular basis!
Are you an introverted stay-at-home parent?
If so, I'd love to hear your tips and tricks to make it through the days!