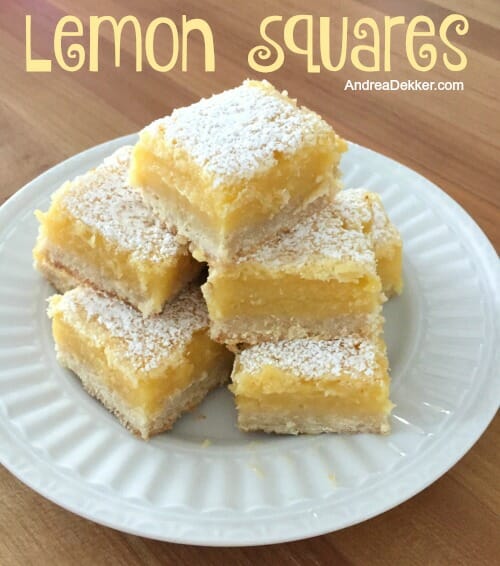 Citrus fruits are often on sale at our grocery stores during the winter months, so I regularly buy bags full of lemons and oranges this time of year. Of course, the kids love eating the oranges… but the lemons are almost always for baking!
Although I love tangy lemon desserts, I haven't shared any on my blog in many years! In fact, the last lemon dessert recipes I shared were way back in 2010… one for Lemon Pound Cake and one for Pecan Lemon Bars (both of which are super yummy!)
So today, after an almost 8-year lemon hiatus (on the blog, not in my real life), I'm back with a super delicious recipe for Lemon Squares.
They are the perfect dessert for almost any meal, with just the right balance of sweet and "sour" — and something just a bit different than the more traditional chocolatey desserts I usually serve!
Oh, and if you're looking for another way to use up your lemons (or your lemon rinds), try cleaning with them!
Recipe for Lemon Squares
makes one 9″ x 13″ pan of bars
INGREDIENTS:
For the crust:
1 c. room-temperature butter (2 sticks)
1/2 c. granulated sugar
2 c. all-purpose flour
pinch of salt
For the filling:
3 cups sugar
6 large eggs
zest from 1 lemon
1 c. lemon juice
1/2 c. flour
powdered sugar (for dusting on the top)
DIRECTIONS:
Preheat oven to 350ºF. Grease a 9″ x 13″ baking dish and set aside.
In a medium bowl, mix butter and sugar until combined. Add in flour and salt and mix until a crumbly mixture forms.
Press crust mixture into the bottom of the greased pan.
Bake crust in preheated oven for 15 minutes.
While crust bakes, mix together all filling ingredients (except powdered sugar).
Pour lemon filling over hot crust and return pan to oven for 25 minutes, or until lemon mixture is set.
Let the bars cool to room temperature before generously dusting with powdered sugar.
Cover and refrigerate for 3-4 hours before cutting into bars and serving (they really are MUCH better cold).
NOTE: The bars will most likely look really white and cakey when they come out of the oven (see photo below). After refrigerating for several hours, they will look yellow and gooey!
Although these bars are far from healthy, they do taste quite light and refreshing. They can also be cut into fairly small squares, so one batch will serve a crowd.
My kids would still prefer a plain chocolate chip cookie, but Dave and I (and our dinner guests) certainly enjoyed these lemon bars last week!
What are your favorite lemon desserts?
Visit my virtual recipe box for more simple, delicious, family friendly recipes!