My Homemade Facewash (8 years later)
posted by Andrea | 02/6/2018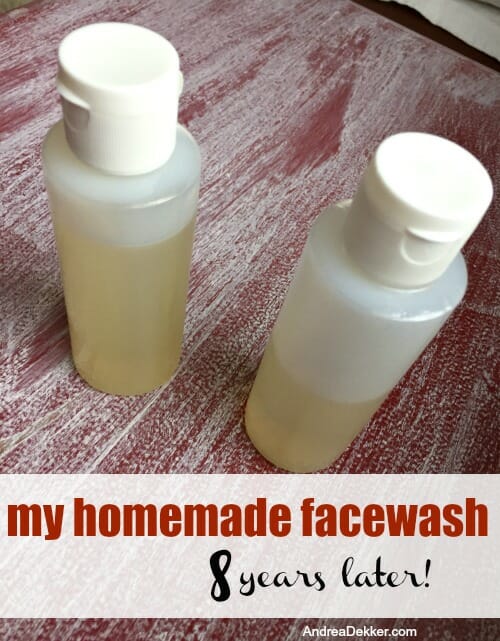 Just about 8 years ago, I got the crazy idea (after reading it somewhere on the internet) that I wanted to start using OIL to cleanse my face!
Dave thought I was crazy, I sort of thought I was crazy, but I wanted to try it because my skin was so dry.
I purchased Castor Oil and Sunflower Seed oil, I mixed them up in a little plastic bottle (these are the exact bottles I use), and I "washed" my face with oil for the very first time.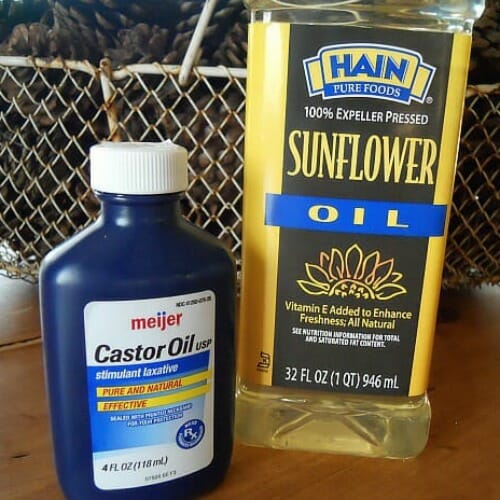 I half expected to have a million breakouts when I woke up the next morning… but to my surprise, my skin felt SO soft and moisturized. Not dry at all!
Dave noticed a difference too, so we continued using this crazy oil to cleanse our face every night before bed.
Now, 8 years later, I can confidently say this was one of the best skin care decisions I've made in a long time.
Dave and I still faithfully cleanse our face with this oil every single night; and honestly, my skin just keeps feeling softer and smoother. It looks healthier than it did when I was in high school (well, that might be pushing it a little, but it sure feels healthy!)
I shared my special face wash on my blog several months after I actually started using it. I was sure everyone would think I was crazy, but to my surprise, that blog post continues to be one of my most popular posts ever!
I still get comments, questions, and emails asking if we really use oil to cleanse our face… and I always respond with a resounding "yes!"
It's just so quick and easy, it's extremely frugal, it's natural and free from so many of the chemicals in brand name face wash products, AND IT WORKS EXTREMELY WELL!
I love that I can tweak the formula to work for me all year long — adding a little extra castor oil in the summer when it's more humid and my skin isn't as dry, and then adding more sunflower seed oil in the winter when I need extra moisture.
NOTE: I use roughly half and half castor oil and sunflower seed oil in the winter, and add a little more castor oil and a little less sunflower seed oil in the summer. 
I look forward to my "mini facial" at the end of my shower every night — I simply massage the oil onto my face for 20-30 seconds and then lay a hot, wet washcloth over my face for another 20-30 seconds.
I'm almost to the point where I don't need any facial moisturizer anymore (although I still LOVE using a little dab of Prairieland Herbs Eye and Face Cream every night!)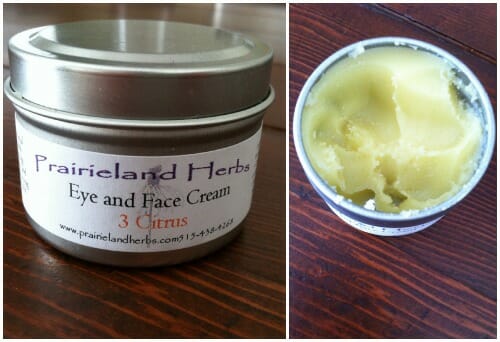 If you don't love the way your skin looks or feels, or if you've thought about trying something new with your skin care regimen, I would HIGHLY encourage you to give the oil cleansing method a try.
Keep in mind, you'll need to give it a few weeks to work its magic (especially if you've been using chemical cleaners on your skin for many years.) I have heard a few people complain of their skin getting worse before it gets better, but that was not my experience at all. My skin was almost instantly softer and more moisturized.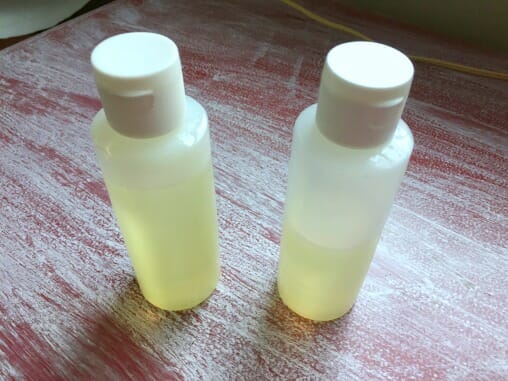 So… if you've ever wondered if we're STILL using the oil cleansing method on our faces… the answer is YES!
And we don't plan to stop anytime soon!