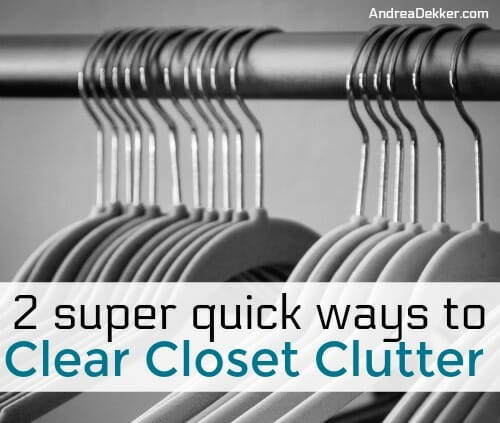 In my experience helping all sorts of people clear the clutter in their homes and lives, I can confidently say the two most challenging areas to purge are memorabilia and clothing.
I'm not the most sentimental person in the world, but I will say that clothing is one of the hardest things for me to purge too!
Over the years, my closet has gone from very full to very empty many, many times over… especially as my weight fluctuated so much before, during, and after my 4 pregnancies.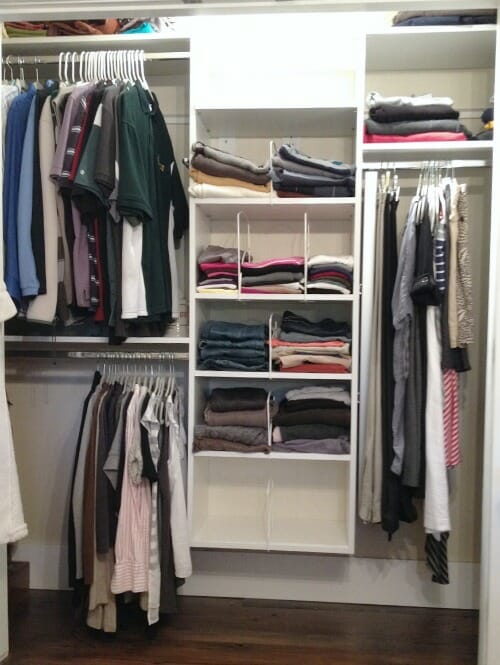 At times, it was easy to make excuses to keep clothing I never wore:
I had room to store it
I might be that size again someday
I might need it for a special occation
It still fit me… so I could wear it
I could go on and on (I'm sure none of you can relate to those excuses!)
Other times, I was ready to purge 95% of the items in my closet – I came close a few times!
.
The part of me that hates making extra decisions (like about what to wear) desires a super minimalistic closet with several of the same pairs of pants and tops, just in different colors.
On the other hand, the part of me that like to switch things up on a regular basis wants variety.
And then there's the fact that I live in Michigan, which means we can literally live through all 4 seasons in one week — so I need clothing for very hot and humid weather as well as clothing for arctic blizzards on hand all the time.
If you share my frustrations with closet purging, I have 2 super simple, super quick solutions that should help you get started on your closet purge ASAP!!
.
Method #1: Remove EVERYTHING You Don't Love Immediately
This is my most favorite way to declutter any area of my home (especially my closets) — because it provides INSTANT gratification.
I literally go through my closet and remove every single item I don't absolutely love and use on a very regular basis.
The trick is that I put all those items in a clothes basket, a large box, or a few bags and tuck them away in our storage closet upstairs — so they aren't totally gone for good.
NOTE: I include a sticky note with the date of my purge with the items (this will be important for later).
Then, over the next several weeks and months, I continue living with only the items left in my closet. If I feel like I want to pull something out of the boxes in storage, I do so, but only if I REALLY feel like I'm going to wear or use the item.
After a few months go by, I can confidently donate anything left in the baskets or boxes since I obviously didn't need or miss the items while they were in my storage closet.
For me, this provides guilt-free purging because I don't need to wonder "but what if I might need it again" because if I can go several months without it, then I most likely won't need it.
Plus, everything is already in a box or bag or basket… which means it's really easy to load up in my car and take it all away!
Method #2: Turn The Hangers Backwards Until You Wear an Item
I've mentioned this before on my blog — and it certainly isn't my idea — however it IS very effective and very simple!
Starting today (or whatever day you choose) put the date on a sticky note somewhere in your closet. Then turn all the hangers in your closet around so the open hook of the hanger is facing out (see photo below).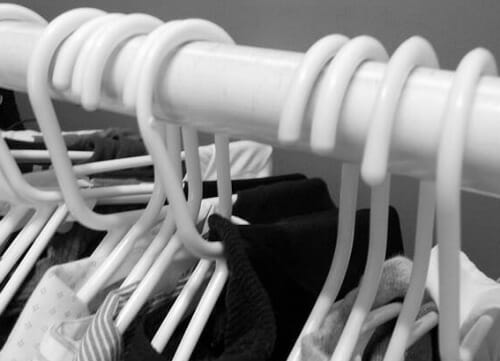 Whenever you wear something, turn the hanger around the correct way (with the open area facing the back of the closet).
After several weeks, you'll already be able to see what items you wear regularly and what items you haven't touched since you first flipped the hangers.
Give yourself a few months if you need, and when you're ready to head to the thrift store, you can quickly grab the hangers that are still turned the wrong way as you know you haven't worn those items in many months.
I realize both of these methods sound extremely simple (maybe even too simple) but that's the beauty of them. They do NOT require lots of extra time or energy upfront nor do they require you to purge immediately.
However, they DO provide a very visible reminder of what items you actually wear and what items you don't. After all, you can't really say "but I might wear it again" when the item has been boxed up for months or on a hanger that is still facing the wrong way 6 months later!
If you are struggling with clothes clutter, give one of these simple methods a try and see if you can't part with 10 or 15 items. You might find it's easier than you originally thought! 🙂
Looking for more clothes clutter tips and ideas?

Click here to read the hundreds of clothes clutter posts in my archives!