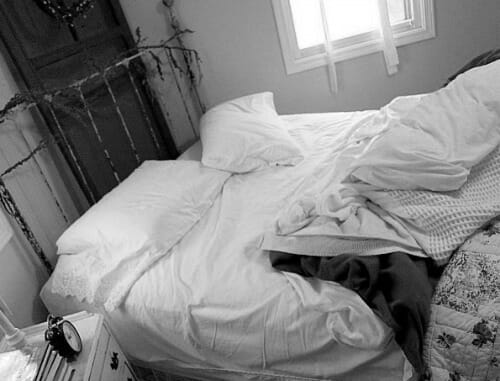 One question I get on a very regular basis is how we store our extra linens — you know, sheets, blankest, towels, tablecloths, etc.
While I usually love to share my organizing wisdom, I often don't have a great answer to these emails… because we honestly don't store many linens anywhere.
We literally only have ONE set of sheets/blankets per bed — and (get ready to be shocked) we only have 2 bath towels and 1 hand towel for each of us.
This means that we never ever have to store any linens because we are either using them or washing them.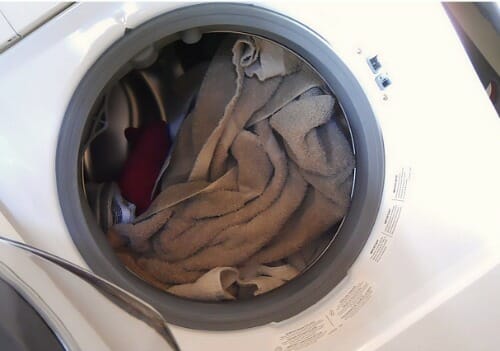 Some of you might be wondering how this works — well I can assure you, it's extremely simple.
We use our towels, sheets, napkins, etc. until it's time to do laundry.
We put them in the laundry (and yes, are without them for about an hour).
We put them back on our bed, back on the hooks in the bathroom, or wherever else they go.
Done.
This is how we've always done it since we've been married — partially out of desire for simplicity and not storing so much stuff. But also because that's all the sheets, blankets, and towels we received as wedding gifts 🙂
Since I realize many of you might be picking your jaws up off the ground right now, let me go into a bit more detail about how our limited linens work for us.
Our Bed:
One mattress pad and one set of plain white sheets.
Two thin white blankets that we keep on year-round.
One heating blanket that we keep on from October – April and then store in the summer months.
One quilt and one comforter that always stay on our bed, even in the summer.
Nora's Bed:
One water-proof mattress pad and one set of sheets (when she starts potty training, I'll probably get another set just in case).
One comforter and one quilt that stay on year-round.
Guest Beds:
One mattress pad and one set of plain white sheets for each bed.
Two thin blankets for each bed.
One quilt or heavy blanket for each bed.
We also have one extra heating blanket that we store and only use if we have guests in the winter.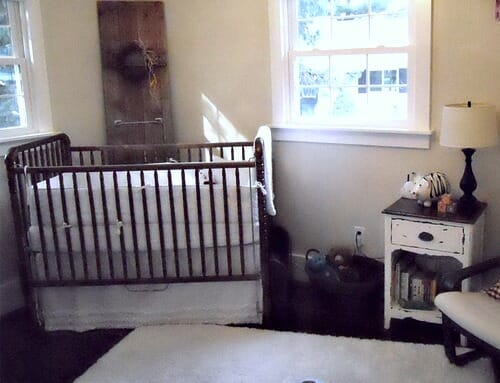 Crib:
Two water-proof mattress pads and two white sheets (I layer them so all 4 items are on the crib at the same time. This way, if there is an accident, I just pull the top layer off and am ready to go again)
White pumper pad and white blanket that stay in the crib.
Air Mattress:
We have a king-size air mattress that can also break apart into 2 twin-size air mattresses. I already have twin sheets for some of our guest beds, but I also have one set of king sheets that I store specifically for the air mattress.
When we need to use the air mattress, we just use blankets and quilts from our queen beds so we don't need extra king-size bedding.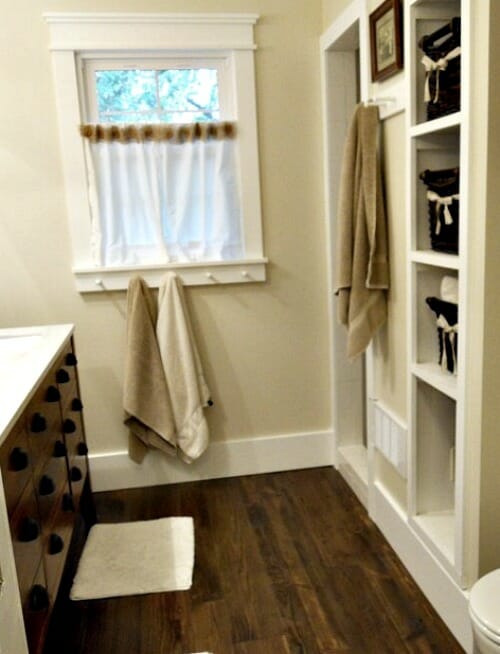 Our Bathroom Linens:
Two bath towels per person (including Nora)
One hand towel for each side of our bathroom vanity
Three washcloths for Nora
One "loofah" sponge each for Dave and I (we use this to wash our bodies and periodically replace them via the dollar store)
Other Bathroom Linens:
Two hand towels for the bathroom off the kitchen (we don't use the shower in there so we don't keep anything but hand towels in this bathroom).
Four bath towels for the guest bathroom upstairs.
Four hand towels and four washcloths for the guest bathroom.
Kitchen Linens:
Five dishcloths (we use a new one every day)
Five washcloths for Nora (we use a new one every day)
4-6 "extra" towels for when we have lots of dishes or I'm canning, or we have extra people washing hands and everything we currently have is wet.
12 cream colored cloth napkins (we usually only use 4-6 per week, but have extra for guests).
Four tablecloths of various sizes.
So as you can see, we still have A LOT of linens around our house — but almost NONE of them are in storage.
I have one smaller dresser in an upstairs storage closet (see photo below) that houses the 2 heating blankets (during the summer only), a few extra pillow cases, the sheets for our air mattress, and our tablecloths. Only one large drawer and one small drawer have linens in them. Everything else is always in use or in the wash.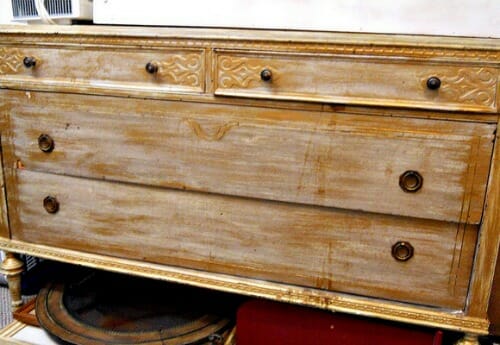 While I realize this method wouldn't work for every family and every home, it does work extremely well for us (especially considering we have no linen closet, no coat closet, and no large closets or cabinets in any of our bathrooms.)
And if you really stop and think about it, the ONLY time my wash-and-replace method causes any sort of an issue is if someone wants to take a shower while I'm washing the load of towels. However, since I almost always do the wash mid-day, and we almost always take our showers at night, this is almost never a problem for us.
In our 7.5 years of marriage, I've only had to replace our sheets once after a large hole appeared in the fitted sheet, and we're still using the same towels without any complaints — so not too bad if you ask me.
My Laundry Routine:
Some of you might think that with so few linens, I'd have to do loads of laundry every single day — well that's not true at all.
Since almost all of our sheets, blankets, towels, washcloths, etc. are white, I simply do one load of whites in the middle of the week, and one load on the weekends. These loads include any white linens AND any of our other white shirts, socks, etc. I also usually do one load of "everything else" in the middle of the week and on the weekend (I don't sort colors!)
And… believe it or not, we only wash our sheets once a month, so that cuts way back on laundry too (I know people who wash them EVERY day!)
Dave and I figure that since we both shower before we go to bed, and we regularly wash our PJ's, there's really no need to wash our sheets so often (I do wash the pillow cases every week).
I've never felt dirty in our bed, and I honestly think that a little less washing helps to prolong the life of the sheets — not to mention, saves a bunch of water, energy, and time!
This method works for us — and I love that I don't need to store, organize, clean, or keep track of piles and piles of extra linens.
Do you share my love for minimalism when it comes to linens? If not…
How do you store and organize your linens?