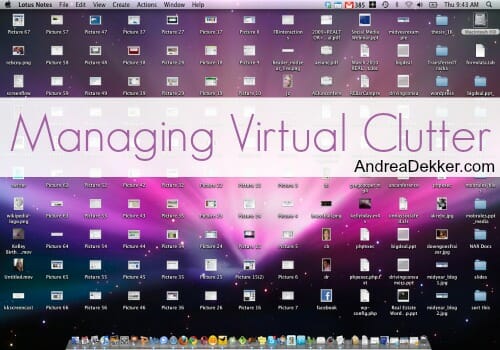 When I talk about "clutter," 9 times out of 10 people will automatically think of Physical Clutter — you know, the piles of paper, clothing, toys, books, etc. that are probably hanging out next to you right now.
However, Virtual Clutter — a.k.a. emails, computer files, eBooks, pictures, music files, etc. — can be JUST as overwhelming (if not more overwhelming) when it's left to grow and grow and grow without any sort of organizational system.
Recently, I've gotten a few questions specifically related to virtual clutter, so I thought it was about time I address it once and for all in one mac-daddy blog post covering a whole bunch of virtual clutter issues I've faced in my own life.
I know some of you might already be feeling overwhelmed just thinking about all your virtual and digital clutter… so before we get too far into this post, I want to remind you about my recent post with 3 simple tips for tackling overwhelming projects like virtual clutter.

Re-read that post if you're already starting to sweat!
EMAIL:
I've already blogged a lot about email — so instead of re-typing everything, I'll simply direct you to a few of my favorite email clutter-busting blog posts.
How I took control of my email inbox (this is my most comprehensive email post)
How I declutter my inbox with filters (specifically for Gmail users, but most likely could apply to other platforms as well)
A really quick and simply tip to reduce the number of SPAM emails you get.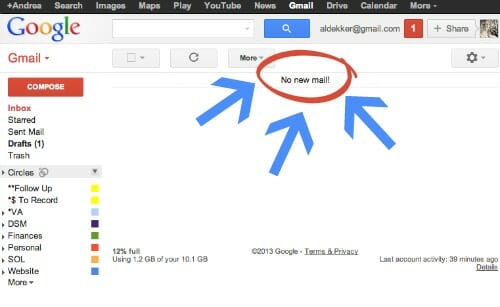 PASSWORDS:
If you're still reading this post, there's a pretty good chance you have a variety of online accounts — all of which will require a username, password, secret question, etc. etc. And if you don't keep that information well organized, it could make your online experiences very stressful and frustrating.
Here's a free password worksheet that should help you to organize all that information.
.
PHOTOS:
If I had a dollar for every email I got from someone overwhelmed with their photos, I would be rich! Photos (digital or hard copy) are SO overwhelming for many may people — and I can totally relate because I felt the same way just a few years ago.
However, over the past 4 or 5 years, I've come up with a system that works really well for ME and has helped to take the overwhelmingness out of this form of virtual / digital clutter.
Here are a few posts that talk about how I've come to manage our photos — even if they aren't the perfect plan for you, there might be a few ideas you can take away to help manage your own photos.
How I manage our photos (and make our digital photo albums)
Q & A about our digital photo albums
Why I'm not printing photos anymore
When it comes to photos, I think my best advice across the board is to START SMALL. Even if you aren't an avid photographer, there's a good chance you have hundreds and thousands of photos to weed through — and yes, that's overwhelming!
Don't try to do everything at one time — just take it a step at a time and work on it for a few minutes here and there.
#1: First figure out how you want to eventually store your pictures — on your computer, on a hard drive, via an online resource like Flickr, in a scrap book, in a digital photo album, etc.
#2: Then weed through all the photos you have — and yes, I threw out and deleted MANY photos I didn't love. Any doubles, triples, negatives, and blurry photos were gone. Any photos with red-eye, photos of people I didn't know, excessive photos of scenery, etc. — they were all gone too. By getting rid of some of your photo stash, the next step will be less overwhelming and less time-consuming.
#3: Finally, take the photos you end up with and do whatever it is you decided to do with them in step 1.
I realize that summing up all photo organization into 3 steps is pretty optimistic, but this is basically what I did when I set out to organize our photos once and for all — and it's been working well for me ever since!
COMPUTER FILES:
Dave and I actually don't store ANY files on our computers. We keep them all in Dropbox — which makes it super easy to access ALL our files from any computer or device with the internet.
We have Dropbox downloaded to each of our main computers so we can access all our files at all times from both computers — and we never have to worry about losing files if our computers crash.
Within Dropbox, Dave and I each have our own folder. Then inside of our folders, we each have a "Work" and "Personal" folder.

The sub categories just go down from there — files for church stuff, gardening stuff, house stuff, birthday and Christmas stuff, etc. in my personal file. And files for invoices, client information, printables, speaking engagements, website files, etc. in my business file.
This is by-far the best, fastest, easiest, and cheapest way we've found to organize all our computer files and digital documents — and although we have a lot of documents stored in Dropbox, we're still able to use the free version without any issues.
There is honestly SO much you can do with Dropbox — storing photos, links, sharing folders and files with others, etc. etc. Dave and I haven't even scratched the surface of everything we could do with this free service — but as someone who only uses Dropbox for file and document storage, I can say I'm extremely please with it's performance over the past few years.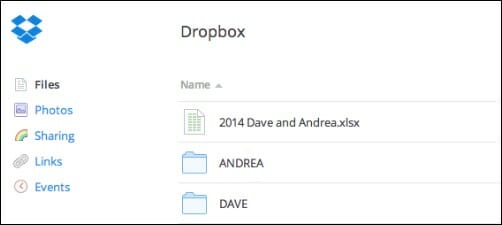 eBOOKS:
With all the free eBooks available on a daily basis, it's hard not to feel "pressured" to download every single one — especially if it's only free for a limited period of time.
I'm not a huge reader — so this probably works in my favor when it comes to eBooks, but just as with potential clutter that can enter my home, I ALWAYS pause and think for a moment before downloading another eBook (even if it is free). I think, 'Do I really need this? Will I really read this book?'
If I do decide to download it, I will try to read it ASAP; and almost 100% of the time, I'll delete it after I read it (I don't like reading things twice!)
If I'm hesitant at all, I don't download it. I have plenty of other things to do that I'm sure I won't miss one eBook — and in the meantime, I save a bunch of storage space on my device. Also, I don't have that looming "I have SO many books to read" feeling hanging over my head.
.
BLOG POSTS & RSS FEEDS:
Another shocking tidbit of information is that I don't follow many blogs. I used to follow more, but then I found that I was often comparing myself and my own blog to other blogs — which wasn't good.
Here's a list of a few of my favorite blogs — but I don't follow ANY of them in an RSS feed reader. It's super overwhelming for me to see 40, or 75, or 135 new blog updates in an RSS reader, and I would honestly feel like I had to read every single new blog post and update before I could close up for the night — talk about lots and lots of time!
Instead, I've found that it works better for me to have the blog updates sent to me via email — I can quickly skim through them and then delete ASAP. I also follow several blogs on Facebook — and while I'm sure I miss some of their posts, it saves me a lot of time and virtual clutter that would otherwise be getting backed up in my RSS Feed Reader!
.
SOCIAL MEDIA UPDATES:
If you scroll through your Facebook and Twitter news feeds for even 5 minutes, you'll probably find at least a couple articles you'd like to read — but you might not have the time to read them RIGHT NOW.
I know people who set up Word documents and then copy/paste the URLs for the articles into that Word document to read later. Another good option would be to use Evernote (I talk more about that in this post). You can save the URLs directly to your Evernote account and then access them from any device connected to the internet (with the Evernote App).
This is what I'll definitely be doing in a couple more weeks — and then reading the articles on my phone during all those late-night feedings!
.
MUSIC FILES:
I'll be honest, I have absolutely NO music on my computer or my iPhone, I don't have or use any type of MP3 player, and we only have a couple CDs (mostly children and Christmas CDs.) I don't listen to the radio when I drive, and although I'm very musical, I just don't listen to music on any sort of regular basis.
Obviously, this is convenient from an organizational standpoint because I have no music to organize — so I'm going to leave this one open-ended and let any of you who have awesome music organizing advice to leave it in the comments!
.
In General:
If digital and virtual clutter is causing you any amount of stress (and it definitely is for lots of people) the first step of the process should be to evaluate if you even need or use that particular item.
If the answer is "NO", just delete it right now. Don't waste your time trying to come up with a fancy, or detailed, or pretty way to organize it — just purge purge purge.

If the answer is "YES", then start setting aside 15-20 minutes a day to weed through some of it. Set up a filing system for your virtual documents; start reading those eBooks, blog posts, and online articles; purge your emails; start going through your photos and music.
It's not going to be completely organized over night (wouldn't that be nice), but 15-20 minutes a day will sure give you a good start — and doing a little at a time will hopefully prevent you from getting too overwhelmed!
Also, I do want to mention that virtual clutter organization often requires many tweaks before you "get it right". Since there are literally hundreds of different ways to organize digital and virtual clutter, you'll most likely have to try a few options before you find one that works best for you and your organizational needs (at least it's always taken a few tries for me).
Don't get discouraged, it's totally worth it once you have a working system — and I think you might be surprised how much more you actually utilize your virtual and digital items once they are organized!
What are your best tips for organizing virtual clutter?