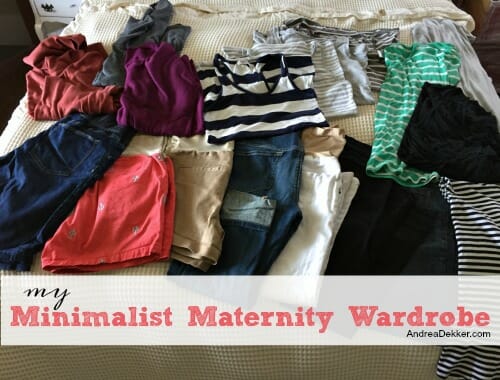 When I was pregnant with Nora, I borrowed a handful of cute maternity clothes from my cousin, from a neighbor, and from a church friend. I honestly don't think I purchased one single thing… and I was elated to give EVERYTHING back about 2 weeks after Nora was born.
When I was pregnant with Simon, I borrowed a few items from my neighbor again, but my cousin was using her maternity stuff and my friend from church moved to a different state. Thankfully, ThredUP was selling maternity clothing by that point, so I purchased a handful of items from their online "garage sale" and borrowed a winter coat from another friend.
I purchased a few more things when I was pregnant with James — mainly because I had ZERO summer clothes and he was born mid July, but also because my neighbor moved away so I couldn't borrow from her anymore either.
Now, with baby #4 on the way and no one to borrow maternity things from, I purchased a few more goodies from ThredUp and I feel like I finally have a well-rounded, but fairly minimalistic, maternity wardrobe (at least compared to almost every other mother I know!)
Keep in mind, I'm not necessarily in favor of super minimalistic or "capsule" wardrobes — however, for maternity clothing that I know I'll only wear for a few months of my life, I tend to lean more towards minimalism when possible.
Here's what I have in my maternity wardrobe:
PANTS:
1 pair of skinny jeans (I figure I'll be wearing shorts and capris soon enough)
1 pair of black skinny jeans
1 pair of black leggings
1 pair of the most comfortable maternity sweatpants ever!
** When I was pregnant with Nora, I tried wearing Bella Bands with my regular pants but that never seemed to work well for me. I prefer the full panel maternity pants over the shorter style waist band or Bella Bands.
CAPRIS / SHORTS / SKIRTS:
1 pair of jean capris
1 pair of white capris
3 pairs of shorts (jean, khaki, corral)
2 skirts (one long, one short)
** I also have a 2 or 3 non-maternity maxi skirts and black "yoga capris" that work well even when I'm VERY pregnant!
(41 weeks pregnant with James)
TOPS:
several maternity tank tops (probably 6-8, but I honestly wear most of them year-round — even when I'm not pregnant because they are so nice and long!)
3 short sleeve shirts
3 light-weight sweaters
2 "tunics" — dressier tops
** I can get away with so few tops because my go-to look is a maternity tank top paired with a cardigan and scarf I already own. Plus, I have several "loose" and "flowy" tops that work well until I'm about 7 months along!
EXTRAS:
2 maternity swimsuit tops (I wear regular bottoms)
**I borrowed a maternity coat when I was pregnant with Simon (my only winter baby). I also borrowed a dress for a wedding when I was pregnant with Nora. In general, I always tried to borrow the "extra" items whenever possible because I usually only needed them for special occasions or a very short period of time.
(one of my favorite maternity pictures when I was pregnant with Simon)
I have definitely added to, and purged from, my maternity stash over the last 6 years… but right now, this is what my maternity wardrobe looks like. Less than 30 items of clothing to wear for 9 months of my life… not horrible in my opinion, especially since all of my pregnancies have been in different seasons of the year.
As I mentioned above, I've never been a true "minimalist" when it comes to clothing — however, with maternity items, I only keep what I can fit into one small plastic storage bin… which I store on the top shelf of my closet (when I'm not wearing the items).
Since Dave and I share a mostest-size closet, I don't want to waste tons of closet space storing maternity clothing. I set my limit and stick to it!
(pregnant with James and wearing a borrowed dress — one of my favorites!)
This might seem like a pretty boring wardrobe to wear for 9 whole months, but I do actually feel like I have lots of options (especially in the beginning when I'm not too big yet!)
I'm always ready to pack up my maternity things by the time the baby is born, but for the most part, I rarely tire of wearing the same outfits over and over again.
In fact, every time I'm pregnant, I feel like I should purge 2/3 of my "normal clothing" because of how freeing it feels to have fewer clothing choices for these 9 months.
(35 weeks and neither the skirt or the shirt are true "maternity")
Now, obviously every body type, every schedule, every style, and every pregnancy is different — so there's a good chance this type of wardrobe won't work for someone who works outside the home or someone who exercises every day, but since I'm regularly asked to share my maternity wardrobe, I figured this was a good time to do that 🙂
After 4 pregnancies in crazy West Michigan weather (all during different seasons of the years), I've found that it has been fairly easy for me to wear a somewhat minimalistic maternity wardrobe… but I'd love to know…
What does/did your maternity wardrobe look like?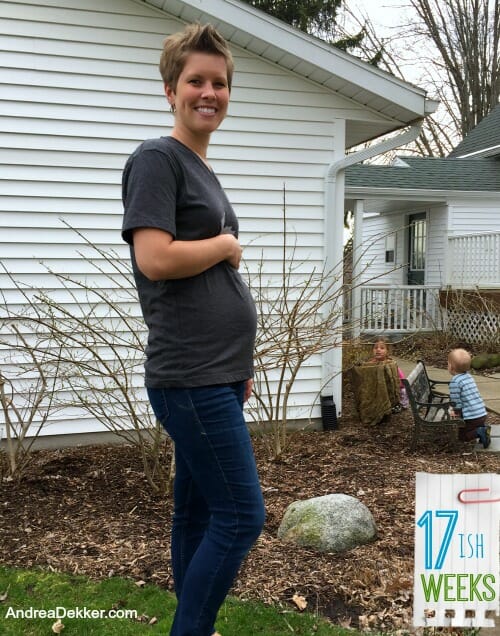 (photo from this past weekend — 17-18 weeks with baby #4)