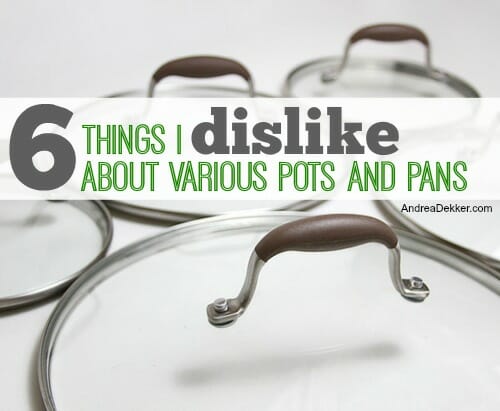 Over the last 10+ years, I have used many different pots and pans, and I think I've finally figured out what I want/need from my pans, as well as a handful of features I really dislike.
While I don't necessarily want this post to be overly-negative, I have personally found that when I'm shopping for specific items, it's more helpful for me to know what people DON'T like in specific products versus what they DO like. Often times, the features they don't like aren't ones I normally think about, but they help me narrow down my search (yes, I LOVE Amazon reviews!)
Anyway, for those of you who share my enthusiasm for random product reviews (both good and bad), I thought it might be helpful if I shared a few things I dislike about various pots and pans. I'd love if you shared more in the comments!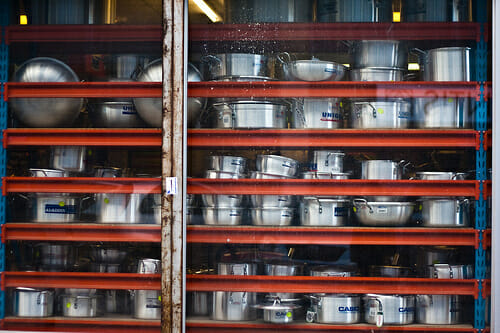 1. Pans with opaque lids.
I want to be able to SEE what I'm cooking without needing to remove the lid every single time. Give me a see-through glass lid over some fancy stainless steel lid any day!
2. Pans with hot handles.
I once got a set of really nice pans and was excited to try them out; however, I ended up burning my hand the very first time because the stainless steel handle on the lid was SO hot.
I much prefer a cool-touch, non-stick coating on my handles and lids so they are easy to grab at any time.
I suppose if you regularly transfer your pans from the stove top into the oven, you might want stainless steel handles… but I almost never do that.
3. Pans with non-nesting lids.
I honestly cannot even begin to count the number of pots and pans I've tried with non-nesting lids — so, the lid doesn't fit upside down inside the pan for easier storage.
This means, I can't stack the pans in my cabinets and I always need to keep the lid right-side up (which takes up more vertical space on my shelves).
I realize this might sound petty to some of you, but it's a big turn-off for me!
4. Pans that come in huge sets.
In general, I rarely ever purchase full sets of anything (pots and pans included). I like to mix and match to find exactly the items I need and want, without multiple pots and pans I DON'T need or want cluttering up the backs of my cabinets.
I currently have 1 large frying pan, 2 small frying pans, a large stock pot, and 4 smaller sauce pots. They are mis-matched, random brand names, but they work marvelously for my needs!
5. Pans that don't stand up on their own.
OK, this is another weird one, but I've tried 3 different pans that tip over unless food is in them or unless the lid is on — it's like the handles are too heavy so the pan can't stand on it's own.
So if I just set the empty pan on the counter or on my stovetop without the lid, it instantly tips over (seriously, such bad design and so frustrating!)
6. Pans that don't cook evenly.
Unfortunately, there isn't really a great way to check for this before you buy it… but I will speak from experience that buying expensive pots and pans is definitely not always better than buying the cheap-o pans from Target.
In fact, my parents gave me 2 smaller T-fal brand sauce pots for Christmas this past year and they cook so quickly and evenly that they are my new favorite sauce pots. I know how inexpensive these pans were as they were on my Amazon list… and for the price, they are absolutely amazing!
I'm sure there are more I could come up with if I wanted to keep "venting" for a while… but these are my main dislikes for pots and pans.
What would you add to my list?