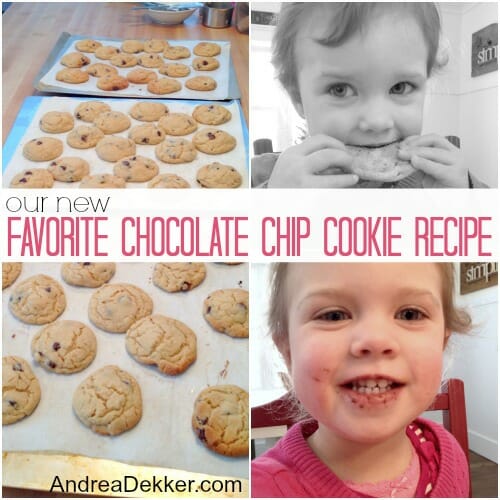 Dave and I are HUGE HUGE HUGE chocolate chip cookie lovers — and although we'll pretty much eat any chocolate chip cookie you put in front of us, we've recently been on the hunt for that most perfect chocolate chip cookie recipe.
I've honestly baked more chocolate chip cookies in the past 6 months than I have in our entire married life (seriously!) and after trying many, many different recipes (including both of our mom's recipes, my grandma's recipe, Better Home's & Garden's recipe, and tons of AllRecipe.com recipes) we finally found THE ONE.
And you'll never believe how I stumbled across this most-delicious chocolate chip cookie recipe.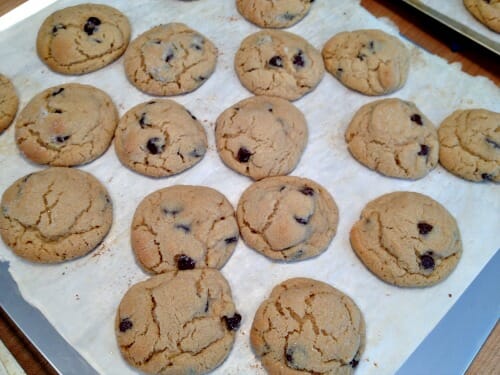 Remember that Daniel Tiger birthday party we had for Nora this past fall?
Well, after the party, I offered up the decorations for free to anyone who wanted to come pick them up. Apparently a local blog reader, Rochelle (who just lives down the road from our house) was going to have a Daniel Tiger birthday party for one of her kids — and she jumped at the opportunity for free, already made decorations!
I was thrilled to get the decorations out of my house and put to good use somewhere else — but I was even more thrilled when Rochelle showed up at my door with a big plate of chocolate chip cookies as "payment" for the decorations.
This was just before dinner time, so after dinner, we all willingly sampled these cookies for dessert — and almost immediately, Dave and I decided that they were the BEST chocolate chip cookies we'd had in a really really long time!
Thankfully, Rochelle shared her delicious recipe with me AND is allowing me to share it here on my blog (seriously, you should all thank her!)
Now, one thing I should mention is that once she sent over the recipe, I realized they had peanut butter in them — which is probably why we loved them so much. However, if you can't have peanut butter, you could definitely substitute Biscoff spread, Sun butter, or any other peanut butter substitute you are allowed to eat.
Recipe for Peanut Butter Chocolate Chip Cookies:
Makes 5-6 dozen cookies (this is technically a 1/2 batch)
Ingredients:
1 c Peanut Butter
1 c. Butter (2 sticks) softened
1 c. Brown Sugar
1 c. Granulated Sugar
2 Eggs
2 t. Vanilla Extract
2.5 c. All Purpose Flour
1 t. baking powder
1.5 t. baking soda
1/2 t. salt
one 12 oz. bag semi-sweet chocolate chips
extra granulated sugar for rolling (about 1/2 c.)
Directions:
Preheat oven to 350*F
In a large bowl, cream together peanut butter, butter, both sugars, eggs and vanilla until well mixed
Add dry ingredients and mix well
Stir in chocolate chips
Scoop 1″ balls of dough and roll in granulated sugar (I use this mini scoop to make nice balls)
Put dough balls on parchment-lined cookie sheets and bake for 10-14 minutes
Once the cookies came out of the oven, I let them cool for a few minutes before transferring them to cooling racks.
I waited as long as I could before taste-testing them (so about 3 minutes) and they were JUST as good as Rochelle's cookies — both Nora and Dave definitely approved!
As I mentioned above, this recipe is actually a 1/2 batch of Rochelle's recipe (because I know many people don't want to make more than 5-6 dozen cookies at a time).
However, since these cookies (and the cookie dough) freeze amazingly well, I figure I'll share the FULL recipe too — and yes, that means it will make about 10 dozen cookies or more!
THE FULL RECIPE:
2 c. Peanut Butter
1 lb Butter softened (4 sticks)
2 c. Brown Sugar
2 c. White Sugar
4 Eggs
1 T. Vanilla
5 c. Flour
2 t. Baking Powder
3 t. Baking Soda
1 t. Salt
Two 12 oz. bags of semi sweet chocolate chips
Extra sugar for rolling dough in
Although I love making little tweaks and changes to recipes, I made this recipe exactly as Rochelle instructed with absolutely NO changes, substitutions, or additions of any sort.
These are THE best chocolate chip cookies around — slightly crispy on the outside but super chewy on the inside — perfection in my book!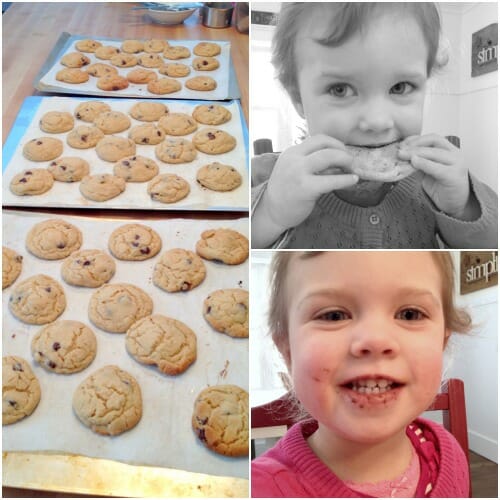 I currently have about 5 dozen of these cookies in our freezer plus extra frozen dough for making more cookies later. And yes, I'm finished with my quest for the "best" chocolate chip cookies because our family is 100% satisfied with this recipe.
Thanks Rochelle!
Do you have a favorite chocolate chip cookie recipe?