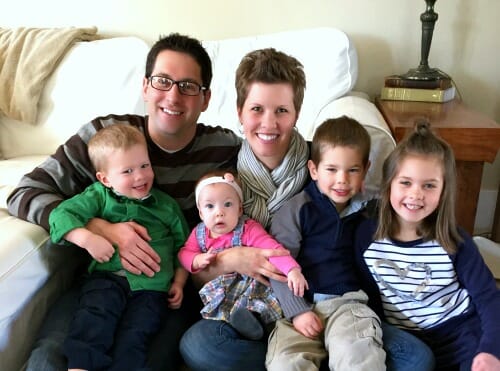 It's been almost 2 months since my last Peek Into Our Week post — but that's because we really haven't had much to "peek" at!
We've been at home — playing, reading, watching TV, eating, baking, coloring, etc. Not a horrible way to spend our days, but definitely not all the interesting either!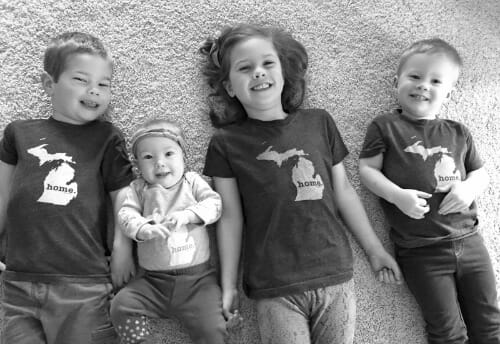 Clara's HomeT finally fits her now, so we needed a picture with all the kiddos!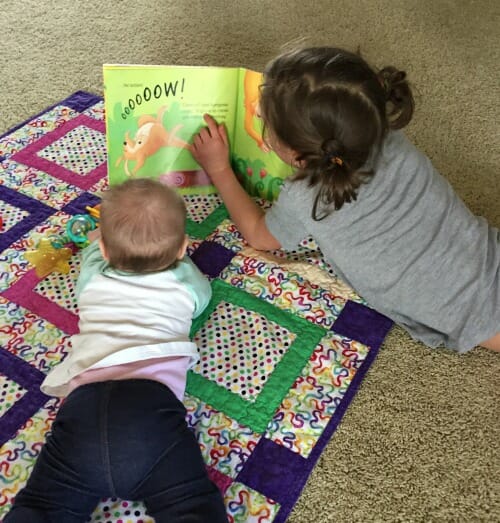 However, after a very laid-back and relaxing winter at home, we are ramping up for several busier weeks ahead. Dave has parent teacher conferences and so many meetings for church and school, plus all his end-of-year busyness is right around the corner.
Nora has all sorts of extra end-of-the-year activities, events, and field trips, too. Simon is attending a 2-morning-a-week program through our local Early Childhood center, and I'm heading up a children's choir at our church.
Add to that all the yard work we hope to tackle SOON, as well as a few house projects we'd like to do this spring/summer, and our days will be filled (in a good way!)
Thankfully, it's staying light out longer (thanks to Daylight Savings) so it feels like we can accomplish more after dinner — maybe that's just a mind trick though!
.
The weather is finally warming up enough to take Clara outside, and since she now LOVES napping in her car seat, we've gone for a handful of walks over the past 2 weeks. Nora and Simon "run", James rides his bike in order to keep up with them, and Clara and I take up the rear!
Nora has been waiting to officially break out her capris for weeks now… and although she did have to revert back to snow pants a few days after this picture was taken, she was happy to finally go barefoot for a few minutes outside 🙂
Simon is going through another growth spurt — eating and sleeping like crazy.
He and Clara take afternoon naps while James and I hang out and play Trouble, Candy Land, or Gak.
Oh, and in case you missed it, he celebrated his Golden Birthday 2 weeks ago!
James is all-of-a-sudden a big boy.
He is fully potty trained (even at night) and sleeping in a big boy bed. He can usually get himself dressed, and is becoming very self-sufficient! As you'll see below, he's even taken up reading to entertain Clara (he calls her "Clairey").
Clara is almost SIX MONTHS OLD!
She loves sucking her pointer finger, she randomly started going to bed super early about a month ago, and she almost never makes noise unless she's getting tired and wants to be held.
She rolls all over the place, she smiles ALL the time, and she loves her jump-a-roo.
This girl is a dream baby, my friends — she (almost) makes me want another one!
.
I'm getting antsy to be outside and do some yard work. It's just been too cold so I haven't ventured out yet — but soon!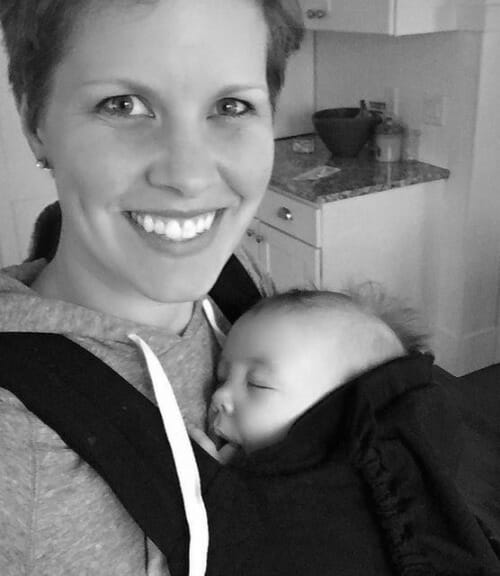 I also decided (on Valentine's Day) that I was going to lose my last 8-10 pounds of 'baby weight' once and for all… and I did it!
I have no special magic weight-loss tips… just normal stuff like cutting out candy (I ate a lot of candy!), not snacking unless it's a very nutritious snack, and eating tons and tons of veggies every day.
I also started using the Noom Coach Free app, which has been extremely helpful for me. Noom offers daily tips and advice to increase my health and nutrition while learning more about how my body works, what makes my metabolism speed up or slow down, how hormones and phycology play a role in my weight, etc. The app has me chart my weight every morning and track my calories throughout the day (a.k.a. it keeps me accountable!)
Oh, and I bought a spiralizer on a flash sale from Amazon!
Dave and I LOVE zucchini noodles!
I honestly don't think I look or feel any different, but my clothes fit better and my shorts from 2 years ago (before I got pregnant with Clara) fit — so I'm happy I won't need to buy new shorts just because I didn't lose the weight! 🙂
What I've Been Watching and Reading:
Besides a few episodes of Wheel of Fortune, I honestly haven't turned the TV on or "opened" a book on my phone in weeks — maybe months.
Dave, on the other hand, has been enjoying March Madness, thanks to purchasing a month's worth of SlingTV!
I did see that the new series of Call the Midwife starts next on March 25 — so I'll definitely try to watch that… but I most likely won't make much time for watching TV or reading until mid-summer, when I get tired of working outside because it's too hot!
.
Our Weekly Menu:
SUNDAY:
MONDAY:
TUESDAY:
WEDNESDAY:
THURSDAY:
FRIDAY:
SATURDAY:
.
Dave and Nora are both excited for Spring Break in less than 2 weeks. We won't be traveling anywhere, but I'm certain we will enjoy a little extra down-time at home.
And then… the countdown to summer begins!