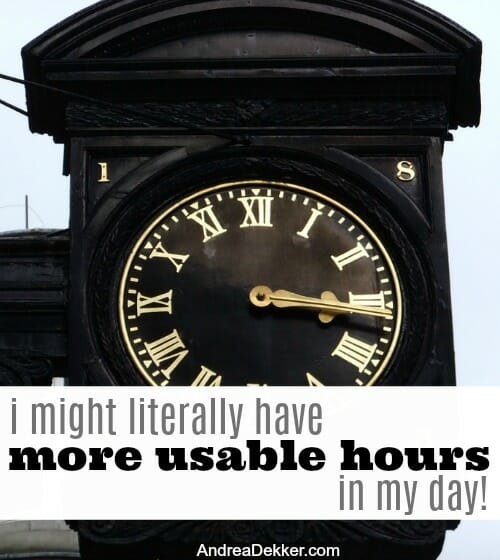 A few weeks ago, I shared Dave and my "super early morning routine", how we diligently woke up around 5:30am all summer long, and why we bumped our wake-up time to 4am once school started last month.
It's not always easy or fun to wake up at 4am (going to bed by 9:30 isn't always fun either), but our early morning wake-ups have had extremely positive effects on our own personal lives, our family, our home, and (of course) our to-do lists!
After sharing our new routine on the blog, I was inundated with emails and comments asking how on earth we survived on "only 7 hours of sleep".
Dave and I were both caught a little off-guard by these questions as we really never considered "only 7 hours" to be a lack of sleep. In fact, we would consider a full 7 hours of solid sleep to be a huge luxury.
We usually get closer to 6 hours of sleep per night — with at least one wake up by one of the kids in there somewhere! And of course, we survived on MUCH LESS then 6 hours per night for the 3+ years when Nora didn't sleep (Simon and James were both newborns throughout this period as well).
Yes, there are days when I feel more tired than others — but nothing out of the ordinary for a mom of 4 young children, and certainly not to the point where my health or wellbeing suffers.
I don't drink caffeine.
I don't take naps.
I don't have sugar/carb crashes mid-afternoon.
I've never had an energy drink or eaten an energy bar.
I'm tired when it's time for bed, but until then, I usually function just fine all day long.
It appears my body simply requires much less sleep than many other adults…
Which means I might literally have more "usable hours" in my day!
.
If you are one of the adults who regularly require 8-10 hours of sleep at night to be able to function during the day — good for you for acknowledging this and serving your body well. I'm positive you are better off sleeping more and feeling rested than trying to push through your days with less-than-adequate sleep.
However, realize that you just might not be able to accomplish everything Dave and I accomplish as we have 2-4 more usable hours EVERY SINGLE DAY!
That equates to 14-28 more usable hours per week… and roughly 30 – 60 extra DAYS (yes days) of useable time over the course of a year!
Seriously! 2 months of extra productive time – that's a lot of hours/days/weeks!
.
Dave and I are both very efficient and good stewards of our time, but the fact that we require less sleep and, therefore, have so many more usable hours in our day plays a HUGE factor in how much we are able to accomplish each and every day.
We have more time for ourselves.
We have more time for each other.
We have more time for our children.
We have more time for extended family and friends.
We have more time for our careers.
We have more time for all our home and yard projects.
We have more time for church, school, and community activities.
We have more time for fun (or at least to kick back on the couch and watch Netflix!)
So if you've ever wondered "how does Andrea get so much accomplished?" it's because I might actually have many more usable hours to accomplish it all!
.