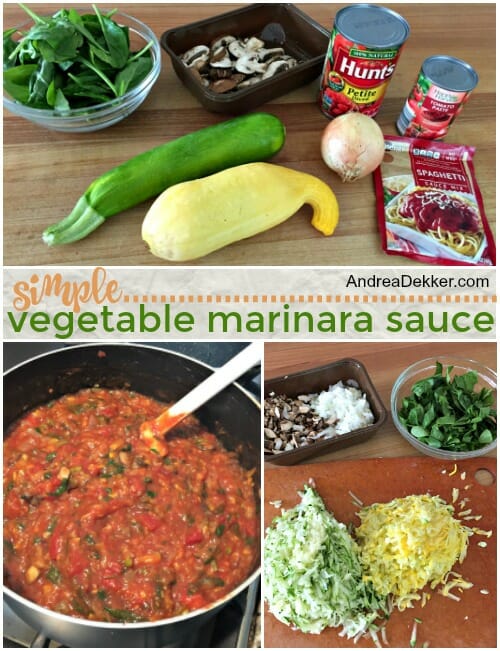 Over the past 2-3 months, our family has eaten an insane amount of "pasta"… and I say "pasta" in quotations because I haven't opened an actual box of pasta in months.
Due to the huge influx of zucchini and spaghetti squash from our garden, we've been swapping traditional pasta noodles for zucchini noodles (a.k.a. zoodles) and spaghetti squash all summer long. I still have a pretty big basement stockpile of squash — so we should be set through the fall months!
Here is a post about how I roast spaghetti squash (I'll probably be doing an updated post soon)

Here is a post about how I make and cook zucchini noodles… and this this is a really good, really basic zoodle recipe!
The kids still aren't totally on board with zoodles, but they eat spaghetti squash like champs — I'm honestly not even sure they realize it's not actual pasta noodles!
Dave and I are so used to the slightly different taste/texture now, that it doesn't phase us a bit.
In a desperate effort to use up even more zucchini (I'm tired of shredding it for the freezer and we were eating it, in some form, with basically every meal) I decided to shred up a bunch and put it in the pasta sauce — that would then be poured over our zoodles or spaghetti squash noodles (double zucchini… score!)
Since zucchini is VERY watery, I sautéed it first to remove the excess moisture. On a whim, I added in a bunch of other veggies that needed to be used up sooner rather than later, and simply dumped the pan of sautéed veggies into my tried-and-true, semi-homemade pasta sauce… WOW, WAS IT GOOD!!!!
Since then, we have eaten this vegetable marinara sauce at least once a week (sometimes more often due to eating leftovers for lunch.)
I have made several different variations, using whatever veggies I have in the fridge — and now, thanks to an abundance of cherry tomatoes, I'm dicing all my own tomatoes for the sauce too.
The kids just keep shoveling their beloved "pasta" into their hungry mouths… and I just keep adding more and more and more veggies.
I'm using up garden veggies AND getting the veggies into my kids' bellies with a super simple, quick meal — that's a win-win for sure!
Recipe for Simple Vegetable Marinara Sauce:
Serves: 4-6
INGREDIENTS:
1-2 T. olive oil
1 medium zucchini; shredded
1 medium summer squash; shredded
1 onion; diced
4 oz. mushrooms; diced
1 bell pepper; diced (not pictured)
2-3 c. spinach; roughly chopped or torn
2 c. tomatoes; diced (or canned tomatoes)
salt and pepper to taste
your favorite pasta sauce (store bought, homemade, etc.) Here is my semi-homemade pasta sauce recipe.
NOTE: You can add ANY vegetable you have in the house — and the quantity really doesn't matter. A little more or a little less will work just fine. This is a VERY forgiving recipe!
Also, feel free to add in cooked ground beef, ground sausage, grilled chicken, or even some boiled lentils — we've done it all with fantastically tasty results!
.
DIRECTIONS:
Heat oil in a large frying pan over medium heat.
Sauté zucchini, summer squash, onion, mushroom, and pepper until very soft and until most of the liquid has evaporated (roughly 10 minutes). Stir regularly to prevent burning or sticking.
NOTE: If I want to speed up the sautéing process, I sometime remove the extra water from the zucchini and squash by squeezing it with my hands over the sink. It's insane how much water I get out this way!
Add in spinach and sauté until wilted.
Sprinkle with salt and pepper to taste.
While veggies are sautéing, make (or reheat) your favorite pasta sauce in a medium to large sauce pan (I use 1 can of tomato paste, 2 c. of diced tomatoes, 1 packet of spaghetti seasoning mix, and the water called for on the packet of seasoning).
Once the sauce is warm, add the sautéd veggies (and any pre-cooked meat) to the sauce, stir to combine.
Use sauce in any of your favorite pasta recipes (or the "pasta" that we eat!)
The picture below is my recipe for 10-minute lasagna, using spaghetti squash as the noodles, layered with the traditional cottage cheese mixture, this marinara sauce, and a decent amount of cheese. So yummy!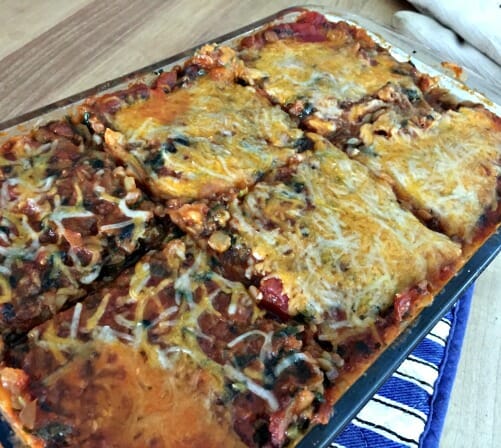 This is A LOT of veggies packed into one serving of pasta sauce — feel free to start small though! Maybe just add one shredded zucchini to your sauce and see what your family says. Then add more from there. Also, adding ground beef and/or ground sausage will help to mask any texture and flavor that might be different due to the extra veggies.
Speaking of the texture, if you don't want all the extra texture, simply put the sautéd veggies into a blender or food processor and pulse for a few seconds. It will result in a much smoother sauce.
Either way, this pasta sauce is a fantastic way to incorporate more vegetables into a very family-friendly meal!
So… do you think your kids (or your husbands) would eat it?
Visit my virtual recipe box for more simple, delicious, family friendly recipes!