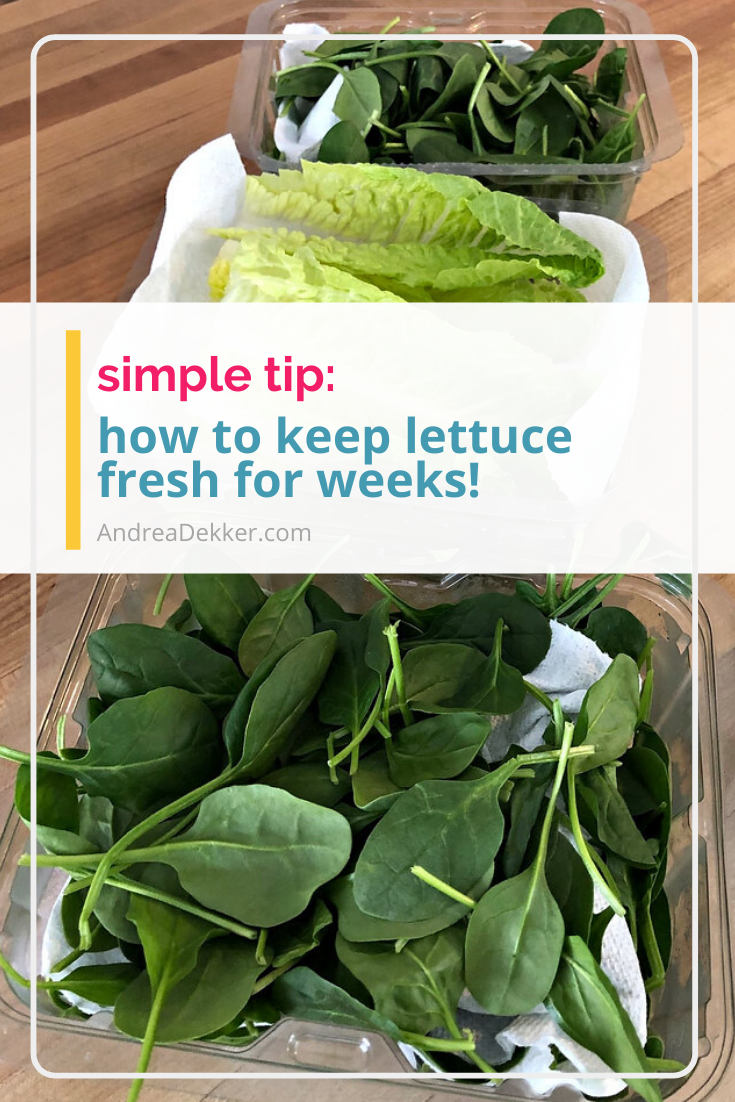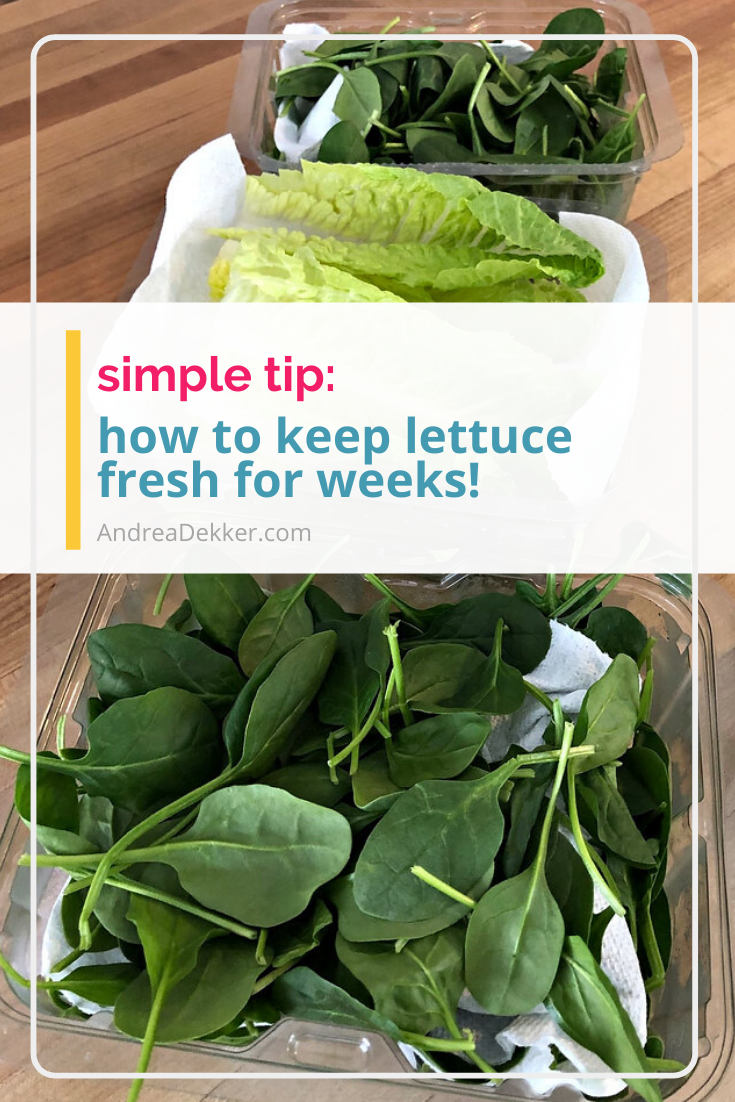 Have you ever dug to the back of your refrigerator for the lettuce or spinach, only to realize it was soggy and wilted? If so, this SUPER SIMPLE tip to keep lettuce fresh longer is just what you need!
Seriously, it only takes 10 seconds to implement, and your lettuce will stay fresh several days (even weeks) longer!
As you know, our family has been on a mission to eat more veggies for the last few years.
Lettuce, spinach, and other salad greens are a big component of our "more veggies plan" — so I buy A LOT of leafy greens!
And since I try to grocery shop as little as possible, I need our lettuce to last as long as possible.
How to keep lettuce fresh for weeks:
Simply layer a few sheets of paper towels or flour sack towels (these are my favorite) between the lettuce leaves. Change out the towels every few days (or whenever they become very damp).
That's it!
I've used this tip for 15 years now (way back to my college days). I notice a huge difference in how long my salad greens stay fresh, and I'm confident you will too!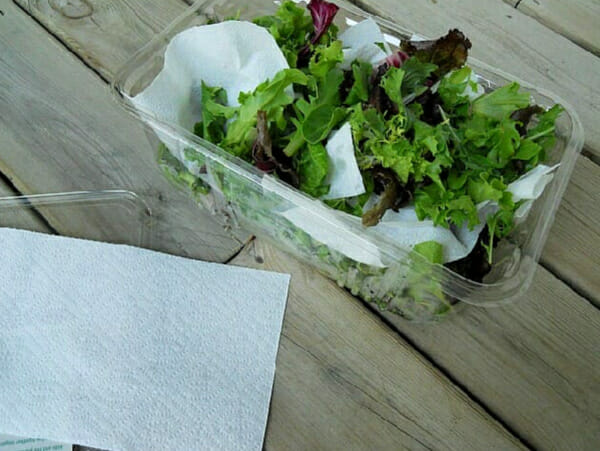 This tip works well to keep garden lettuce fresh longer too!
We have grown lots of fresh-from-the-garden salad greens over the years… and we always utilize this tip to keep our garden lettuce fresh longer.
We wash the lettuce really well, spin it dry in our salad spinner, and then layer it between paper towels or floursack towels.
This tip works for any type of lettuce and any type of green — I even use it for kale, swiss chard, and any other edible "leaves" I want to last for more than a few days!
Bonus tips to keep lettuce fresh longer:
1. Don't pack lettuce leaves into the container or bag too tightly.
You want the produce to have room to "breathe". Feel free to separate the lettuce into multiple smaller containers with various sheets of paper towels.
2. Eat greens in order of "hardiness".
We eat the more delicate greens first, then heartier Romaine lettuce, and we save Kale for the end as it is much more hardy and seems to hold up longer.
Also, if I see any sign of the spinach starting to wilt, I immediately throw it in the freezer to use in casseroles, smoothies, quiche, and soups. We NEVER waste spinach!
3. Use leftover store-bought lettuce containers to store your greens.
I often save the plastic containers from store-bought lettuce and reuse them all year long. They stack really nicely in the fridge and are easy to open and close again.
This works especially well for our garden-fresh lettuce, but also to divide up the over-crowded store-bought containers (see bonus tip #1 above).
There is NO right or wrong way to this. Just make sure you check your towels every couple of days and change them out if they are too damp. I change out the paper towel every few days, or whenever it gets pretty damp.
Also, there is no need to keep the lettuce in your produce drawer because it will stay just as fresh anywhere in your fridge.
Simple Tip: How to Keep Lettuce Fresh For Weeks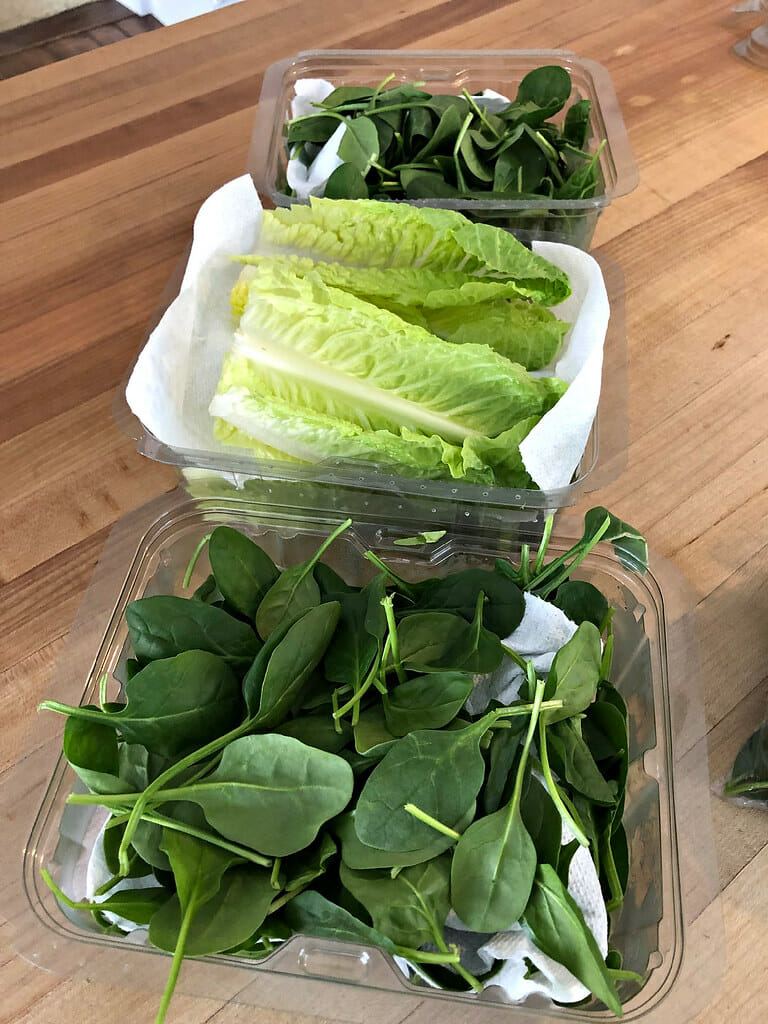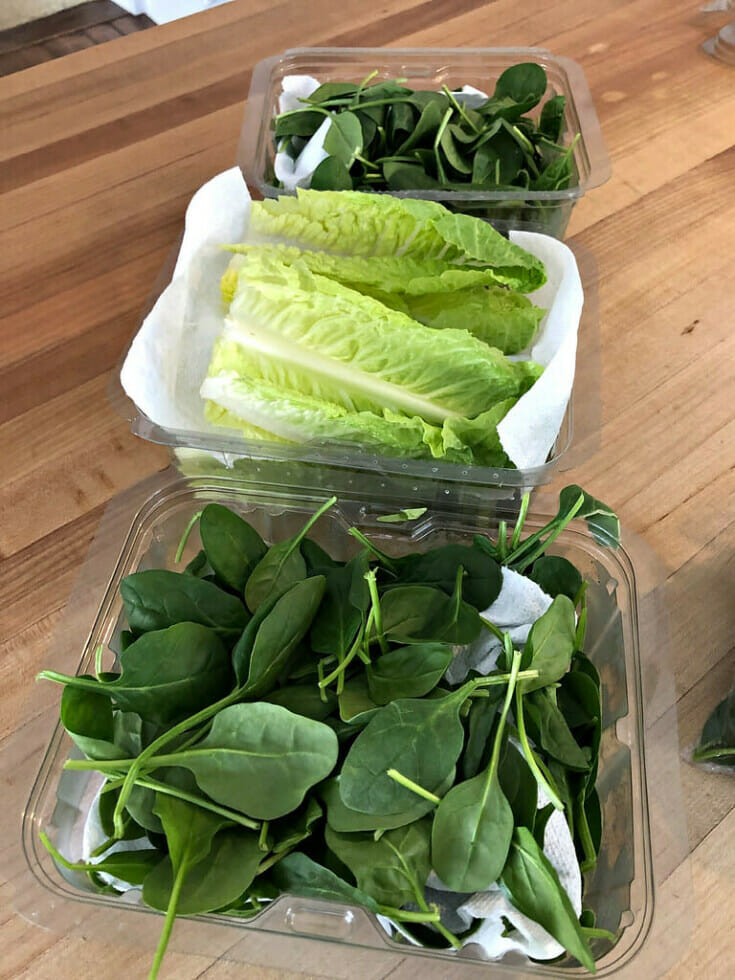 This simple tip will help you keep lettuce and other salad greens fresh for weeks at at time -- saving you money on wasted produce and time going back to the store!
Instructions
Wash and dry lettuces (if necessary).
Divide clean, dry lettuce leaves and salad greens between various bags or storage containers.
Layer with sheets of paper towel or floursack towels.
Change out paper towels every few days, or whenever they become saturated.
Refrigerate, eat, and enjoy!
Notes
You may dry damp paper towels and reuse them again.
Recommended Products
As an Amazon Associate and member of other affiliate programs, I earn from qualifying purchases.
That's it!
SO simple!
For those who might be skeptical, I should mention that all the lettuce and salad greens in these pictures are at least 2 weeks old.
It still looks just as fresh as the day I bought it!
What are your best tips to keep produce fresh longer?