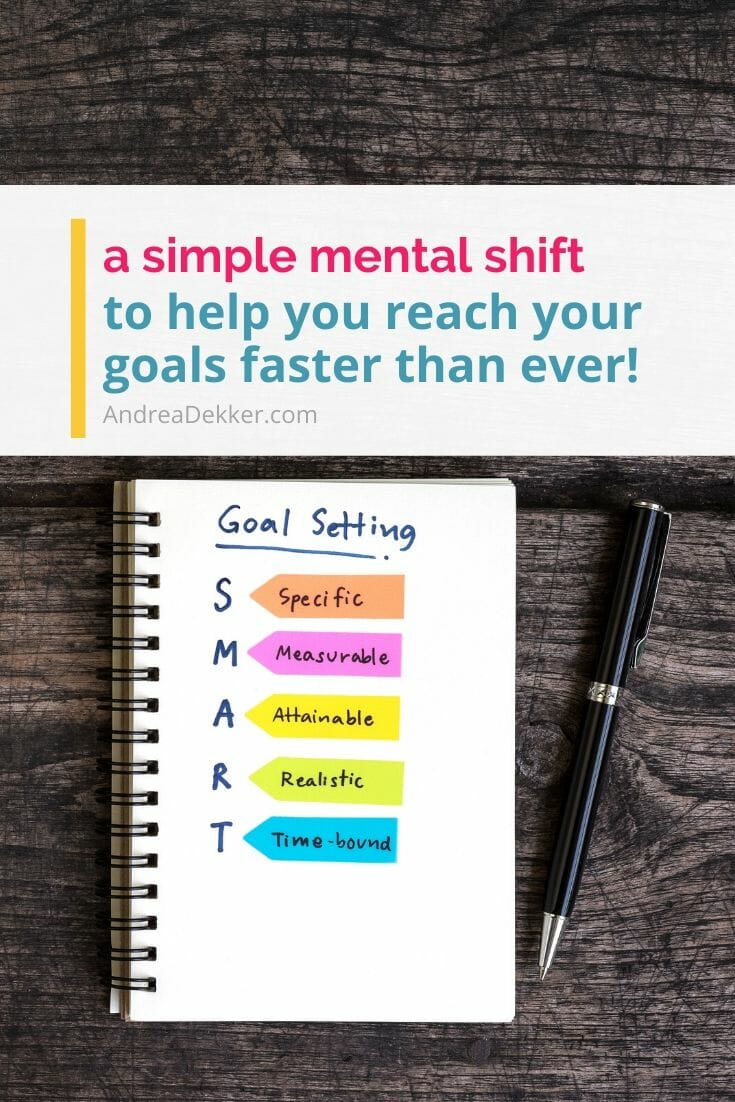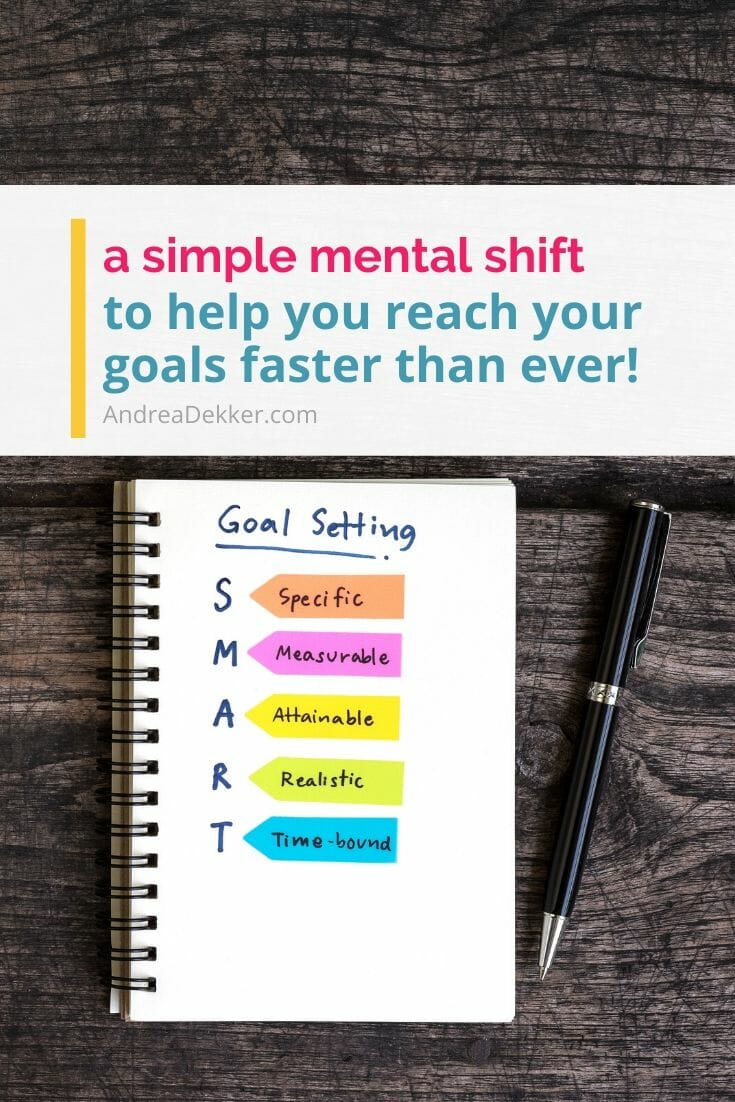 Raise your hand if you've ever set a goal for yourself because you felt it was the "right" or "popular" thing to do… but then never actually followed through on the goal because it felt like a burden, an obligation, another to-do on your growing list.
Yup, I thought so! 🙂
If you're struggling to reach your goals, I encourage you to make one simple (totally transformative) mental shift…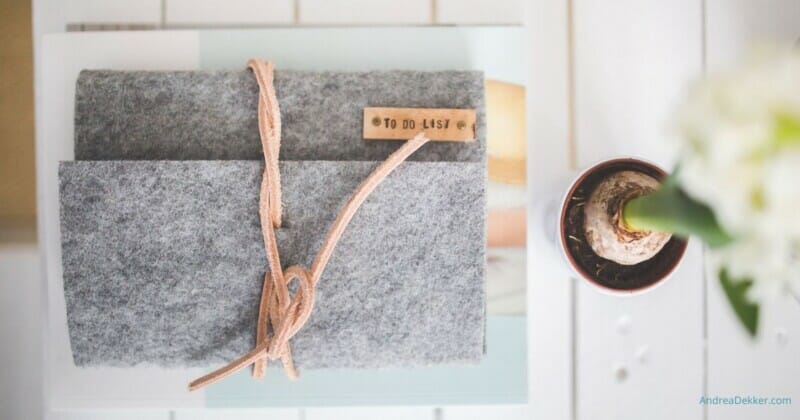 View your goals through the lens of CHOICE instead of OBLIGATION.
I dare to bet no one forced you to set your goals.
You will not get in trouble or be penalized if you don't follow through.
However, you also won't experience any of the benefits if you don't CHOOSE to take action day after day.
Let me show you how to reach goals faster using this simple mental shift.
Our "Goal" for Today = living a simpler, more organized life.
NOTE: this concept can be applied to all types of goals, but since I know many of you have the goal of simple, organized living, all my examples today will center around that over-arching goal.
Start by dreaming a bit… ask yourself a few questions related to your goal.
What would it feel like to have a plan for your day and actually stick to it?
How much more would you enjoy your home if it were neat, organized, and decluttered?
How much faster could you pay off debt if you consciously reduced your spending in a few areas?
Might your evenings be less stressed if you found a doable meal planning routine?
What activities could you make time for by waking up a little earlier?
How might your mood improve if you actually said "no" once in a while?
It's exciting to think about what your home and life COULD be like with just a few intentional changes!
Now, actually answer your questions.
Be specific.
Write your answers down.
WHY did you set these goals for yourself?
WHAT do you hope to gain when you eventually achieve them?
To help you get started, I've included several example answers below.
I want to finally get on top of things and ahead of the game for once! I'm tired of always rushing, arriving late, and forgetting things on my to-do list. I'm willing to put forth the effort to streamline my schedule, make to-do lists, and create more structure in my life BECAUSE I WILL GAIN MORE TIME AND FEEL LESS STRESSED.
I hate feeling embarrassed when someone stops by my home unexpectedly. I want to enjoy entertaining family and friends without spending a full day cleaning and organizing the house before they arrive. I want to purge and organize our home SO I CAN BE A MORE CONFIDENT HOSTESS.
If we buckle down and consciously reduce some of our spending, we'll finally have the ability to buy a new ________, pay down our debt faster, and LIVE WITH LESS FINANCIAL STRESS.
I'm tired of that chaotic feeling when I walk in the door to a hungry family and know I don't have anything planned for dinner. By having my meals planned ahead of time, WE WILL GAIN MORE FAMILY TIME TOGETHER and save money on fast food.
I would be so much happier and less stressed if I had a little more time for ______________ (house projects, hobbies, exercise, personal quiet time, business projects). I'm not a morning person, but if I wake up just a little earlier, I WILL HAVE MORE TIME for those important things.
Were you silently nodding along as you read the examples above?
If so, there's one HUGE piece of the goal-achieving process you need to tackle yet…
You must take ownership of your ability to CHOOSE your results.
As I mentioned above, these goals are YOUR CHOICE, not an obligation.
They were not forced upon you.
You can bail out at any point if you change your mind.
Yes, there are most likely some outside circumstances that will affect your choices; but ultimately, YOU are the only person with the ability to make choices that will bring you closer to your goals… or push you further away.
Just for fun, let me give you several examples of the helpful goal-pursuing CHOICES I make each day.
Why I choose to streamline my schedule:
I put forth considerable effort to streamline my schedule because it allows more time for things, people, and activities that are important to ME.
Spending time with family and friends.
Working on my digital photo books.
Bringing meals to people on a regular basis.
Volunteering for a variety of school and church functions.
Why I choose to keep our home organized:
I continuously declutter and organize our home so our spaces function for OUR needs.
Entertaining doesn't feel like a stressful burden.
I don't buy duplicates of things I already have.
We enjoy living in a neat and orderly space all year long.
Why we choose to be intentional with our finances:
We strive to be good stewards of our financial resources so we have more freedom to use our money how WE want to use it.
We pay upfront for all our home renovations (like our new shower) and all our landscaping work.
We send our children to a fantastic Christian school.
We almost always say "yes" to requests for monetary donations.
We max out our retirement accounts every year, with the hope of retiring earlier than 'normal'.
Why I choose to plan our meals:
I religiously plan our breakfasts and dinners week after week so my brain and my days are freed up to fill with other more important information and activities.
Our mornings are less rushed because I have breakfast ready to go.
Our after-school routine is more relaxed and enjoyable because I almost always have dinner prepped before everyone gets home.
We save so much money eating at home versus going out.
We waste less food since I have a plan for it all.
I save time at the grocery store and every single day of the week because I never need to wonder "what's for dinner".
We eat more nutritious foods.
We can entertain more easily because I always know what we have in the house and can usually whip up something for last-minute guests.
Why I choose to wake up early:
I wake up a 4 am every morning so I can have a few hours each day to do WHATEVER I WANT!
I get dressed and ready in peace and quiet.
I accomplish a huge number of to-dos, meaning I'm more available for my family throughout the day.
I enjoy reading, cooking, baking, writing, or working on digital photo books with NO distractions.
I am happier and less stressed… which means I'm a more-attentive wife and mother.
Everyone benefits from the positive tone my early alarm sets for the entire day.
I think you get the idea!
Dave and I intentionally CHOOSE to live this way — NOT because it's trendy or popular, not because it's easy or even fun all the time, and not because it will look good on the blog.
We make these simple-living choices because they allow OUR family to live the lifestyle WE want to live right now, and hopefully into the future as well.
These daily choices help us achieve our own goals of a simple organized life.
Of course, we are free to make different choices if our priorities, circumstances, or life situation changes. That's the beauty of looking at our goals through the lens of "choice" instead of "obligation".
What choice will you make for yourself, your family, your home, and your life?
If you're struggling to gain traction on your goals of simple organized living (or any other goals), try this mental shift and view them as your choice instead of an obligation.
Then vow to make more choices each day to move you closer to your goal.
I can't promise it will always be easy or fun. But I CAN promise it will be worth your efforts once you start to experience the benefits in your home, family, and life.
You can do this!
NOTE: enter your email address below to receive more motivational content like this — delivered directly to your inbox each week!