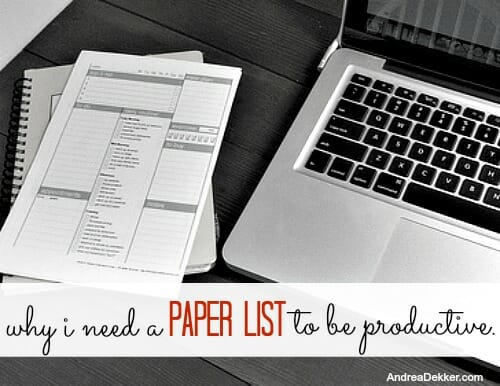 For as long as I can remember, I've always been a list-making person. I absolutely love everything about lists — making them, crossing things off them, finishing them, organizing them, etc. etc.
Even as a very little girl, I made lists. Sometimes I would make lists of what I was going to wear, lists of toys I had, list of toys I wanted, lists of things to do… or just lists of letters and numbers. Seriously — that's how much I loved my paper lists!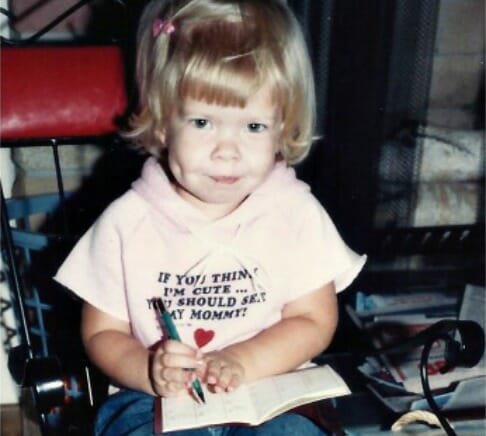 (this is me making a list, back when I was about 3 years old)
When I went off to college (10 years ago this fall) I was armed with my trusty planner and plenty of notepads for making the many lists I would no-doubt make over the next few years. However, the first class of my entire college career was a computer class — and on the first day, I was introduced to the concept of virtual calendars.
For the first time ever, I typed up my list instead of physically writing it down. CRAZY!
It was new, it was cool, it was a great way to save paper — but throughout the entire first semester, I struggled to be extremely productive with my virtual lists and virtual calendar. I ended up putting everything into my virtual calendar, and then either printing it out every time I made a change or manually re-writing EVERYTHING into my paper planner. And I still made paper to-do lists every day.
I knew this wasn't the best way, but my computer class required that everything be typed into my virtual calendar, and my brain told me that in order for me to remember it, I needed a hard copy with me at all times.
Ironically, during that same first semester of college, I took an extremely difficult religion class that required us to write pages and pages of notes every class. I was fortunate enough to hook up with an upperclassman who helped me study for the ridiculously hard tests and exams.
As we studied, she pointed out that I was very good at organizing my thoughts and the class notes on paper. My notes were easy to read, easy to understand, and easy to study from — so one of our study tactics was to work our way through both of our notes and physically re-write them all, talking about things we didn't understand as we went along.
It was then that I realized how important it was for me to write things down if I wanted to remember them — and I can credit that girl for single-handedly changing the way I studied for the rest of my college career!
I've never had a bad memory; however, when it comes to important information and things I definitely can't afford to forget, I absolutely must write them down, as it's the act of writing that helps to solidify those pieces of information in my brain. Plus, if all else fails, I always have the fall-back of my written list or notes.
So, while I've tried (and tried and tried) to find digital, virtual, and paperless systems that might work for me, I've failed time and time again.
Dave and I do use the iCalendar function on our Apple products to note larger events (meetings, sporting events, school/church stuff, doctor's appointments, etc.) but other than that, we're both pen and paper list junkies.
And I don't see that changing any time soon.
Paper lists provide the opportunity for me to process my thoughts.
Paper lists allow me to organize those thoughts and ideas into manageable daily and weekly to-do lists.
Paper lists help me to remember what's on my lists by physically writing down my tasks — and then reading them over throughout the day.
Paper lists provide loads of satisfaction as I can vigorously cross off each to-do after it's complete.
In my opinion, paper lists are just the greatest — and so much simpler than any App, program, or virtual calendar!
My List Making Tools:
For the last 3 years, I've been exclusively using 3 list-making tools…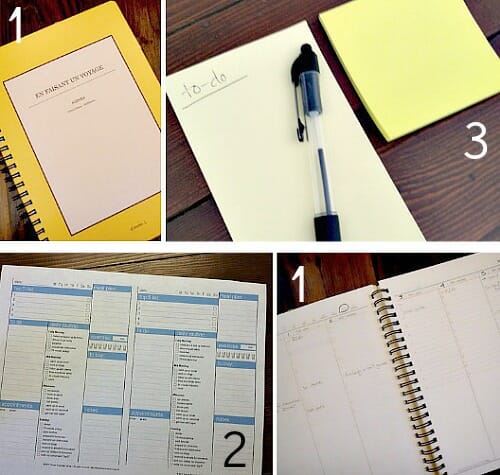 1. Invite.L Agenda — this planner is made by a Korean company, and while it's the best planner I've ever used, they have switched ownership in the last year and their new website is not very user-friendly… plus their shipping prices are quite expensive. You can read my blog post about the Agenda here, or visit the Invitel.L website here.
2. My Printable Daily Routine Printable — I created this printable based on how I structure my day, so obviously it's a fabulous tool for me. However, I know for a fact there are thousands of others who regularly print and use this handy list-making tool.
3. Sticky Notes — I have a whole bunch of sticky notes that I use on a daily basis. I have sticky notes inside kitchen cabinets for reminders of what I need to buy on my next grocery trip, sticky notes inside my planner with directions, quick thoughts, phone numbers, or ideas for upcoming blog posts, sticky notes in my wallet, in the bathroom, etc. I mainly use the really big sticky notes I mentioned in this post, but sometimes smaller ones will do 🙂
NOTE: if you're wondering how I utilize these tools together, you can read this post for more in-depth information.
I realize these tools will not work for everyone, but this list-making system has been working marvelously for me for over 3 years — and anything that continues to work after 3 years, a new house, a new baby, a growing business, etc. is worth sticking with!
So while I'd honestly love to say I use a paperless list-making system, I have a feeling that announcement won't be coming any time soon (although if it does, you'll be some of the first to know!)
I guess sometimes we just have to do what works for us, even if there are so many other newer, "better", more sophisticated ways available.
What about you? Do you share my love of paper lists, or have you found a great virtual substitute that meets your needs?