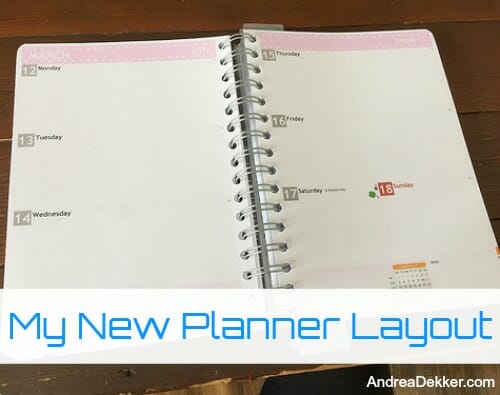 For the last several years (probably 5-6 years now) I've ordered a Personal Planner — which, as the name states, allows me to personalize MY planner to MY specifications and needs.
I'm a huge fan of this planner and have given several away to various readers over the past few years.
I've always used the A5 planner, and I've always used the same vertical column setup for the days of the week (see below).
However, this year I decided I wanted to try a different page layout — so I went with horizontal rows instead.
I fully realize how ridiculously menial this change might sound to some of you… but for me, it has been an extremely positive change that has saved me time and energy, and helped increase my productivity!
Let me explain a bit…
I'm currently using the left side of each daily "row" to list off 5-10 to-do's for the day. (This takes the place of the sticky note system I was using before!) I then use the right side of each daily row to note upcoming meetings, appointments, special activities for Nora at school, anything noteworthy with Dave's schedule, and our dinner menu for that day.
The beautiful thing about this system is that my to-do lists naturally flow into the next day.
For example, if I don't finish a task on Monday, I don't need to re-write it for Tuesday. I just leave it uncrossed, and continue adding Tuesday's to-do's underneath. My to-do list just continues down the left side of each page as the week progresses.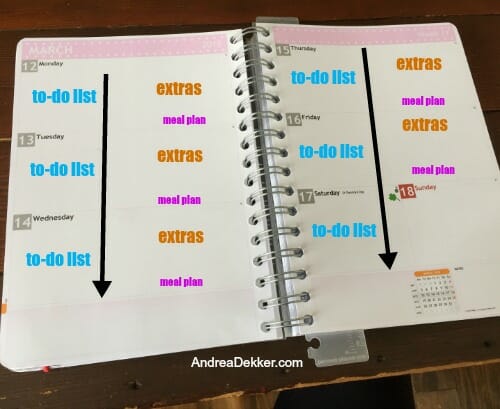 Of course, this doesn't work on Wednesdays or Sundays as those days are at the bottom of the page, but considering I usually don't have many extra to-dos on Sunday, this new layout really seems to work well for me right now.
Plus, I have extra blank areas for "notes" under Wednesday, Saturday, and Sunday, so extra to-dos can simply spill over!
.
Another nice visual aspect of this new layout is that I can immediately see any and all "extra" activities I have going on each week, since they are all written on the right side of each page.
I've been writing all of my activities, appointments, reminders, etc. in black, Nora's in pink, and Dave's in blue — making it super easy to see who has extra events at a glance.
I find it interesting that simply changing the layout has made such a big difference for me — especially since the overall usable space of the planner is exactly the same.
It's only been 2 months of using this new layout, but I'm "sold" for now — and I have a feeling I'll order the same layout next year!
Do you have a specific planner layout you like best? If so, why?