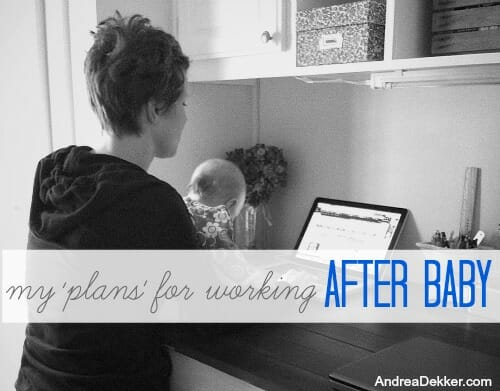 Several of you have questioned if I'll take a maternity leave or not… and what my plans are after this baby arrives.
To be honest, I'm not sure!
I know, it's totally not like me to NOT have a plan — but if there's one thing I've learned after 27 months with Nora, it's that making a "set-in-stone" plan with a newborn baby (or any young child) is basically a waste of time 🙂
Yes, I'm working hard to be as PREPARED as I can before he arrives (both in my personal life and business life) but I'm also not crazy enough to think that by creating a lovely plan right now, it will somehow happen exactly that way in another week or so. In fact, I'm almost positive that by creating a very specific plan right now, it will make my life even MORE stressful later on (I realize this wouldn't be the case for everyone — but I know how I function!)
I can tell you that I'm NOT planning to be totally absent from blogging for any amount of time! I'm not planning to take a traditional maternity leave (like multiple weeks off without posting anything). I took a whole month off in August and it was glorious — but I'm not planning to do it again right now.

I'm also not planning to post any guest posts or sponsored posts as those often create more work than writing up my own posts.

I'll most likely have a handful of pre-scheduled, non-time-sensitive posts ready to go, and I might resurrect some of the timeless posts from my archives to give me a little extra breathing room for a week or so. However, I'll certainly try my hardest to squeeze a birth story post and some cute baby photo posts into the mix!
Of course, even these relatively basic plans could easily change depending on how the labor and delivery go, if there are any complications, and how I feel once we get home again.
So yes, I'm basically giving myself the freedom to do whatever I want (but I'm the boss, so I can do that!)
38 weeks and change!
I realize it will take a little time to get back into my groove — and I'm going to try really hard not to push or rush myself (I'm very good at doing both). However, since I really love writing here, it's easy and enjoyable for me to make the time.
If all goes "as planned" I'm hoping there aren't many weekdays without some sort of blog posts (whether it's a pre-scheduled post, a post from the past, or a new post). This way, I'll be able to take a little bit of a breather, enjoy the new babe, and continue to share my life with you!
.
However, while I'm taking my "breather", I'd like to have a few work related things to think about… which brings me to this blog survey I'd be SO grateful if you took!!
A BLOG SURVEY + GIVEAWAY!
As I mentioned last month when I talked about my 2014 goals, I surprisingly don't have any huge business goals for 2014.
Part of that is because I know the first half of the year will be busier as we adjust to life with a new baby — but another part is that I'm simply content with how things are rolling along right now. I love where I am with my business right now… which is great. But it can also be very bad if I let myself get lazy or fail to seek out new opportunities for growth.
While I don't plan to make any changes in the next 3-4 months, I do want to start the process of thinking about potential ways I might be able to improve and grow — especially since I'm sure I'll have many long nights of rocking a baby to sit and think!
Then, maybe I'll start to implement some changes over the summer when Dave is home, we've had time to adjust to the baby, and I have a bit more time to devote to my work.
As always, I have TONS of ideas floating around in my head; but since this blog is essentially for you, I'd love to know what YOU love (and don't love so much) about this blog — as well as any changes you'd like to see.
There will inevitably be a huge variation of responses, so I can't promise I'll make all (or even any) of the changes you request — but I'd still love to know what you're looking for. You never know, YOU might just have the next great idea for AndreaDekker.com 🙂
I've created a VERY SIMPLE Google Form (see below) and I think it should only take you 3-4 minutes to complete. This form is ONLY for me, all the information will be kept completely confidential, and I promise not to be offended by anything you write. In fact, you may gladly remain "anonymous" if you'd prefer!
Oh, and as a little incentive, two people who fill out the form (and provide a valid email address) will be selected at random to win a $100 Amanzon.com gift card from me!
Thanks so much for your help and for your loyal readership!
Note: if you can't see the Google form below, click here to fill out the form.
This survey will stay open for a long time, but in order to be "in the running" for the Amazon gift cards, you must fill out the form by February 28. I will notify giveaway winners on March 1 via the email address provided.