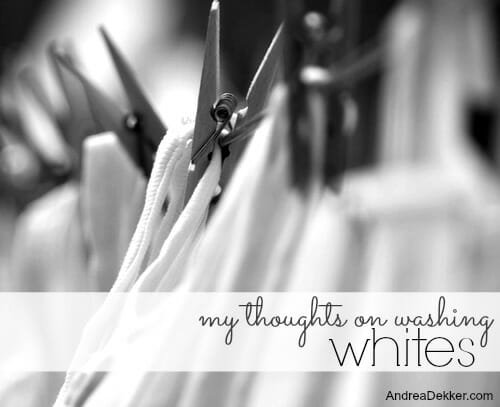 This post is updated from a post I wrote 4 years ago.
Most of you know that I love white! From our sheets, towels, and curtains, to our couch, and even our rugs — the majority of the fabric items in our home are white.
I know that might seem like a lot of extra work to keep things clean, but honestly, it seems so much easier to me because I just bleach everything with hot water (or use my favorite OxiClean) and everything comes out sparkling white again.
If you're in the market for new bedding, towels, washcloths, cloth napkins, or bathroom rugs, I would highly encourage you to at least consider using white. I promise it won't be as horrible as you might think 🙂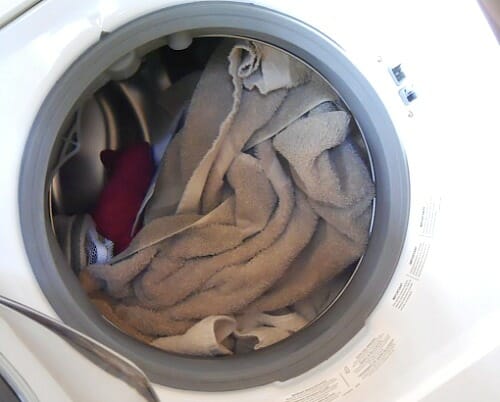 Here's how I keep the white items in our home clean.
Sheets and blankets:
When we got married, everyone told us 'don't register for white sheets, they'll show everything'. So I didn't get white sheets… and every day when I made our bed I would think 'I wish I had white sheets'.
After about a year, our not-white sheets were starting to fade… so I decided to make my own decisions, and I went out and bought white sheets and blankets. It's now been about 8 years and I have never regretted that decision since. I have since purchased white sheets for Nora's bed, Simon and James' cribs, and our air mattress.
I bleach our sheets in hot water and I've replaced our white sheets once (with more white sheets) due to a rip in the fitted sheet. Our white sheets are not gross or dirty — and in my opinion, they look much nicer than the faded colored sheets we had that first year.
Bathroom towels and washcloths:
Aside from Nora's bath towel that she got as a gift, almost all our bath towels, hand towels, and washcloths are white or cream. We've had the same towels for our entire marriage (9.5 years now) and they are holding up fabulously.
We have replaced our washcloths several times since the oil from my homemade face cleanser tends to leave a residue over time (even when we bleach them).
Also, since the towels are white, I can use hot water and bleach to clean them, and this helps to prevent that stinky towel smell that so many of you have asked me about.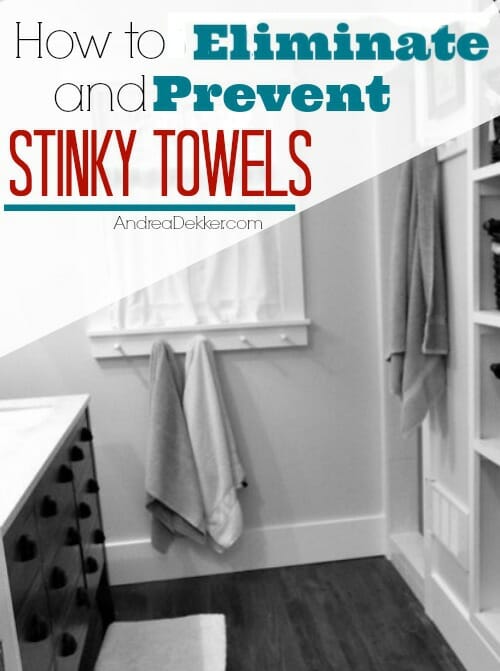 Rugs:
Obviously, I don't use white rugs by any of our entry ways, but all of our bathrooms have white fluffy rugs!
Since we don't usually wear shoes in the house, these rugs don't get very dirty — I simply wash them with a little bleach every month (or as needed) and they look brand new!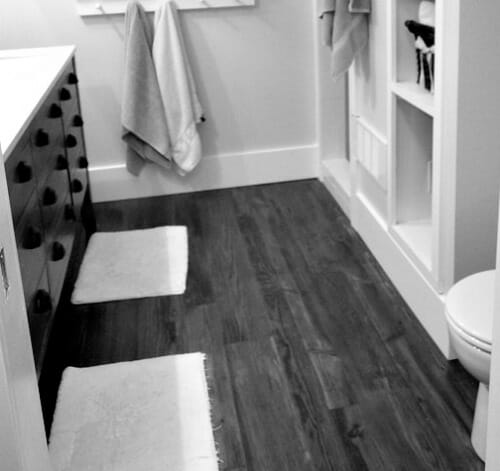 Kitchen rags, towels, and napkins:
Yes, we use white kitchen rags, towels and cloth napkins!
The kitchen rags and towels are not dirty looking, but since having kids, the cloth napkins have gotten several stains. However, we often use paper napkins for company (yes, I realize this is a bit backwards) so our family is the only ones to see the stains and we don't care!
I change out our kitchen towels and washcloths every day, so they get washed A LOT, and they are all still holding up marvelously.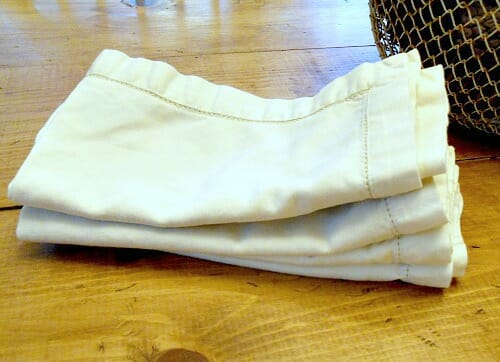 Couch Slip Cover:
I have received a fair amount of astonishing looks when people realize that I have a white couch and 3 little kids. Yes, our couch gets dirty, the kids have spilled food on it plenty of times, they've spit up and drool on it, they've peed (and pooped) on it, they've even color on it — but, since it's a slipcover, the stains and spills always come out!
Personally, I think washing the slipcovers every few months is easier and less expensive than having a professional cleaner come in to clean non-slipcovered furniture.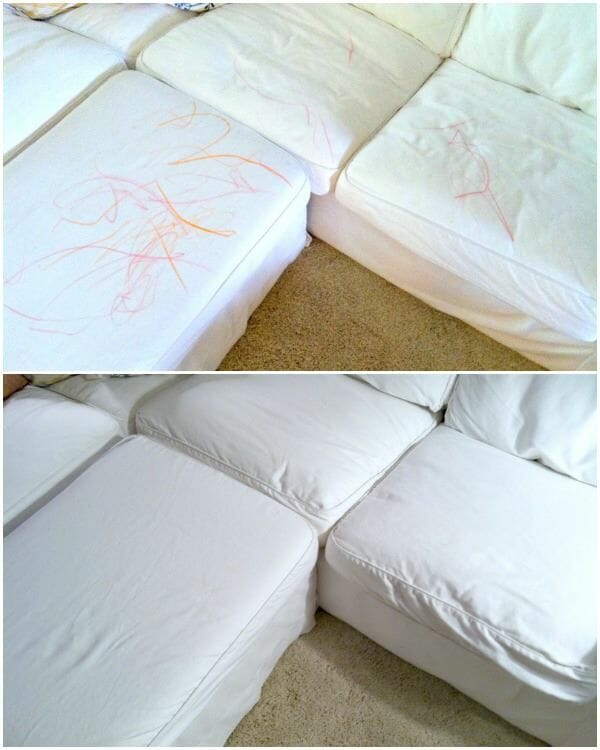 I know this might sound like an awful lot of laundry to do each week, but I usually only need to do 2 loads of whites (and then 2 loads of everything else) each week. I have a good system down so it doesn't take any extra time at all.
I should also mention that I (almost) never spot-treat anything. Hot water and bleach do a great job for my whites.
Oh, and if you ever have a problem with your white items turning a bit yellow, use the new OxiClean White Revive — it's like a little miracle for dingy whites!
We're hoping to hang a clothesline next spring — which means I'll FINALLY be able to line-dry many of our sheets and other white linens. In my experience, the sun does an amazing job whitening whites (plus, everything smells so fresh!)
What are your thoughts on washing whites?