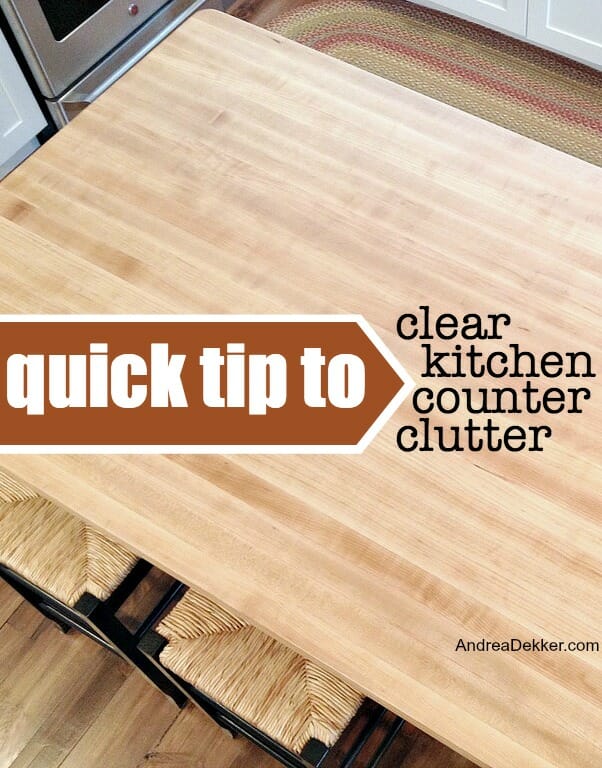 In general, I like to keep my flat surfaces relatively decluttered at all times… especially the kitchen counters, and especially this time of year when I'm doing lots of holiday cooking, baking, and entertaining.
Even if there are crumbs on the floor, fingerprints on the windows, and spilled food on the stovetop, I feel like I can easily whip up a quick snack, a hearty supper, or a fancy dessert as long as my kitchen counters and dining room table are clutter-free.
On the flip side, if I walk into the kitchen and see piles of dirty dishes next to the sink, random craft and coloring supplies strewn over the table, junk mail and school papers stacked up on the island, and backpacks or toys littered about my flat surfaces, I feel like I'm going crazy and absolutely MUST declutter before I can start preparing any food.
I realize I might desire a bit more cleanliness and organization than some people; however, I know I'm not alone in my hatred of kitchen counter clutter.
Thankfully, I have a REALLY quick tip to clear your counter clutter (and really any surface clutter). I've used this tip countless times in my own home and as I worked with hundreds of organizing clients over the years… and it works every time!
Of course, it's not magic! It does require a little work on your part — but in my opinion, it's one of the easiest, most effective, and least overwhelming ways to quickly clear surface clutter in your home. It's also a great way to include children or other family members in the process.
So what's my fabulous tip?
Well, it's actually a 5-step process — but I promise, steps 1-4 will only take you a few minutes… and step 5 isn't too bad either 🙂
STEP 1: Grab a large box, bin, or basket (laundry baskets work well)
STEP 2: Literally put EVERY SINGLE THING on your counters into that basket. Take a look around and enjoy the instant gratification that comes with your beautifully clutter-free counters.
STEP 3: Wipe down the counters.
STEP 4: Go through your basket and put back anything you WANT to have out (like decorative items, cookbooks, a fruit bowl, etc.)
STEP 5: Go through everything else left in the basket and trash it, recycle it, shred it, or put it away (in the appropriate spot). I like to set my timer for 15 minutes to see how much I can do. Then I take a break and come back for another 15 minutes later (if necessary).
Obviously, step 5 will take you the longest — but I have a feeling that if you work quickly, you'll have things put away in no time.
In my opinion, the reason this decluttering method works so well for so many people is because it has an element of INSTANT GRATIFICATION that we all love. It's so rewarding and motivating to see perfectly clean and clutter-free counters after just a few minutes of work… and that motivation propels us to keep going and finish the task.
One thing to mention… although this is a "quick tip", I certainly wouldn't suggest tackling your kitchen counter clutter unless you have at least 20-30 uninterrupted minutes to devote to the project. There is nothing worse than starting something and being interrupted every 3-5 minutes, or needing to rush out the door 10 minutes into your work.
.
And since we're on the topic of kitchen counter (and I know I'll probably be asked), I figure I might as well share the following information about our kitchen counters 🙂
Our Granite counters are from Premier Granite and Stone and the butcher block slab is from Tontin Lumber (both are local West Michigan companies).
The Granite color / pattern is called "New Venetian Gold".
Here's the link to my DIY Granite Countertop Cleaner.
Here's the link to my Q & A post about our butcher block island counter.
Do you have any other decluttering quick tips?