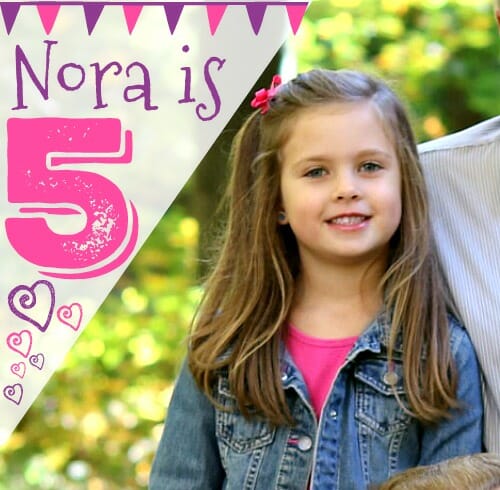 Nora is 5 today… can you believe it!?!
I know so many of you have been reading my blog since before she was even born — which means you know A LOT about her and our family. You know how much we struggled to find something she would eat, how we worked through her sensory issues, and how long it took us to FINALLY get her to sleep. You also know how stubborn, strong willed… and sweet she is.
Doesn't it just seem crazy that this little girl is 5 years old already!
I remember back when we first started food therapy (around 17 months) and someone told me, "Just wait until she's 5, these issues usually work themselves out by 5." At the time, I wanted to punch that person in the face — FIVE sounded so far away, an eternity of sleepless nights in my opinion.
Yet, here we are with our grown-up 5 year old… and I'm happy to say she has outgrown all the food issues, all the sleep issues, and most of the sensory issues. Life is good for miss Nora, and I am proud to be her mama.
Nora requested a Frozen-themed birthday party this year (shocking, I know!). I'll share more about that next week… Today, I'm simply sharing some of Nora's favorite things, as well as several of my favorite pictures from the past 6 months.
Nora loves being outside.
I'm so thankful we have a huge yard and a huge driveway (and that Dave is home to play outside with the kids all summer long) because our kids love to play outside.
Nora has had so much fun outside this past year as she has made friends with several neighbor girls. We have 5 neighbor girls who are all within a year of Nora, and all live just a house or two away from ours. They often end up in our driveway, on our tramp, or in our sandbox 🙂
Nora loves blowing bubbles for James, riding bikes with Simon, and doing sidewalk chalk with her friends. She has also been able to ride her bike home from school several times this fall (with me walking with the boys behind her!)
Nora loves learning activities.
I don't think there has been one single day of her life that she hasn't tried to learn something new. She ALWAYS wants to "learn something".
Crafts, coloring, puzzles, and books are her favorite ways to "learn" right now — and she's always up for a fun "experiment" (thanks to Pinterest and YouTube for all the fun and easy ideas!)
Over the past few weeks, Nora has surprised me with her desire for reading, writing, and arithmetic. She has started writing every word she sees, sounding them out, and asking me how to spell various words throughout the day. She is quickly picking up basic math too!
Oh, and I should mention, this girl loves watching TV — sometimes it's educational, sometimes it's just for fun 🙂
Nora loves all things "baby".
Nora got her first doll (Claire) from my sister on her first birthday… and this is still her most favorite "baby" (see Nora holding Claire below).
Since then, she has somehow amassed a growing collection of "babies" and she plays with them every single day. She dresses them, feeds them, holds them, puts them to sleep, takes them outside, etc.
She recently requested that I get pregnant with triplets so I could take care of one baby, Dave could take care of one baby, and she could take care of one baby.
Sigh…
Nora loves helping.
Everything from helping me cook and clean, to helping me plant flowers, water the garden, or pick veggies!
She is a very quick learner — and although she doesn't always do everything the way I would do it, she usually gets the job done 🙂
Nora loves playing with her brothers.
Although I'm not sure she would openly admit it, I'm fairly confident Simon is her all-time favorite person right now 🙂
The two of them fight like CRAZY, but they also play so well together — even without adults around. They play outside together, they play inside together, they play with neighbor kids together, they "read" together, they play school together, they dress up together, and they even sleep together now that they are in the same room.
I'm sure James will tag along with these 2 next year (and Nora is SO sweet to James) but right now, Nora and Simon are a pretty fun duo to spend my days with.
Nora loves being "girly"!
I'm still not sure where she gets this from — but this girl LOVES skirts, dresses, makeup, jewelry, nail polish, getting her hair done, sparkles, pink, purple, high heels, playing dress up in all her princess gowns, and talking about all sorts of girly things.
She literally wears a skirt or dress anywhere we go (I don't think she's worn "just pants" to school yet!) and all her outfits are meticulously selected the night before to meet her specifications for "enough color" and "enough fun". (NOTE: this does not always mean they match — and as you'll notice by all these pictures, she definitely has her "favorites" that she wears ALL the time!)
She has exact requests for how I should paint her nails — multiple colors on each nail, polka dots and stripes, alternating colors, etc. and we've had lots of fun experimenting with different hairstyles, braids, curls, etc.
Nora pushes my buttons, tests my patience, and stretches my parenting abilities every single day. But she also surprises me with her generous compliments, her compassion for all living things (even weeds), and her zest for life.
She is exhausting and endearing, sassy and sweet, crabby and charismatic all at the same time.
One thing is for certain, our family wouldn't be the same without Miss Nora!
Happy Birthday Nora!
We love you, sweet girl.