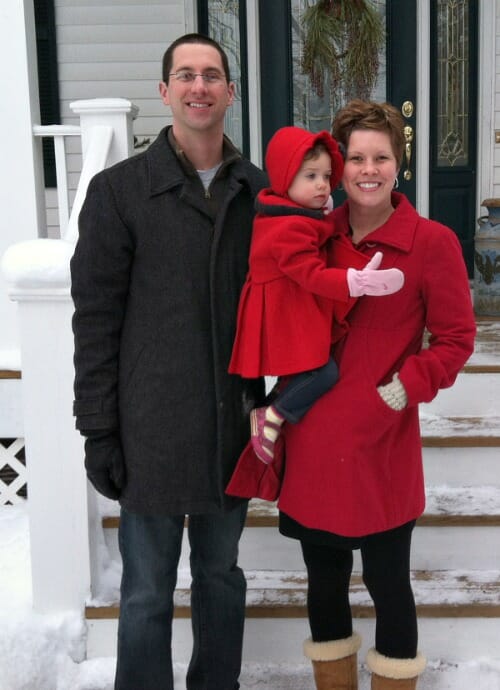 Over the past years, I've gotten numerous questions about how Dave and I "do Christmas".
For example, how many holiday parties we attend, what type of parties they are, what food we bring, how many holiday cards we send out, if Dave and I give gifts to each other, what type of decorations we put up, what traditions we have, etc. etc. etc.
So since I've only blogged a little bit about each of these topics sporadically over the past 3+ years, I thought it might be time to consolidate it all into one nice, neat post.
Of course, how we "do Christmas" changes a little each year — and I'm certain it will continue to change. However, this is Dave and my 8th Christmas as a family, and for the most part… this is how we've been doing Christmas for those 8 years.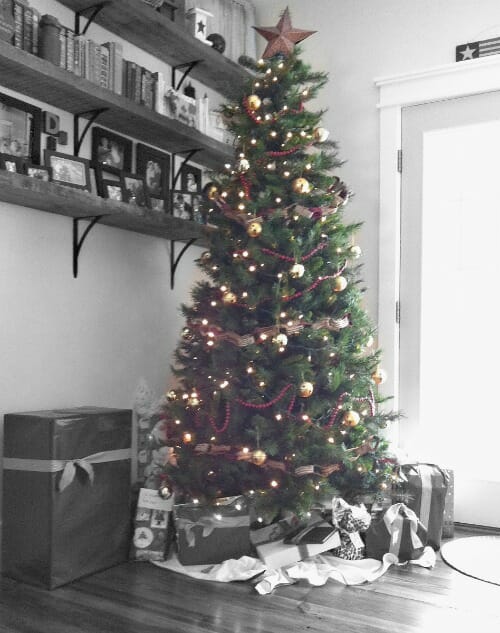 Holiday Cards:
I'm frequently asked if we send holiday cards — and the answer is yes! (read more on that here)
I really enjoy sending holiday cards (and I say "holiday cards" because we don't always send "Christmas cards"). I definitely do not think a holiday card is necessary — but since I enjoy doing it, I plan to continue this tradition in the future.
For the last couple of years, I've gotten our cards printed through Minted.com — I like that I can include a few pictures along with some text updating the recipients about our year.
Right now, we send out about 70-75 cards each year, and I do hand address them — mainly because I enjoy doing this too, and we don't have a super reliable printer at the moment 🙂
Here's a look at the FRONTS of our past years' holiday cards:
2013 = Thanksgiving card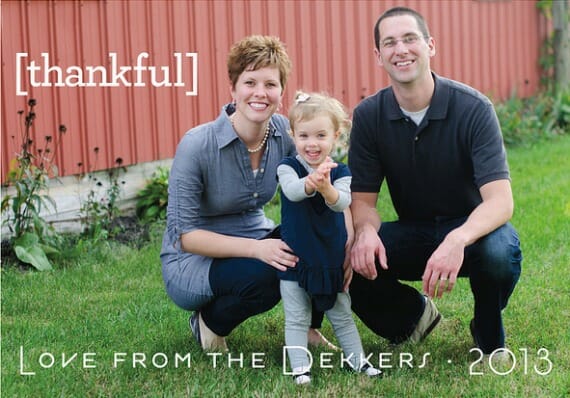 2012 = Christmas Card
2011 = New Year's Card + Nora's birth announcement (sent at the beginning of 2012)
2010 = Christmas Card + We Moved card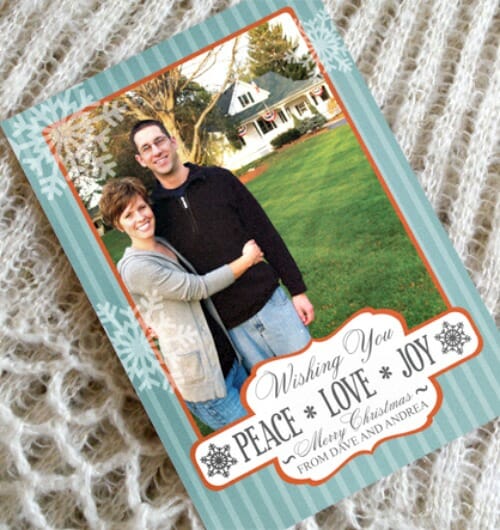 2009 = Hand-made JOY Card (still probably one of my favorites!)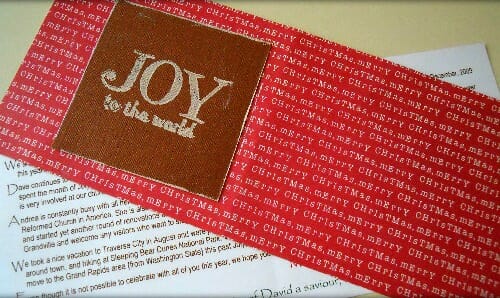 2008 = New Year's Letter (sent at the beginning of 2009)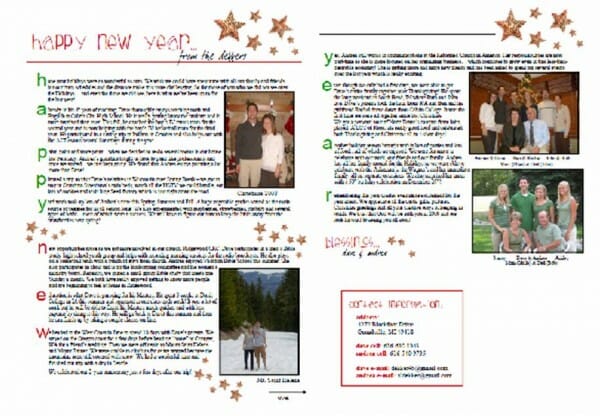 2007 = Cute little handmade cards (they took forever!)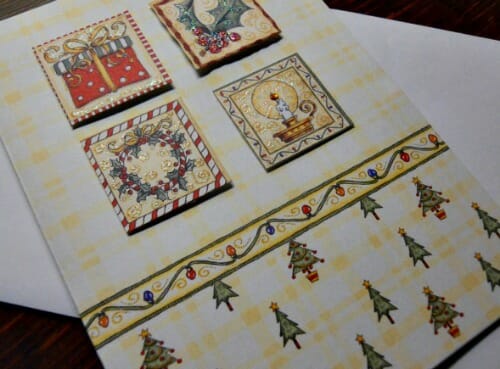 2006 = Store-bought cards without a picture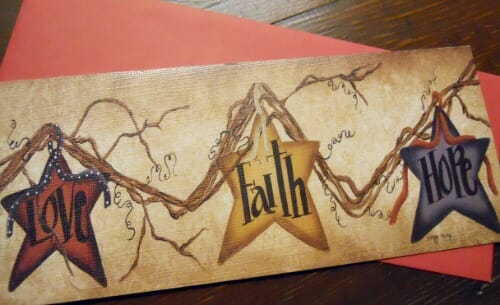 Christmas Parties:
The number of Christmas parties we attend each year has decreased steadily over the past 8 years — and I'm OK with that!
We get together with my immediate family on Christmas day for a big lunch after church. And then we do the same thing with Dave's immediate family on New Year's Day. We LOVE having the two immediate family parties separated by a whole week as it really draws out the holiday season and makes things so much less stressed and "jam-packed".
We usually have some type of party with our group of college friends (8-10 couples each year) and that's alway a super casual, bring a dish to pass, dress in a crazy Christmas outfit kind of party.
We also still have a casual pot-luck Christmas party with my Mom's side of the family and my Dad's side of the family — usually on a weekend night a couple weeks before Christmas. Of course, now that all my cousins are getting married, moving, and having children of their own, not everyone is always able to make it. But it's still fun to see everyone again — at least once a year. I'm honestly not sure how much longer these parties will last… but we'll keep going until they fizzle out!
.
Seasonal Decorations:
I go back and forth with this every year based on how much time and energy I have. I LOVE the look of tons of decorations, but I don't love the work of putting them all up (and then taking them all down again) — and I really don't love storing them all year long.
I've had years where I literally put a fully decorated Christmas tree in EVERY room of the house (it was so much fun to come up with themes for each tree) and have decorations spilling off from every shelf and wall. Then I've had other years (like this year) where I just put up the main tree with a few basic ornaments and call it good.
I've actually purged and donated almost all my Christmas decorations besides a few favorites — one main tree, a cluster of Alpine trees, my wooden nativity that Dave's grandma made for us, some bronze bells, and my favorite JOY blocks. I think that will be the happy medium for me over the next few years.
None of these items are breakable, they are all kid-friendly, and they give just the right amount of holiday cheer without having to spend all day decorating (and all year storing mass amounts of decorations.)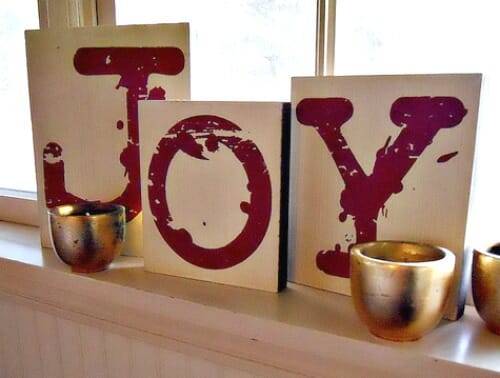 Gifts:
Gifts is obviously a big part of the holiday season, whether you like it or not — although it's most definitely NOT the main reason of the season.
I'm really committed to simplify gift-giving, just because I don't want it to be the main focus of Christmas, and because I just feel that most gifts are often unnecessary (I promise I'm not a Scrooge!) I realize this will change a bit once we have more kids who are older and actually understand the concepts of gift-giving and receiving. But for now, I will enjoy the simplicity of gift-giving with a two-year-old who could honestly care less!
Also, I want to note that I do NOT care about "fairness" when giving gifts. Of course, I'm not going to hand one person a $100 bill and another person a $5 — but when it comes to gifts, I'm not the type of person who has to give every single person the exact same number of gifts or spend the exact same dollar amount on every person. For example, if we spend a certain amount on Dave's parents, we won't necessarily spend the same amount on my parents, and we don't necessarily spend the exact same amount on our nephews either.
The point of gift-giving for me is not to figure out how many nickels and dimes I'm spending for each person — but rather to give them a gift they want and something they can use and enjoy. If I can do that, then I'm happy and will not stress about spending the exact same dollar amount on every person each year.
And since I've been asked over and over again, here's how we handle gift-giving — at least for now.
Gifts between Dave and me:
At this point, Dave and I don't exchange gifts with each other — and honestly, we never really did. We're the type of people that if we really NEED something, we wait for a sale and then buy it. If it's something we just WANT, we search Craigslist or try to find it for free, and just do without until we find a rock-bottom price.
Once our kids are older, I think we'll decide on something we can exchange just so they see us giving each other gifts — but Dave and I personally don't feel it's necessary to buy each other a gift when we don't need anything and we're both more "acts of service" gift-givers anyway.
Gifts for Nora:
Nora is JUST starting to realize that it's fun to get presents (thanks to her birthday party last month) so I think Christmas presents are going to be really fun this year! That said, we're only getting her a FEW small items to open because she really doesn't need anything.
I love the idea of doing 4 gifts per child (something they want, something they need, something to wear, and something to read).
This year, we're getting Nora the following:
WANT = Shaker Eggs (she's been begging me for them ever since we started going to Music Class in September)
NEED = this isn't necessarily a wrap-able gift… but since she doesn't need anything, we're considering the decorations for her new bedroom a Christmas gift 🙂
WEAR = Big girl underwear (she's been asking for this too — even though she's still not totally sold on using the potty)
READ = The Very Hungry Caterpillar book (I think I'm more excited about this one than she will be!)
Gifts for Extended Family:
A couple years ago, both Dave and my immediate family's decided that we would not do gifts for the siblings and spouses anymore (Hallelujah!) So we just do gifts for our parents and then the nieces and nephews.
Obviously this helps to simplify things A LOT and majorly decreases the number of gifts we need to buy every year.
Also, we don't buy any type of gifts for either of our extended families (grandparents, aunts, uncles, cousins, etc.) and they don't buy gifts for us. We send out our holiday card and spend time together at the family parties — that's better than unnecessary gifts.
Gifts for Coworkers, Friends, Neighbors, etc:
I obviously don't have any coworkers and Dave's school doesn't do anything with gifts.
We decided amongst our friends not to do any Christmas gifts and instead, just get together several times a year to hang out and enjoy each other's company.
As for neighbors, we honestly don't know many of our neighbors that well at our new house. At our old house, we did bring them cards and baked goods — but that was it.
Family Traditions:
At this point, besides sending out a holiday card, putting up a tree, and attending holiday parties; we really don't have any set traditions just yet. We don't have a "set day" where we put up the tree or decorate the house. We don't have a tradition of baking 40 dozen cookies in one day and then bringing them to the neighbors. We don't always do "such and such" the same way every single year. We don't read a special story, do special stocking gifts, drive around to look at holiday lights, go to a live Nativity, or anything else like that.
I love the idea of traditions — but since our family is still quite young and Nora wouldn't really get it yet anyway, I think we'll need to wait a couple more years before really starting any strong Christmas traditions.
Oh, and for the record, I'm totally NOT the type of person that feels like I have to do something a certain way just because that's what has always been done. I do value tradition and I think it's awesome for kids to have those traditions in their lives — but even still, I don't think I'll ever be the type of person who always, ALWAYS does something one specific way forever 🙂
So there you have it.
A little run-down of how we "do Christmas" — at least for now!
How do YOU "do Christmas"?