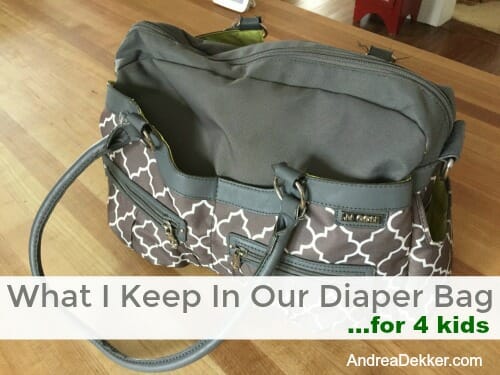 In my Peek Into My Week post last week, I mentioned a quick mini diaper bag purge — which included greatly simplifying the contents of my diaper bag.
As crazy as it might sound, we actually keep LESS in our diaper bag with 4 kids than we did with 2 or 3. I'm not exactly sure why.
Maybe it's because the older kids don't require all that much and I'm learning to make do with less for the younger kids. Or maybe it's because we keep the van stocked with a variety of "just in case" supplies if we ever run stuck. Or maybe, it's simply because we don't go all that many places right now 🙂
Whatever the case, my diaper bag is much lighter… and I love it!
We've used this bag for almost 3 years now and I really like it. It's flexible enough to hold lots of different size items, but sturdy enough to keep things nice and neat inside.
It has shoulder straps, a large crossbody strap, and clips to attach it to a stroller or shopping cart.
I love that is has several pockets inside and outside and that many of the pockets zip closed. Most of all, I love that it's less than $50 (even less with coupons from BuyBuyBaby).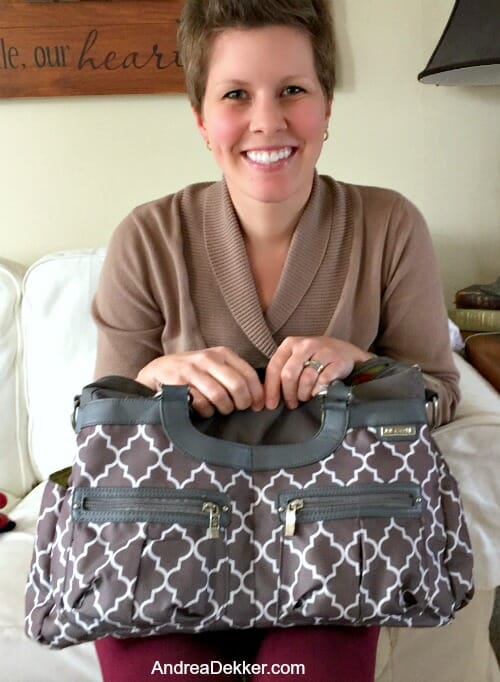 What We Keep In Our Diaper Bag (with 4 kids)
As I mentioned above, our diaper bag has 4 elastic inside pockets and 4 outside pocket, plus 2 tiny front zippered pockets and 2 pouches on the side for water bottles.
Talk about a lot of storage!
Also, for reference purposes, my children are currently ages 6, almost 4, 2 1/2, and 4 months. The older 3 are potty trained! 🙂
Inside Pocket #1:
travel changing pad
refillable travel wipes pouch (we have this one — it's amazing!)
travel size baby powder and Butt Paste
travel size hand sanitizer (which we refill as needed)
Inside Pocket #2:
4-6 diapers for Clara
1 pull-up for either Simon or James (in case of an emergency)
Inside Pocket #3:
Cloth bib
A zip-top bag with 2 silicon straws and lids (we use these and LOVE them)
Small first aid pouch (bandages, ointment, children's and adult's pain meds, cough drops, hair elastics)
A travel placemat (not pictured)
Inside Pocket #4:
Extra underwear for Simon and James
1 extra pair of boys sweatpants and socks (they're a bit small for Simon and a bit big for James)
1 change of clothing for Clara (onesie, sleeper, socks)
Large main inside compartment
Thin muslin blanket
We leave this open and throw snack cups, water bottles, or other larger items we take with us at the last minute.
Outside Pocket #1:
2 burb cloths
travel pack of tissues
travel pack of sanitizing wipe
food-safe wipes (like for pacifiers, sippy cups, etc.)
a few extra paper napkins
Outside Pocket #2:
teething toy for Clara
2 Matchbox cars for the boys
1 My Little Pony for Nora
A pack of mini colored pencils and pad of paper for everyone
Outside Pocket #3:
empty — I usually put my wristlet wallet in this pocket
Outside Pocket #4:
empty — we usually put one of the 3 older kids' water bottles in this pocket
Tiny Front Zip Pockets
Gum and mints
Cell phone charger
Two Side Pouches
empty for 2 of the kids' water bottles
As I finish typing all of that, it sounds like a TON of stuff to me — but it all fits very nicely in our bag without feeling or looking cramped. And the bag really isn't that heavy to carry at all.
I'm certain we could get by with less if we wanted to — but since I usually only take the diaper bag when we'll be away from home and our van for an extended period of time, it makes sense for our family to have it stocked with several "necessities".
As our kids get older, I'm sure the contents of our diaper bag will continue to change… and one day in the not to far-off future, I'll write a post about donating my diaper bag to our local thrift store!
At that point, I'll probably need large duffle bags to cart around all the big things my kids will need for sports practices, band concerts, and school projects 🙂
Am I right?
I'd love to know… what items do you take with you on-the-go?
Oh, and if you'd like more of a history of ALL the diaper bags we've tried over the last 6+ years — including the features we liked and didn't like, READ THIS POST!