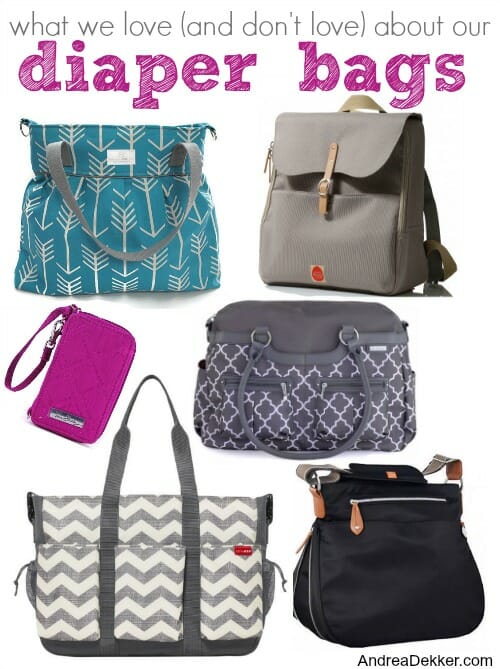 Although I'm not big on accessories or carrying around lots of "extras", I always like to have a well-stocked diaper bag with me at all times. I'm the type who likes to be prepared… and with 3 young children, there's no telling what I might need at any given moment!
As my needs have changed, as our children get older, and as we've added more children to our family, it seems that the "perfect" diaper bag for our family also continues to morph and change.
Over the last 4.5 years, we have tried more diaper bags than I can count. Many were purchased online and immediately returned. Others were given to us as gifts, to review on the blog, or as hand-me-downs from friends. They were either used for a while, sold on Craigslist, or returned to the store — depending on the situation. Some were too big, many were too small, some looked too much like a purse for Dave, others didn't have enough pockets for me, etc. etc.
A few worked FABULOUSLY well for a while… but were eventually outgrown or broken, and then replaced with something different in attempts to find the best bag for our current needs.
Today, I'm sharing some of the diaper bags we've used over the last few years, what we like about them, what we don't like, and a bit more about the bags we use right now.
If you're in the market for a new diaper bag, I hope my thoughts and insights are helpful for you… and, if you want to bypass years of diaper bag trial and error, I'd also suggest reading through this handy Diaper Bag Buying Guide from Baby Cubby. It's an extremely helpful resource (especially if you're new to the whole diaper bag buying arena!)
But make sure you come back here and read what I've got to say!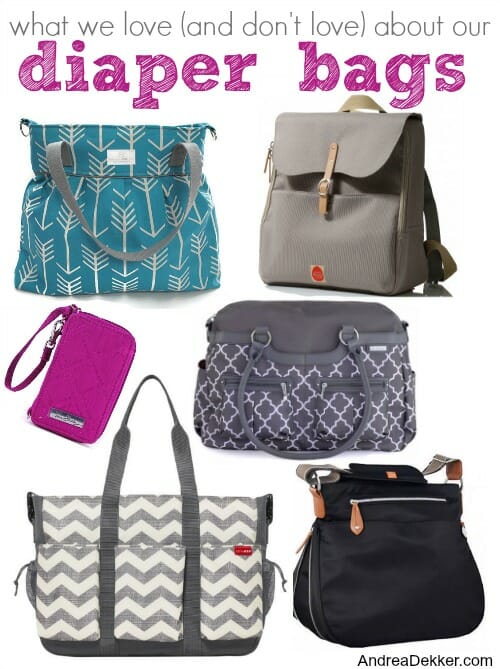 The Thirty-One Utility Tote
This was our first diaper bag — a gift from my cousin before Nora was born. I LOVED using this bag because it had so many pockets, it was really lightweight, and it was easy to re-stock and tote around.
However, it didn't have any type of cross-body strap for hands-free use, it wasn't easy to attach to a stroller, and it had NO zippers… so if you dropped it (or if your toddler tipped it over) everything fell out.
Once Nora was about 18 months old, I needed zippers so it was time to "graduate" to a new diaper bag.
I still use this bag ALL the time for different purposes (going to the pool, packing stuff for a vacation, organizing various supplies, etc.)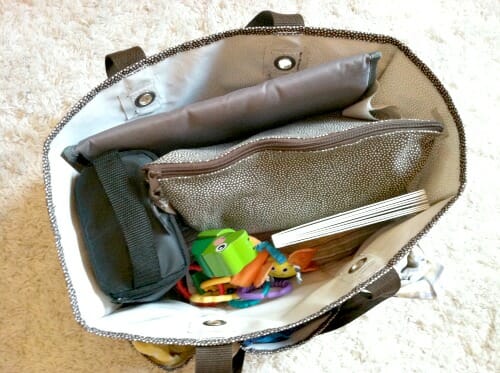 .
Precious Little Tot Satchel Diaper Bag
A sweet reader, Jaclyn, from the Precious Little Tot Etsy Shop emailed me when I was pregnant with Simon and offered me a fabulous discount on her handmade diaper bags.
Her diaper bags come in super fun fabrics, they have an awesome adjustable cross-body strap, and contain a boatload of interior pockets for easy organization. Win, win, win!
However, it still didn't have a zippered closure, and it didn't connect to the stroller. Since we went for LOTS of walks after Simon was born, the stroller thing was a no-go for me. They also didn't have shoulder straps so I could ONLY wear it as a cross-body bag, which Dave wasn't a fan of.
SIDE NOTE: I see that Jaclyn's bags now have both shoulder straps and cross-body straps AND they connect to strollers!
I only used this bag as a diaper bag for a short time since I really wanted something to connect to my stroller — but I frequently use it for many of my own personal needs (and I always get compliments whenever I go out with it!)
The photo above is of my bag; the one below is one of her newer bags.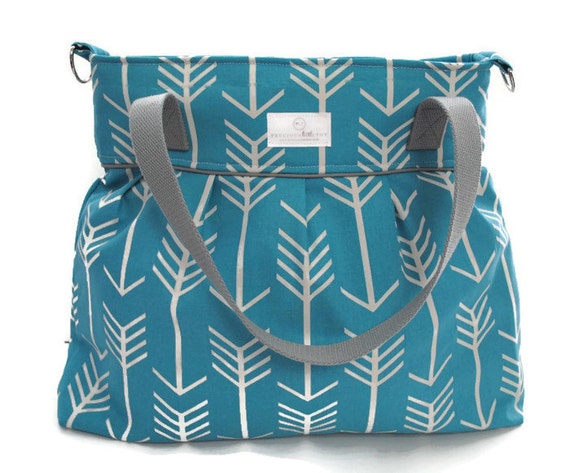 PacaPod Diaper Bag
The PacaPod Portland diaper bag is a FABULOUS diaper bag!
It had shoulder straps, a cross-body strap, stroller straps, super organized pockets, compartmentalized pods for everything, and it looked "masculine" enough that Dave had no issue carrying it around everywhere.
It was perfect for our needs… until we had a 3rd baby and suddenly needed to carry items for a potty-training 3 year old who had occasional accidents, a toddler in diapers, an infant in diapers, 2 sippy cups, a bottle for the toddler, extra clothes for the infant, etc. etc. etc.
I found myself taking the PacaPod bag and another bag when we were going anywhere for a longer period of time — or I'd cram the PacaPod it so full that I couldn't get the zipper shut and then stuff would spill out.
Also, it's pretty expensive — thankfully, we were able to sell it on Craigslist!
Organizationally speaking, this was my most favorite diaper bag ever, however it just didn't have room for everything I needed to take with us when all 3 kids were so small and needed SO MUCH STUFF!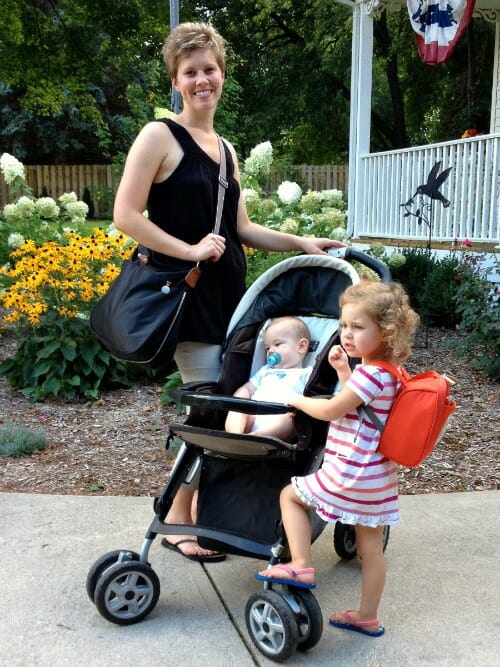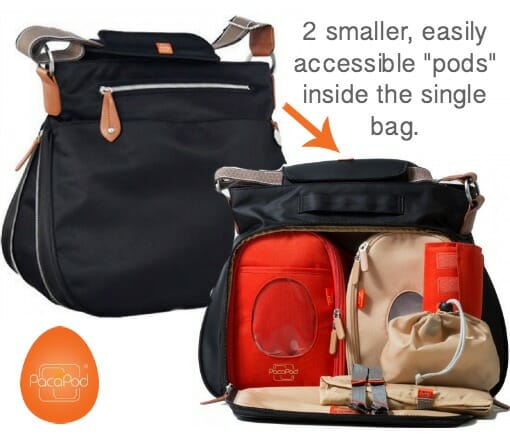 .
Backpack Diaper Bag
Right before James was born, I realized that I really wanted to have BOTH my hands easily available at all times — so I opted for a backpack diaper bag. Since I loved my PacaPod Portland diaper bag so much, I thought I might like to try The PacaPod Hastings Backpack Diaper Bag as well.
Although I initially felt a little weird wearing a backpack diaper bag, I quickly shoved my pride to the side when I realized how fabulous it was to have both hands freed up at all times. I could carry the bag on my back, the infant car seat in one arm, and have my other hand/arm free to hold Simon's hand (or carry him too).
This bag was also much easier on my shoulders and back.
We used this bag for over a year… until the clasp completely broke off. The company gladly let us return it — but instead of replacing it with the same bag, I decided I wanted to try something different again. 🙂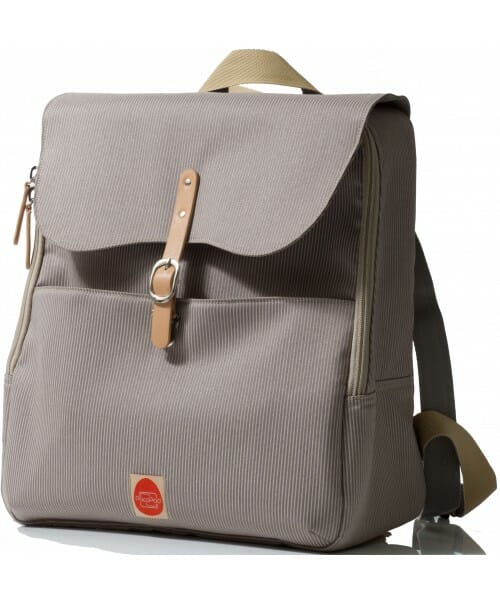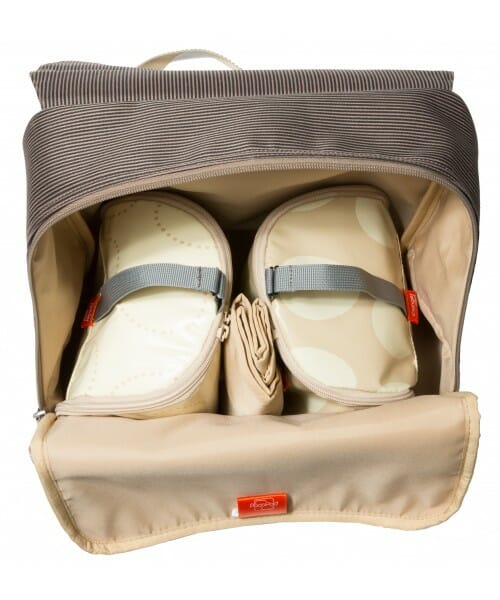 .
SkipHop Duo Double
In my search for a new diaper bag that would accommodate everything we needed/wanted for all 3 kids, I stumbled upon the SkipHop Due Double diaper bag that claimed to be one of the biggest diaper bags around.
The reviews were really good so I ordered it from Amazon when they had a great sale. I initially loved how huge it was, but after using it for about a month, I realized that it was actually 'too big' for my taste.
Although it had TONS of amazing features, I found that I was often leaving it in the car or taking a smaller bag with just the essentials in it when we'd go on shorter trips. Plus, it was quite heavy for me.
In the end, I returned it (thanks to Amazon's amazing return policy on baby items) since I just couldn't see myself carrying that big of a bag around everywhere (in addition to wrangling all 3 kids, a stroller, and other gear).
That said, if you're looking for a very big, very organized bag that easily clips to your stroller and has tons of different pockets, this might be a strong contender for you!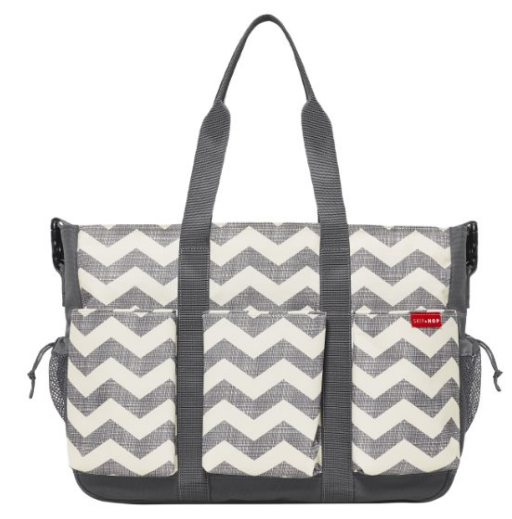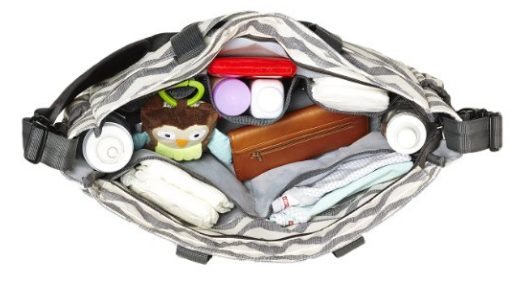 .
J.J.Cole Satchel
I am currently using the J.J. Cole Satchel diaper bag. So far, it seems to be the best combo for our stage of life right now.
It has plenty of interior and exterior pockets to organize all our stuff (even for all 3 kids). It has shoulder straps and a removable cross-body strap, it has clips to attach it so a stroller, it zips closed (and has a couple zippered outside pockets), it's big enough but not TOO big, and it's super cute! In fact, most people don't even realize it's a diaper bag until they see the sippy cups popping out!
Dave told me that it looks too much like a purse for him, but since I'm the one carrying it 98% of the time, that really doesn't matter much anymore 🙂
And at least it's grey!
.
My Wristlet
One "bag" that I've been using since way before Nora was born is my Vera Bradley All-In-One Wristlet. It's basically my purse and wallet in one — and it has always seemed to fit nicely into one of the pockets of whatever diaper bag I'm using at the time.
Many years ago, I paid a whopping $35 for this wristlet — and at the time, I felt extremely guilty spending so much on such a small item. I have used this wristlet many times a day for at least 5 years — so it was most definitely worth the $35 investments.
My keys attach directly to the wristlet, all my cards, cash, change, ID, etc. are inside, and the back pocket is the perfect size for chapstick, gum, and an ink pen. Also, it hangs nicely from any stroller or shopping cart.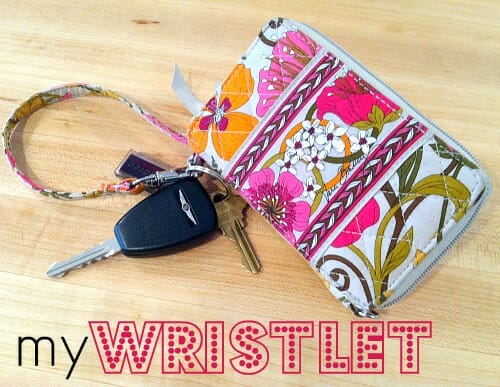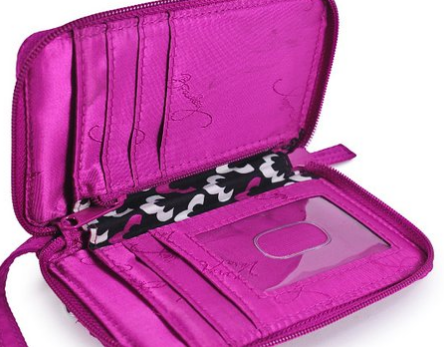 .
One More Bag 🙂
In addition to ALL our other diaper bags, we have also always had an additional going-to-the-park diaper bag with all our park toys, snacks, and essentials. We go to parks quite often, so I take our park bag INSTEAD of our regular diaper bag.
The going-to-the-park bag is a basic tote bag I got as a gift YEARS ago. It seems to be the perfect size to carry a couple diapers and wipes, a sheet to spread out on the ground, snacks, water cups, and a few toys. Plus, it's SO nice to have this bag ready to go whenever we decide to head out to the park.
.
Based on how well the J.J. Cole satchel bag seems to be fitting our needs right now, I think (and hope) we'll be using this bag for a while. However, I'm not opposed to switching things up again if I feel this bag isn't working well and meeting our needs.
It has been easy for me to sell (or return) our unwanted diaper bags, and I truly do feel that finding the "right" diaper bag for our current stage of life has helped to simplify and streamline our time away from home.
One thing I wish I would have had before Nora was born was some sort of diaper bag comparison checklist — or a guide to tell me what I would probably want to keep in my diaper bag.
At the time, I assumed I would keep as little as possible in the diaper bag — but I soon realized that life was easier if I had more resources at my fingertips (hence the need for larger bags!)
As I searched the internet while preparing to write this post, the Baby Cubby checklist I mentioned above seemed to be one of the most thorough resources to help you think through almost EVERYTHING there is to think about when buying or registering for a diaper bag.
Maybe if I would have found something like that a few years ago, I could have avoided "test driving" so many different bags!
Or maybe not!
Do you have a favorite diaper bag? Or a least favorite one?
Do you have any fabulous diaper bag-buying tips or words of wisdom?